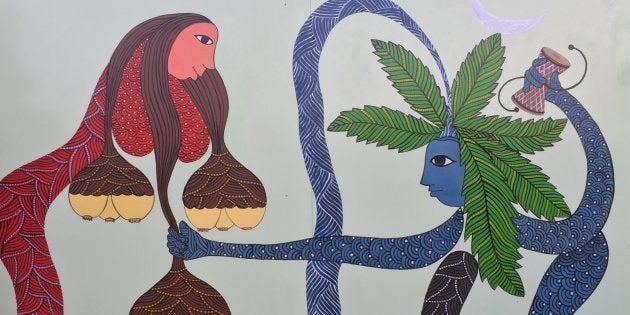 There is a story in Gond folklore that narrates the intoxicating love between ganja (cannabis) and mahua (a tropical tree whose flower is used to make country liquor). Once upon a time, these two were humans, the story goes, with ganja being an untouchable and mahua, a brahmin woman. The two fell in love, but were not able to unite because of their castes. Forbidden from being together in life, they reincarnated as trees and grew together.
It's a story that Venkat Raman Singh Shyam, a 47-year-old Gond artist from Madhya Pradesh, has grown up on. A tale of love that transgresses boundaries, it is the inspiration for a collaborative art project between him and S Anand, a publisher and writer.
Titled The Ganja-Mahua Chronicles, it focuses on four love stories from the past, the present, cinema and mythology that shatter the boundaries of caste and race. While Anand wrote the text for the installation, Shyam painted his interpretation of each story. In the painting of the ganja-mahua myth, for instance, the two are shown as trees growing together, then bubbling together as intoxicants.
"Caste is a system of exclusion and self-exclusion. You create untouchability in every phase of your life. The crucible of it is marriage and control of women," Anand told HuffPost India. Publisher of Navayana, which focuses on anti-caste literature, he added, "The ganja-mahua story talks about breaking all that."
As an example of how rigid the caste system still is, Anand mentions that there were only 9,623 cases of marriages between non-Dalits and Dalits across India, as recently as 2012. The Dr Ambedkar Scheme for Social Integration through Inter-Caste Marriages offers ₹2.5 lakh to 500 couples every year. In 2015, only 19 people availed themselves of it.
First shown at the Times Litfest in Mumbai in December 2016, the travelling installation is on display at the Centre for Dalit Studies, Department of English, Delhi University until 3 May. From Delhi, Anand and Shyam hope to take the exhibition to other universities and public spaces.
As an example of how rigid the caste system still is, Anand mentions that there were only 9,623 cases of marriages between non-Dalits and Dalits across India, as recently as 2012
The Ganja-Mahua Chronicles came together while the two were working on Shyam's autobiography, Finding My Way, published last year. "During our first few meetings in his studio in Bhopral, I asked him if there was any painting he wouldn't sell," Anand said. "He showed me a small painting of ganja and mahua. Society is opposed go them growing old together, so they grow together as trees."
With the ganja-mahua story as its inspiration, the project explores the story of BR Ambedkar's relationship with his Irish landlord's daughter, Frances Fitzgerald, and his marriage to the brahmin doctor, Sharda Kabir, in 1948; the tragic case of Divya and E Ilavarasan in Tamil Nadu in 2013; and the story of star-crossed lovers, Archi and Parshya, from last year's critically-acclaimed and commercially successful Marathi movie Sairat.
The stories point to the ways in which caste is linked to marriage. "The annihilation of caste that Ambedkar talks about is not going to happen just by burning the Manusmriti. What really has to happen is opening of minds and bodies to all kinds of pleasures and sensations," Anand said.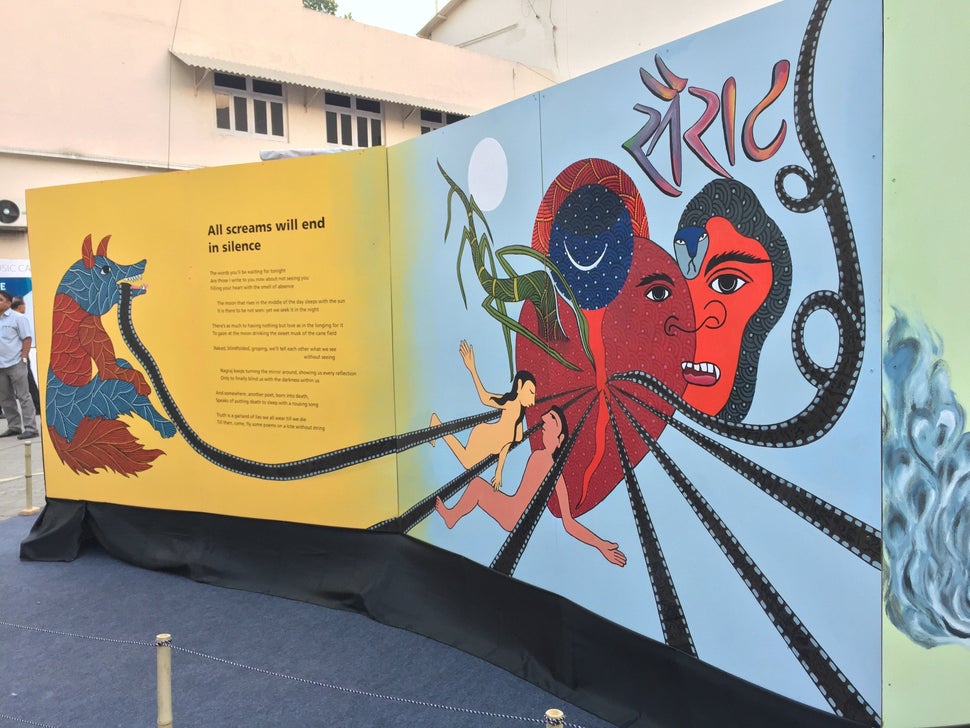 Yet, far from being celebratory, the project underscores how stories of inter-caste and inter-community love often end brutally in India.The mural on Sairat incorporates the recent allegations of domestic abuse made by the film's director Nagaraj Manjule's former wife. The mural shows Sairat's young lovers, the Dalit boy Parshya and the Maratha girl Archi, in front of a large bleeding heart, pierced in several places by a film reel. On one side, a dog, perhaps representing the audience, watches the scene, holding the film reel in its mouth.
Part of the reason for Sairat's success is its realistic depiction of the fate of many inter-caste couples. Here, too, its fictional story finds a real-life counterpart in the case of the ill-fated lovers, Divya and Ilavarasan.
In 2013, Ilavarasan, a Dalit college student from Dharmapuri in Tamil Nadu, married Divya, a woman from the higher Vanniyar caste. After they eloped, her father committed suicide, and growing political tension led to riots against Dalits in the city, with over 250 homes in Ilavarasan's neighbourhood being torched. A case of abduction was filed against Ilavarasan, and a day after Divya refused to return to him, he was found dead on the railway tracks under suspicious circumstances.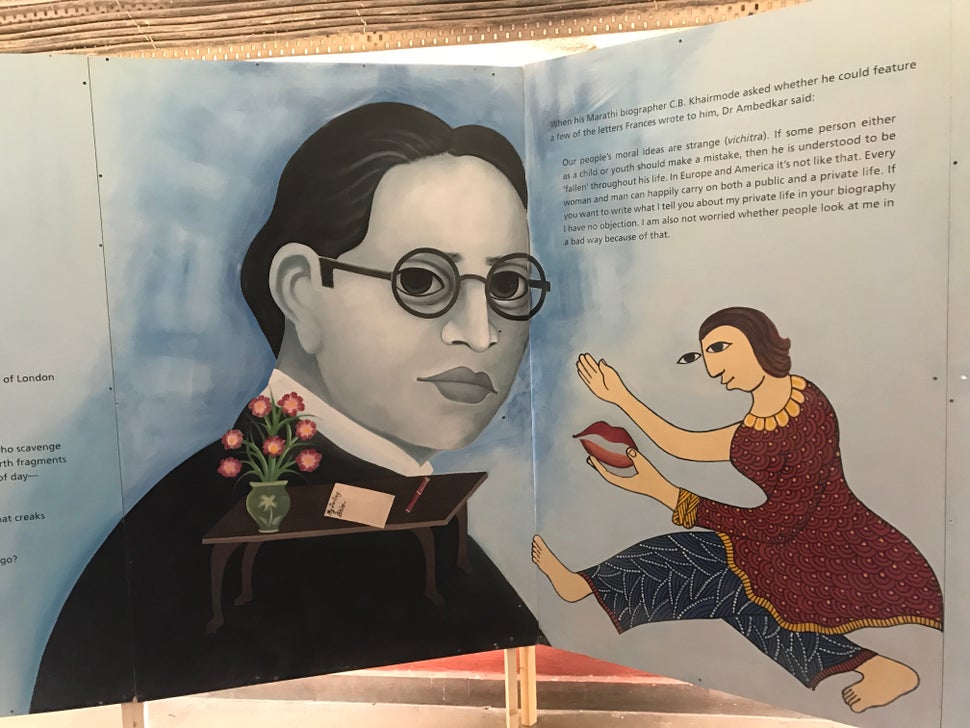 Another work, "My Darling Bhim", explores Ambedkar's close association with Frances Fitzgerald, the daughter of his British landlord in London, where he was studying in 1921-22, who continued to correspond with him after he returned to India.
Shyam shows Fitzgerald standing in front of a portrait of Ambedkar with longing, as she holds a pair of lips, symbolising her love for him, in her hands. While Fitzgerald is painted in the Gond style, Ambedkar is rendered in the realistic, larger-than-life manner of film hoardings, symbolising their different worlds. Although Fitzgerald's house is now being turned into an Ambedkar memorial, Anand writes that "the woman who gave Ambedkar shelter, friendship and love, rarely finds a mention even today".
These stories are brought alive by Shyam, using traditional Gond drawing techniques and the realistic style that he picked up during his stint as a signboard and film hoarding painter. "Gond art first used to be called bhitti chitra in Hindi, then wall painting, and Jangarh Kalam, and finally, Gond painting," Shyam says. "Yet, we just call it painting. I describe it as hybrid, because it is new in terms of themes, colours and mediums. It isn't the primitive art found in wall paintings back home. It is contemporary."
For this reason, it also feels like the ideal vehicle to convey themes and concerns that remain strongly resonant in our times.
The Ganja-Mahua Chronicles is on from April 19 till 3 May at the Department of English, North Campus at Delhi University.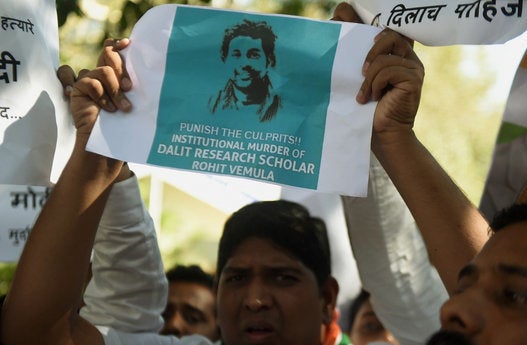 Students Protest Dalit Suicide