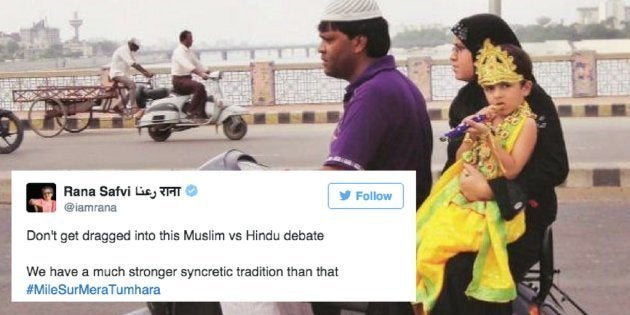 India is a land of many religions, castes, creeds, languages and cultures but it is one because there is 'Unity in Diversity'. Growing up, we were all taught this and would dutifully repeat it when asked to. But things — mood, sentiment, feelings, politics — change with time, and while there is still talk of unity, it has a slightly different flavour to it.
In 1988, Doordarshan, the sole source of all news and entertainment, flooded everyone's television screens with a song promoting India's rich diversity. The song was composed by the Hindustani classical music doyen, Bhimsen Joshi, and the video featured a galaxy of beloved figures from the world of films, sports and culture — Shabana Azmi, Kamal Hassan, M Balamuralikrishna, Lata Mangeshkar, Amitabh Bachchan, Mithun Chakraborty, Jeetendra, Waheeda Rahman, Om Puri, Sharmila Tagore, Hema Mailini and many more.
The song was sung in 14 Indian languages and shot in every part of the country. Its enduring hold among listeners and viewers speaks of its quality and the power of its message. For those who have no idea what we are talking about, here is the song:
At a time when large sections of media, specially social media, seem dedicated to highlighting a uniform monolithic definition of India, with little sense of where to draw the line, someone has come up with the wonderful hashtag MileSurMeraTumhara reminding us what constitutes India's true soul.
From songs to advice, responses have flooded in to combat communal divisiveness, acting like a balm in troubled times.
Still brings a smile on my face whenevr I watch this song. Hope again one day whole India sings this song together #MileSurMeraTumhara

— Dr. Majboor Gulati (@fakeer_gulati) April 17, 2017
Don't get dragged into this Muslim vs Hindu debate

We have a much stronger syncretic tradition than that #MileSurMeraTumhara

— Rana Safvi رعنا राना (@iamrana) April 17, 2017