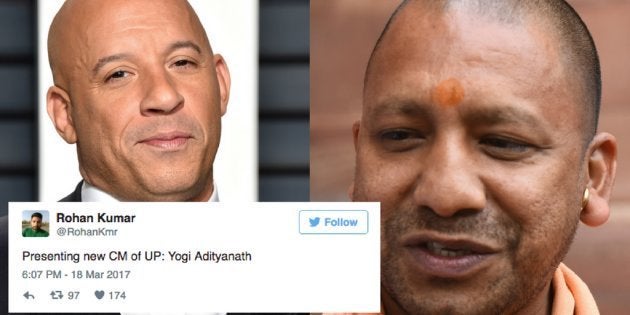 You could call it the solace of humour in the face of despair. Or, just another way of mainstreaming the once unacceptable, in the guise of a harmless laugh.
On Sunday, Hindutva hardliner Yogi Adityanath of the Bharatiya Janata Party took oath as the 21st chief minister of Uttar Pradesh (UP), India's most populous and politically significant state.
Adityanath — a five-time MP from Gorakhpur and among the most polarising figures in UP, with several criminal cases pending against him — was unanimously chosen by the 312 BJP lawmakers who have just been elected to the UP state Assembly. He was administered the oath of office by Governor Ram Naik in a grand ceremony held at the Smriti Upvan complex in Lucknow.
As soon as news of the Yogi's elevation to the office of Chief Minister broke out on Saturday, Twitterati seemed torn between condemning and rejoicing BJP's surprise choice. At any rate, they soon found an uncanny resemblance between the Yogi and The Fast and the Furious star Vin Diesel and made tons of memes around it.
#1
#2
#3
#4
#5
#6
#7
#8
#9
#10
Some went meta, comparing the Yogi with the ex-Bigg Boss contestant Ali Mirza.
The comedy collective AIB accurately summed it up for us in their FB posts.
While others just had enough.
I get it guys, Yogi Adityanath looks like Vin Diesel. Now stop.

— Pakchikpak Raja Babu (@HaramiParindey) March 19, 2017