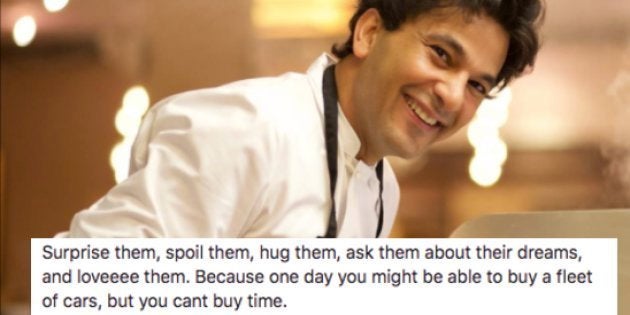 As the wise Forrest Gump put it, "Mama always said life is like a box of chocolates. You never know what you're gonna get."
Life can change in a split second and there is nothing one can do about it.
Chef Vikas Khanna took to Facebook to share one such anecdote that will tug at your heart strings. He recalls the last time he spoke to his father and his father said it was his dream to drive his son's Mercedes. When Khanna asked why did he not say so before, his father replied that Vikas had never asked. Both shared a laugh and that was that.
Khanna says in his post that this is something that has stayed with him forever.
On Jan 31, 2015, as a morning ritual I called home and to speak to my Mom and Dad. Dad was super excited for 2 reasons, Serena Williams was playing Finals for Australian Open and Mercedes had signed me up for their association. He told me that it was his dream to drive his son's Merc. I laughingly said that why didn't you tell me before, he joked and said "you had never asked." We laughed as usual and disconnected.

At noon on the same day, he passed away. No child can ever be ready for this loss; it leaves a hole in your heart. Makes you feel empty, betrayed by Gods and unprotected to the World.

I still wonder about the line he said "you had never asked."

So many times since that unfortunate day, I wish I could have done more for him, made him proud, and fulfil all his wishes.

Life lesson - Don't wait for a single more moment. Our parents might never ask for anything and just give all their lives for us.

Surprise them, spoil them, hug them, ask them about their dreams, and love them. Because one day you might be able to buy a fleet of cars, but you cant buy time.