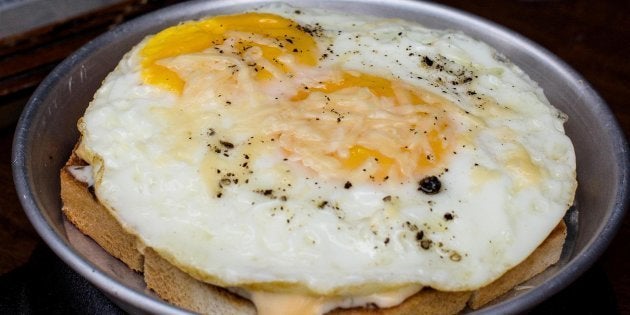 They are most commonly associated with breakfast, but if the popularity of anda bhurji, masala omelette and egg curry is any indication, eggs are an integral part of several regional Indian cuisines. One of the most versatile foods around, eggs are easy to make, cheap and delicious. Scrambled, deep-fried or boiled, these dishes celebrate eggs in all their golden glory.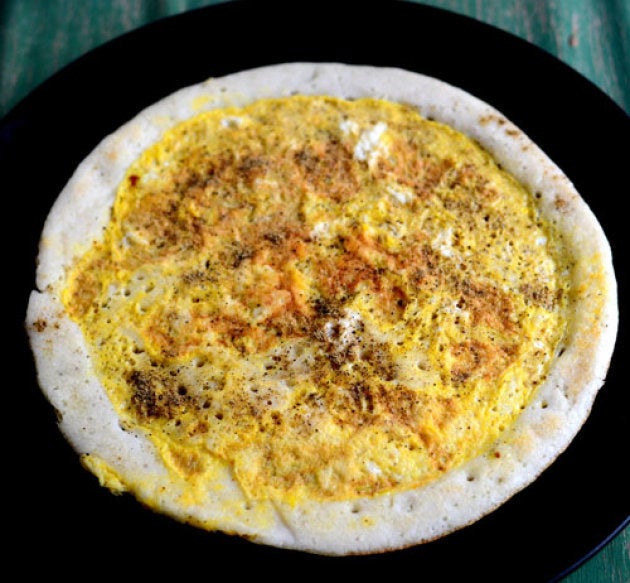 Egg dosa
How do you make a dosa even better? Top it with a fried egg of course. A protein-packed breakfast option in Tamil Nadu, egg dosa can also be spiced up by adding a molaga podi spice mixture on the dosa before cracking the egg. Here is a recipe for egg dosa.
Nargisi kofta
These Mughlai meatballs are made of hard-boiled eggs wrapped in a mixture of spiced keema, fried and simmered in a spicy tomato curry. Many believe that the dish even inspired the classic British dish Scotch egg, a deep-fried hard-boiled egg wrapped in sausages and breadcrumbs. Try this recipe for nargisi kofta.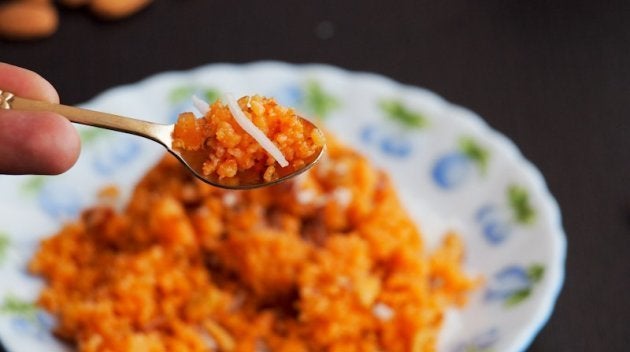 Egg halwa
Though eggs are a key ingredient in many desserts, they are the centrepiece in the andey ka halwa. A sweet version of scrambled eggs, this dessert is mostly made with eggs, milk and dry fruits, though another version in Mysore also uses dry coconut powder. Here is a recipe for egg halwa.
Akuri
It looks like egg bhurji, but the akuri or Parsi-style scrambled eggs are different in several ways. For one, akuri is creamier runnier in texture and slightly less cooked than a bhurji. The eggs are cooked with a special spice mixture known as the Parsi sambhar masala, as well as onions, tomatoes and green chillies.
Eggs are central to Parsi cuisine, with a dizzying array of egg dishes in every conceivable form and texture. "We've got a saying that when in doubt break an egg (eedu) on it," Anahita Dhondy, executive chef at SodaBottleOpenerWala explains. "Eggs are a part of breakfast, but they are also had at other meals and given the importance of a full dish. Here's a recipe for akuri.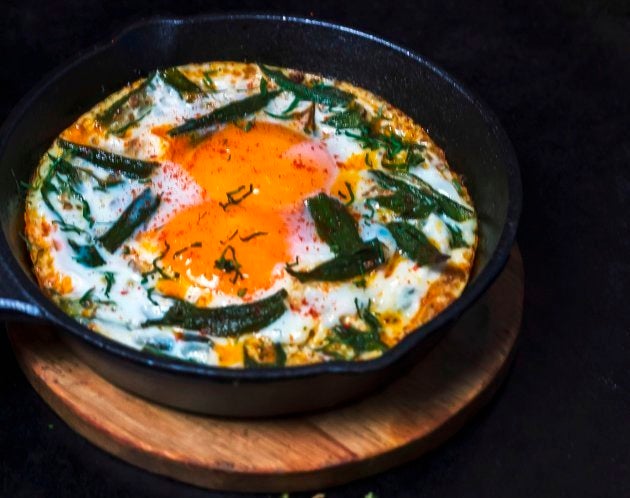 Bhaji par eedu
Parsis cook egg over everything. There's bhaji par eedu ( two sunny side eggs cooked over a bed of vegetables), which can be made with spinach, fenugreek leaves, brinjal, okra and green peas. There's also the comforting wafer par eedu (eggs cooked on potato wafers), bheja par eedu (eggs cooked on brain), eggs cooked on keema and salted biscuits called khari and the summer favourite, keri kanda par eedu (eggs cooked on sweet mangoes and onions).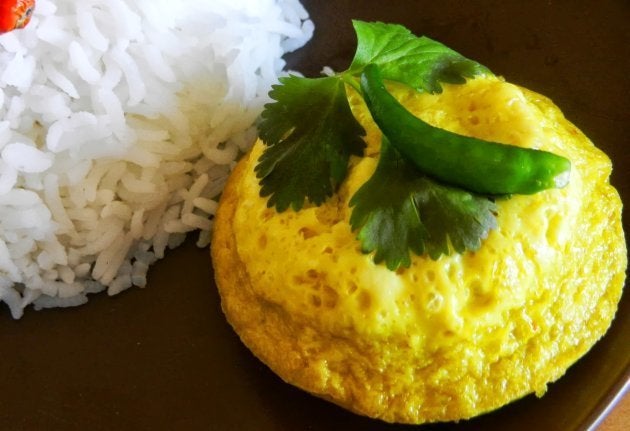 Dimer paturi
Like its famous counterpart (ilish) fish paturi, deemer paturi is a delicate egg dish made by steaming eggs with mustard sauce inside a banana leaf. The resulting egg can be relished with steamed rice. Here is a recipe for deemer paturi.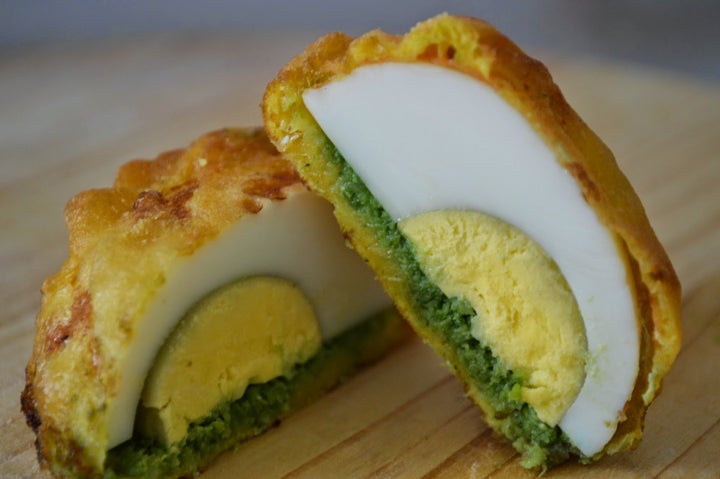 Egg bonda/bajji
Egg bonda/bajji/pakodas are made exactly like regular fritters. Boiled eggs are dipped in batter and deep-fried, and served as an tasty and filling evening snack. A variation of this is very popular with Bengalis anf is called 'dim er devil' -- usually a hard boiled egg in placed inside a ball of spiced potato mixture and deep fried. Try this recipe for egg bajji and egg bonda.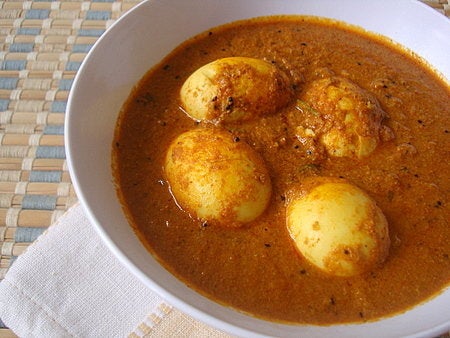 Kodi Guddu Gasagasala Kura
Cooked without tomatoes, this Andhra curry consists of boiled eggs cooked in a poppy seed sauce, which is then served with rice or roti. According to food blogger Sailaja Gudivada of Sailu's Food, poppy seeds add both body and flavour to the dish. Here is her recipe for Kodi Guddu Gasagasala Kura.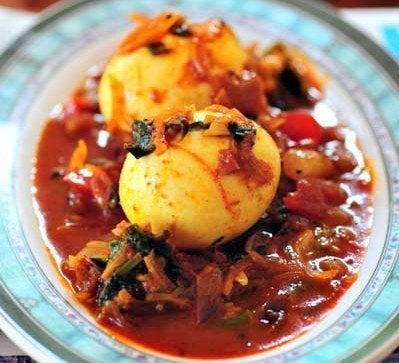 Kerala-style egg roast
Egg roast or mutta roast comprises of hard-boiled eggs served in a spicy onion-and-tomato gravy tempered with curry leaves and mustard seeds. A popular breakfast dish at street stalls in Kerala, it is served with steamed appams or idiyappams. It can also be had with steamed rice for lunch or dinner. Get the recipe here.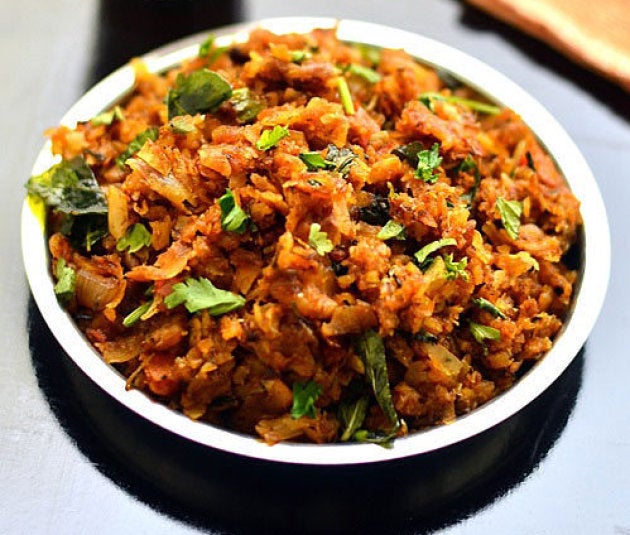 Kothu parotta with egg
Also known as muttai parotta, this popular Tamil street food is an irresistible combination of shredded flaky parottas cooked with spices, scrambled eggs and a tomato-onion gravy. The dramatic cooking process is key to the final dish -- ingredients are minced and pounded with considerable fair on a hot iron griddle before being served with raita.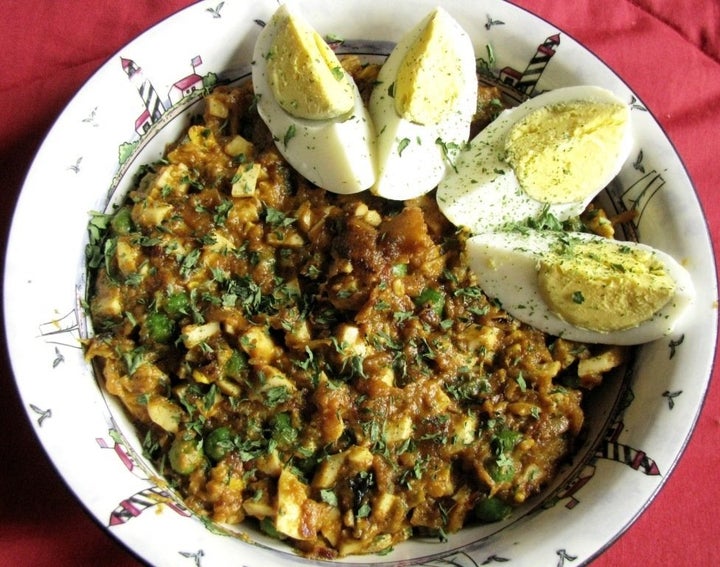 Egg keema
A common Gujarati street food, egg keema substitutes minced meat with chopped boiled eggs. Here is the recipe for egg keema.