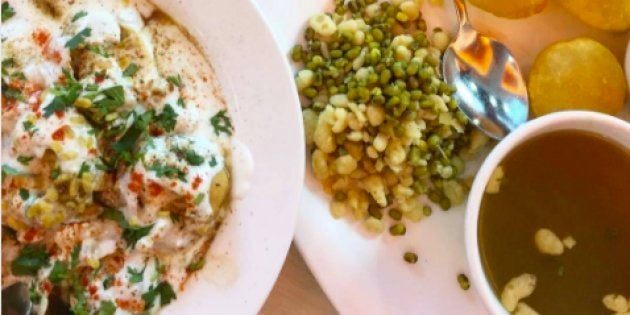 Chaat: (n) the smallest love story, mostly seen on Indian streets.
An Indian's relationship with the chaat is perhaps the most sustainable and uncomplicated one he has in life. And it is only ever challenged in purity and intensity by the one he/she has with Maggi.
The beauty of this relationship is that it doesn't take too much effort to nurture it. Be it running an errand for your parents, going to get groceries when you are living alone, returning from work, or just going out to get smokes, a chaat can be squeezed literally anywhere, almost any time. Add to that how easy most of the chaats are on your pocket. At least most of them.
Also, consider the sheer beauty in the plate: the mix of textures, colours and flavours. Hot and cold, sour, sweet and spicy, crispy and soft. Don't tell me every time the dudes on Masterchef Australia said all those fancy words about textures and other stuff, you weren't reminded of the chaat?
Chaat does not only taste like a mouthful of heaven, but also takes one back to all good times one has had with friends devouring on this street food. It is everyone's guilty pleasure.
Be it the comfort of one's home or the crowded market corner, a spoon-full of chaat transports one to their happy place. And for a while, the world stands still. There is just you and your chaat, a rendezvous to be savoured.
Also,the best part is that there is a type of chaat for every person and no one is alone in this story.
Aloo Chaat: If simplicity is your thing then the simple aloo chaat will be with you all the way. All one needs to do is boil, dice up and deep fry some potatoes, add chana, generous amounts of spices, including chaat masala, and lemon juice have it to your heart's content.
Papdi Chaat: Crunchy, juicy, sweet and spicy -- papdi chaat will give you the best of all the worlds. A mouthful of this heavenly dish has the power to lift up one's mood. To make papdi chaat at home, one would need to lay the papdis, put toppings of boiled potatoes and chana. Then put curd, green chutney and sweet chutney, add sev or bhujiya for the extra crunch, add spices and serve.
Aloo Tikki Chaat: Like the other chaats, the secret of a good aloo tikki chaat is the assemblage. One would need to make the aloo tikkis first and pan fry them. Lay the tikkis and add green chutney, tamarind chutney and a little bit of garlic chutney. Add a generous portion of sev, add curd and a mix of spices, including chaat masala.
Sev Puri: These tiny delectable bites are perhaps lightest of the lot. All one needs to do is arrange the papdis, and top it with boiled potatoes, onions, chutneys, spices and sev. This crunchy bites are the best way to end your evening outing.
Dahi Puri: If one could describe heaven with food, dahi puriwould be the answer. It is like someone took all the memorable flavours and blended them together to make it. Making it is also very simple. One needs to take gol guppa puris, put boiled potatoes, and the put tamarind chutney, green chutney, garlic chutney and a spoonful of curd. Sprinkle sev and lo!
Bhel Puri: Arguably one of the most popular type of chaats, bhel puri is hardly disliked by anyone. It is also perhaps the easiest to make. Roast the puffed rice lightly, it doesn't need to change colour. Take it in a bowl and add chopped onions, tomatoes, boiled potatoes, tamarind chutney, green chutney, spices including chaat masala and mix it. Add some sev and serve!
Bhalla Papdi: If you feel like going that extra mile, bhalla papdi is your answer. Not the most easiest to make, but definitely one of the most savoury. As they say, hard work leads to all good things -- well, at least it leads to good chaats. The most important part here is making the vada. Soak lentils, drain the water, grind it with asafoetida and ginger. Add salt to the batter, scoop spoonfulls and fry them. Take them out, soak them in water for a while and then flatten them with your palm. Put those vadas in curd, gently mix and refrigerate them. Before serving, take papdis, put the vadas on the papdis, put boiled potatoes, chickpeas, tamarind chutney, you choice of spices including chaat masala and black salt, sprinkle sev and pomegranate and serve!
Raj Kachori Chaat: If the name sound royal, it is probably because the preparation is nothing short of a royal dish. This is how it is done -- take flour, corn flour, semolina, salt and mix it all with oil. Let the dough set for a while. Once it is set, take a rolling pin and flatten the dough (like puris). Fry them till they puff up, now lower the flame and keep on frying it till both sides turn golden brown. Before serving, break the puffed part, making a bowl of sorts out of the kachori shell. Put curd in the shell, green and red chutney, previously soaked channa and moong, sev, sprinkle spices including chaat masala. Your yummy chaat is ready!
Palak Pakodi Chaat: This is not only of the few delicious type of chaats, it is healthy as well. Spinach is the magic ingredient here. It is also very easy to make. Take spinach leaves, wash and tap them dry and set aside. Now take flour, rice flour, salt, turmeric powder, coriander powder, red chilli powder, and ajwain. Mix them all with water. Once the batter is ready, dip the spinach leaves in the batter and fry them. Fry till both the sides are golden brown. Before serving, lay the pakodas, put whipped yogurt on the pakodas, put green and tamarind chutney, sprinkle sev. One can add onions and tomatoes as well.
Samosa Chaat: This chaat is a fine blend of two very popular Indian food items -- samosas and chana masala. Might not be to everyone's liking but this dish is as popular as other chaats. One could follow the recipe of samosa here and make the chana masala this way. Once you have both the dishes, put the chana masala on a plate, break the samosas and put them on the chana. Add coriander and chilli garlic chutney, tamarind chutney, chopped onions, and your choice of spices. Your samosa chaat is ready!
Churmur Chaat: This one is very easy to make. Take boiled potatoes and add all the spices you want. Mix well. Take boiled chickpeas and add to the mixture, take puchka shells and crumple them, and add them as well. Add green chillies, lime juice, tamarind chutney and cilantro. Serve!
So, do you love chaat as much as it loves you?