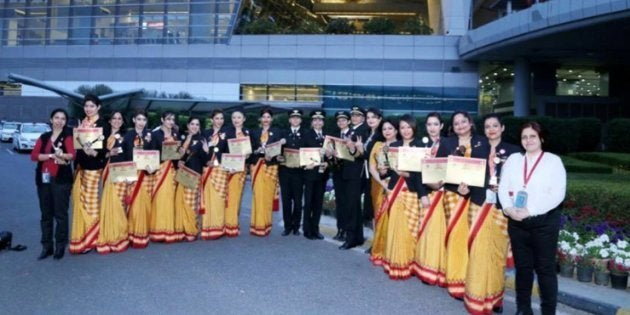 In a quest to set a new world record, Air India has operated a flight around the world with an all-women crew ahead of International Women's Day.
The flight departed from New Delhi to San Francisco on Monday and returned to the capital on Friday, after flying across the globe.
The aircraft, a Boeing 777-200LR, flew over the Pacific last week on its journey to San Francisco, while the return flight flew over the Atlantic, encircling the globe, Air India said in a press statement.
The check-in and ground handling staff, the engineers who certified the aircraft and the air traffic controllers who authorised the departure and arrival of the plane were all women.
An Air India spokesperson said the airline has already applied for a Guinness World Record and Limca Book of Records for this feat.
"The flight was in the safe hands of Capt. Sunita Narula, Capt. Kshamta Bajpai, Capt. Indira Singh and Capt. Gunjan Aggarwal. The all-women cabin crew was led by Ms. Seema Baberwal and Ms. Nishrin Bandulwala. The entire flight was operated by the women staff of eight departments," Air India wrote on its Facebook page.
Air India says it will operate other flights with all-women teams as part of International Women's day, celebrated on 8 March of every year.
As part of the celebrations on International Women's Day which is observed on March 8 every year, the flag carrier has also decided to operate similar flights on its domestic and other international routes.
In January, the airline had announced that it would reserve six seats for women on domestic flights. The step was taken after reports that some women were being groped by other passengers.