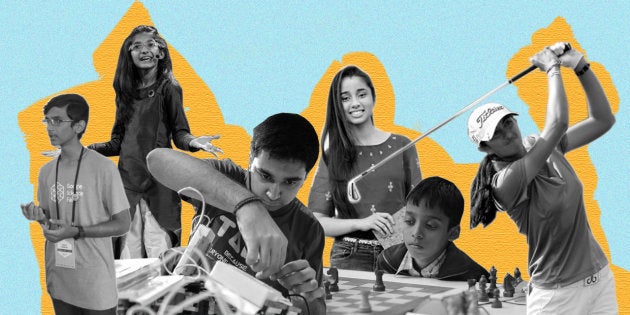 Meet India's coolest kids. They're young, focused and passionate about what they're doing, whether it is sports or making new apps. From golfing star Aditi Ashok to teenage CEO brothers Sanjay and Shravan Kumaran, these youngsters under 20 show the world that it's never too early to follow your dreams.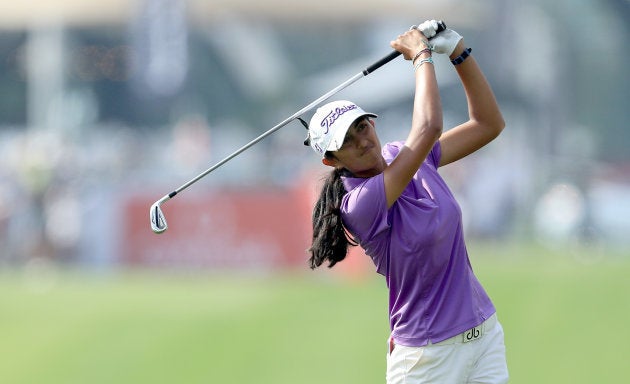 Aditi Ashok, 18
At just 18, Aditi Ashok already has many firsts to her name. She was the youngest Indian golfer to the win the Ladies European Tour's qualifying school, and is the first Indian to ever win a Ladies European Tour title. She was also the youngest golf player and the only Indian woman golfer at the Rio Olympics last year. In February, the golfer from Bengaluru broke into the top 100 in the women's world golf rankings after a brilliant season.
Ashok started playing golf at the age of five-and-a-half and began playing tournaments at the age of seven, and won her first at nine. She got interested in the game because the family would have breakfast in a restaurant that overlooked a golf course. She turned pro in early 2016 after finishing school, and is focusing on playing golf full-time. The teenage golfer says her parents' support has been invaluable, with her father often caddies for her and her mother is her manager. "As a pro starting out, it is quite taxing so it is good that my parents have supported me through this," Ashok said in an interview. "It's less of a burden on me and I can just go out and play."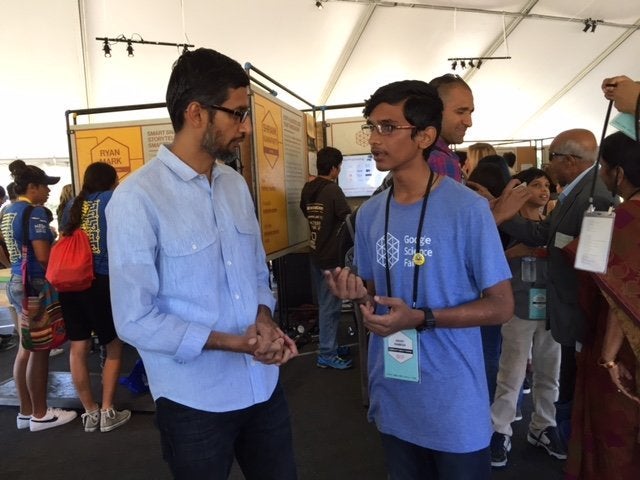 Reading recurring news reports of local fishermen from Rameshwaram getting captured and arrested after unknowingly crossing India's International Maritime Boundary with Sri Lanka, Advay Ramesh decided to work on an app that could help them stay safe and increase their productivity. The 15-year-old, who started coding when he was in class 5, began working on an app. A class 10 student at Chennai's National School, Ramesh developed a GPS-powered app using Google Maps that could send alerts to fishermen when they're near the maritime border or facing dangerous weather conditions, track their routes, as well as collect information about the type of fish that can be caught at different locations.
In 2016, the FishErmen Lifeline Terminal app won him the $10000-Google's Community Impact Award and resulted in a meeting with Google CEO and one-time Chennai resident Sundar Pichai. "It felt unreal," Ramesh said. "I never expected to meet him." He hopes to make the app more accessible to poor fishermen by making it work without the Internet, using ISRO's national positioning system, the Indian Regional Navigation Satellite System (IRNSS).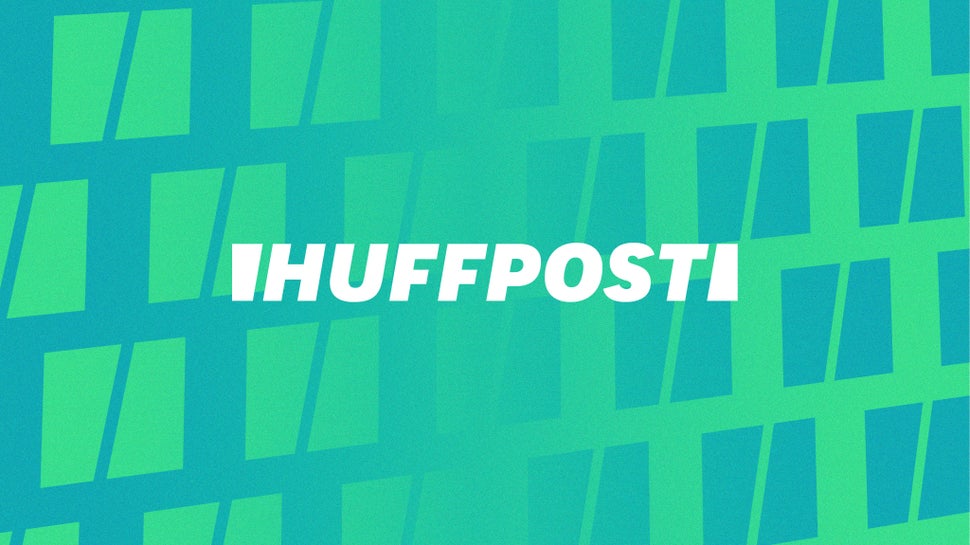 Teenage scientist Tenith Adithya's CV describes him as a serial inventor, but also a researcher, software developer and professional coin collector. He claims to have over 19 innovations, and has won 14 international and 9 national awards. "Most of my inventions were borne from the problems which I face everyday. I don't want to live with problems," Adithyaa said, "I like to solve them as much as I can."
Adithyaa grew up in a village in the Virudhunagar district in Tamil Nadu and is currently studying computer engineering at a Coimbatore college. His most well-known invention uses an eco-friendly technology to preserve the banana leaf for a year without using any chemicals. These processed leaves have a higher durability and resistance, and can be used to make eco-friendly plates and cups and reduce the consumption of plastic and paper products. He is now working on an artificial intelligence system that can be used in education and defence.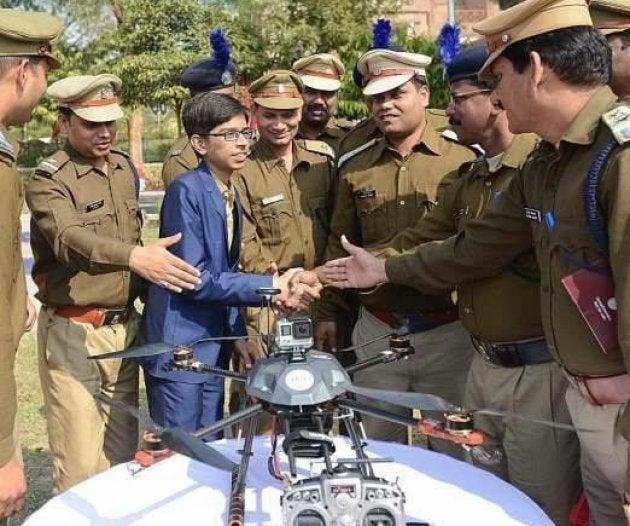 Harshwardhan Zala, 14
14-year-old Harshwardhan Zala began 2017 on a rather unusual note for someone his age: by signing an agreement worth Rs 5 crore with the Gujarat government for a laser drone which can help detect hidden landmines in war fields. The schoolboy began working on the prototype of the drone in 2015 after watching a television programme on the army casualties and injuries caused by manually defusing landmines. His parents spent approximately Rs 3.2 lakhs for the first two prototypes of the drone. The final prototype was funded by the Gujarat government, and Zala has plans to develop the drone's own camera, with infrared and thermal technology.
Zala's love for electronics began early, at the age of 10, and was almost entirely self-taught. "I learnt basic electronics from the internet and then started tinkering and making them more advanced," Zala said. "So far I have built 12 robots and this is fifth drone." In 2016, he won a scholarship to go to the Google campus. The class 10 student from Ahmedabad has also founded a company called Aerobotics 7 to focus on other innovations in the field of robotics and smart drones.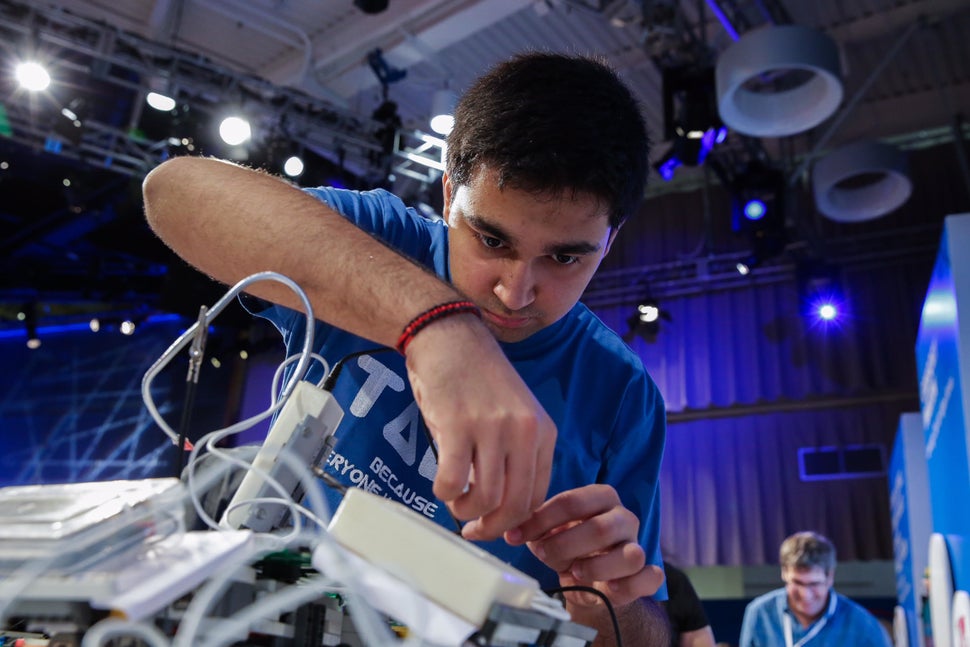 When he was still in school in Panipat, Arsh Singh Dilbagi met a person who had lost his speech after having a stroke. He wondered why he wasn't using an assistive device, and then realised that most, like the ones used by Stephen Hawking, were too expensive and bulky. At the age of 16, Dilbagi built TALK, an affordable and portable assistive device to convert breath into speech that can help speech-impaired persons with developmental disabilities such as locked-in syndrome, ALS or Parkinson's disease. It works by converting breath into electrical signals using Morse code, which are then interpreted into words. In 2014, Dilbagi's device won the voters' choice award at the Google's Global Science Fair.
"I got interested in robotics at the age of 12, after I realised that technology allows us to create things that can be more capable that we ever can be -- it is like cheating evolution," Dilbagi said. The 18-year-old is now studying computer science and visual arts at the Princeton University. Over the last three years, he has been developing TALK's computational engine to use machine learning to help the device understand the user better and add a graphic user interface that can be controlled with breath.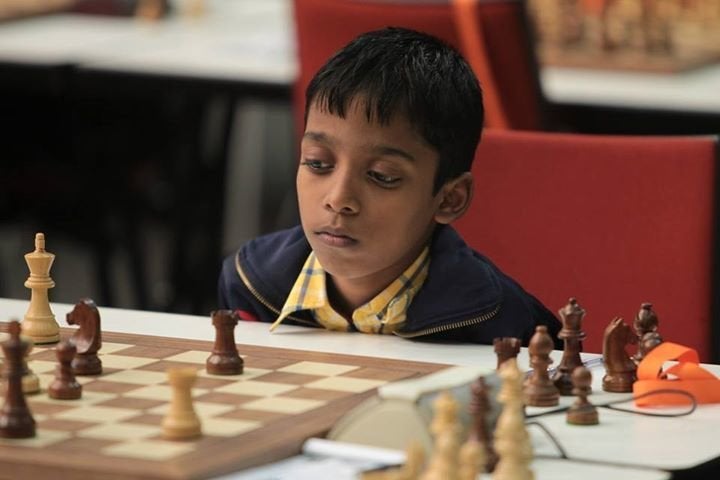 Last year, at the age of 10, Chennai's chess prodigy R Praggnanandhaa became world's youngest ever chess International Master. The 11-year-old got started playing chess at the age of three, thanks to his elder sister R. Vaishali, who started learning the game before him and is now an International Master herself. He won the World Youth Chess Championship under-8 boys title in 2013 and the under-10 title in 2015. His talent has even earned him praise from his idol, Vishwanathan Anand. According to his father Rameshbabu, the class VI student at a Chennai school, Praggnanandhaa has so far managed to balance both chess and school. At the time of writing this article for instance, he was playing the Aeroflot Open in Moscow. He's now set his sights on becoming a Grandmaster.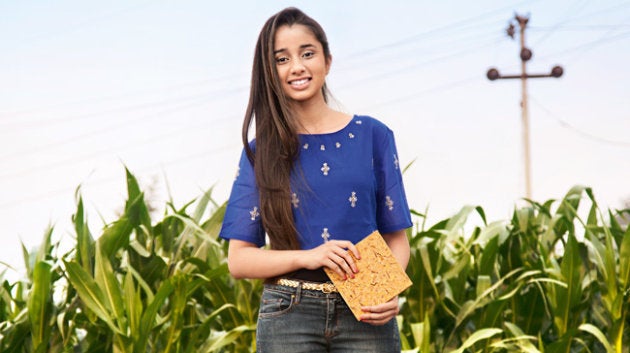 Bisman Deu,18
Visiting her family's farm Amritsar, Bisman Deu realised that the air pollution levels went up drastically after harvesting season as the farmers often ended up burning the rice waste, i.e. husk and straw left behind after harvest. Then a school student in Chandigarh, Deu found a way to transform the unwanted rice waste into a sustainable building material called Green Wood that can be used to make low-cost, eco-friendly houses. Since it is a waterproof particleboard, Green Wood can also be used to make furniture. The innovation won HP's Social innovation Relay competition in 2013.
"I vividly remember, that during an evening walk with my dad, I saw huge, black clouds of smoke and later started coughing profusely," Deu recalled. "I was an extremely curious kid and this curiosity led me to research more about the properties of rice husk and later this research led on to me turning my mother's kitchen into my laboratory and through experimentation, Green Wood was born." The 18-year-old is now studying at the University of Warwick in UK, and continues to work on improving Green Wood and lowering its carbon footprint. "I think this product has the potential to benefit thousands of people across the globe," Deu said.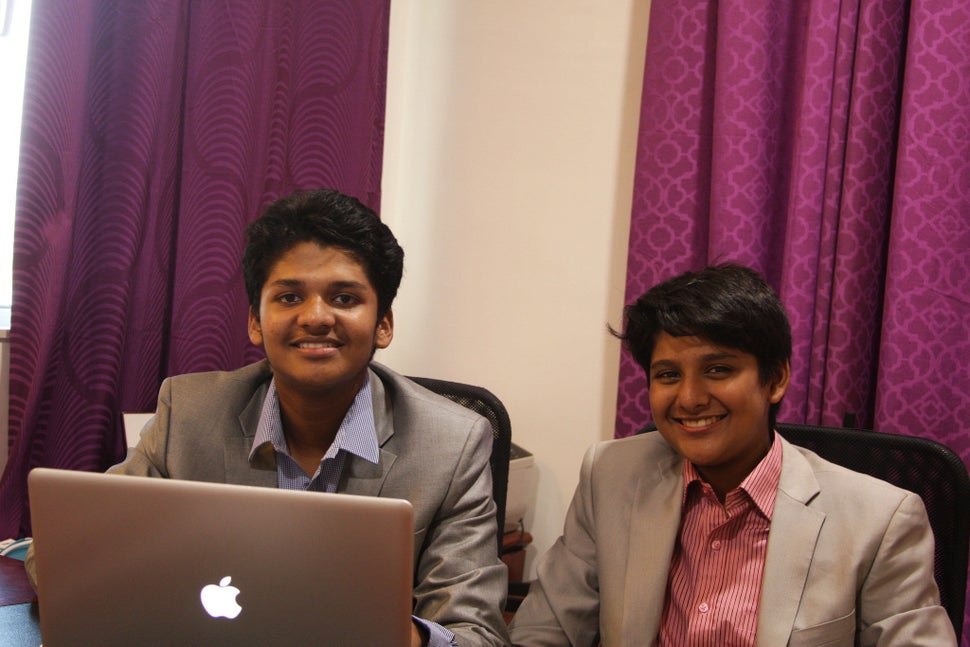 Shravan and Sanjay Kumaran, 17 and 15
For Chennai's Kumaran brothers, you are never too young to startup. 17-year-old Shravan and 15-year-old Sanjay made their first app in 2011 and are among the youngest mobile application programmers and CEOs in India. Together, the two run company called GoDimensions and have made 7 iOS apps and 3 Android apps till date. These include games, as well as praying, emergency helpline, colouring and learning apps. Their latest app goDonate, aims at connecting people who want to donate excess food to charities and NGOs. "We have been passionate about computers since we were very young. Our father taught us basic programming and then we started developing small mobile application programs on our own," the Kumarans said. "When mobile apps were picking up, we decided to get on to the platform as we felt that is going to be a game changer."
The Kumarans are now looking beyond apps. They're currently focusing on building a virtual reality device called GoVR, an affordable tablet called GoSheet, and a remote door locking IoT device called GoLock.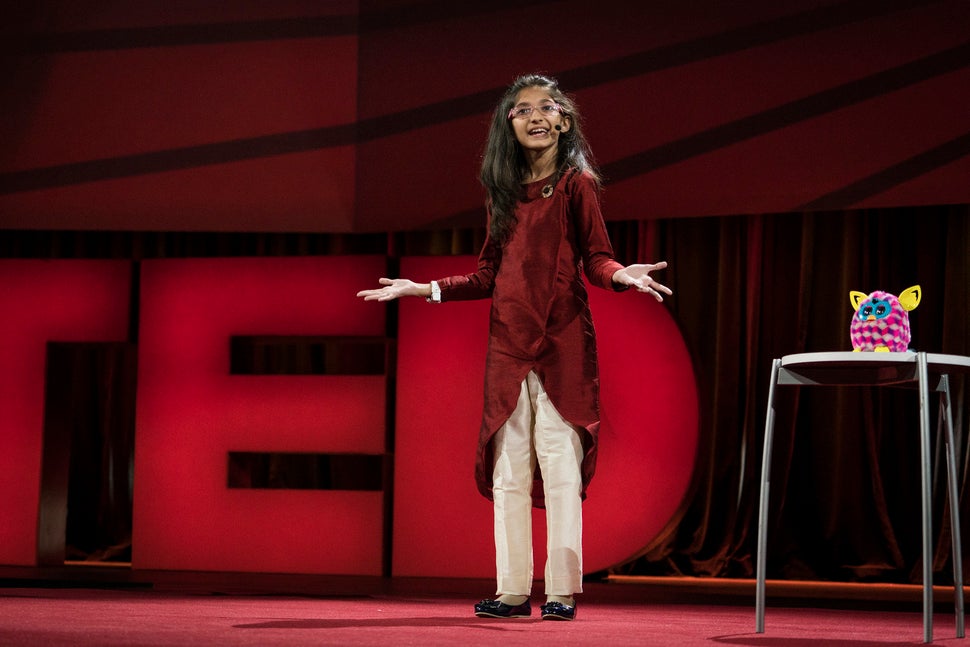 Ishita Katyal hit the headlines when she was just 10, for becoming the youngest indian TEDx speaker in New York in 2015. Her talk "Why You Don't have to Wait Till You Grow Up" focused on how kids don't need to wait until they become adults to achieve something. Looking back Katyal says that though she was initially nervous about public speaking, she took it in her stride.
"My love for speaking, making everyone smile and laugh, inspiring people and changing mindsets made me get the confidence to speak at many conferences and events," Katyal said. "During my first talk, I was a bit nervous but as I went to more and more events, I got more and more confident. Also, feeling nervous is completely natural. Anyone who is reading this and is a bit nervous to go in front of people should know that even some of the biggest speakers have felt nervous. In a way, it helps you to give your best." Katyal also wrote her first book Simran's Diary at the age of 8, and is now working on her second.