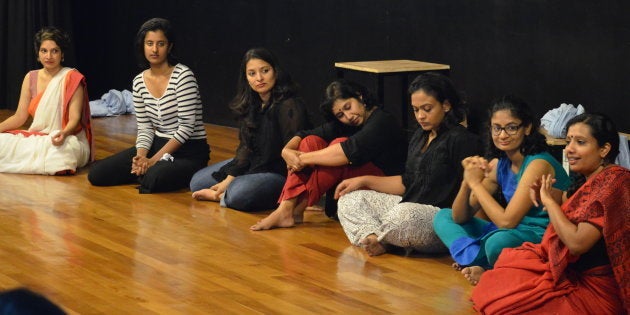 A woman recalls how her father forced her to travel with her cousin brother, who sexually abused her at night despite her repeated protests. Another girl reflects on how even as an adult, she is unable to connect with her partner in bed because of the emotional trauma of childhood abuse. A third recollects how she gave up dancing after her mother slapped her for wearing a provocative costume and so 'encouraging' the man who abused her.
These aren't scenes from a film. They are real-life stories of five women from Bengaluru recounting their experiences of childhood sexual abuse in front of an audience in a play. Called called "Positively Shameless", it aims to break the taboo surrounding child sexual abuse and use the stories as a tool to start a conversation with the audience.
Directed by Bengaluru-based drama therapist and psychologist Maitri Gopalakrishna and theatre and dance practitioner Shabari Rao, "Positively Shameless" is a devised theatre performance that grew out of a 12-week drama therapy process conducted by Gopalakrishna during her PhD at Mumbai's Tata Institute of Social Sciences in 2015. All the performers are adult women survivors, who narrate and enact their own stories, but the play also talks about issues that are common to all of them, such as the effect of abuse on their body image, relationships and sexuality. While a lot of the play is autobiographical, the directors edited and dramatised certain sections. So far, the group has held seven performances, many of them been sold out.
This unusual play was recently presented by the Delhi Police as part of its annual Delhi Police Week celebrations, in front of an audience of school and college principals and students, as well as NGO workers. Rao admits that she was initially surprised when the Delhi Police approached and invited them to perform the play. "We didn't think that this was the kind of play they would be looking for because we don't have a moralistic tone and it isn't about advocacy," Rao said. "It is based on real stories."
Far from being educational, preachy or advocacy-oriented, the play looks at the complex web of social issues -- gender, patriarchy, consent and familial complicity in dealing with childhood abuse by an acquaintance or relative. "It points out that child sexual abuse is not just a problem of the person who has suffered it or perpetrated it but something that concerns us all," Rao told HuffPost India. "It talks about social complicity. That's the challenge that the play throws to the audience. At one point, one of the actors asks the audience, 'Do you see your role in this?'"
After the hour-long play has been performed, the team uses the stories to draw the audience into a discussion on child sexual abuse. Since the play is rooted in the experiences of these five women, it is far from being all-encompassing. For instance, it does not have any male characters or talk about child sexual abuse faced by boys. Yet, it is an honest and nuanced portrayal of an issue that is rarely talked about.
The play was called "Positively Shameless" to reclaim the shame associated with child sexual abuse, says the director. "There is shame and blame associated with child sexual abuse. We want wanted to turn that around and reclaim it. What is it to be shameless in a good way, to display our talent, intelligence and strength?" Rao said. In one scene, the actors discuss how they identify neither with the term victim or survivor. "It is as if all we've done is survive. Yet, we are impacted not disabled," an actor reflects.
"There is shame and blame associated with child sexual abuse. We want wanted to turn that around and reclaim the stories."
For the Delhi Police, the play was an experimental but important first step towards talking about child sexual abuse. "We were introducing a new subject so we wanted to break the mould," Additional DCP Manishi Chandra said. "It should be provocative enough to shake people up and stimulate critical thinking." According to Chandra, apart from the umbrella awareness and implementation of the child sexual abuse laws, nothing specific had been devised on the issue yet.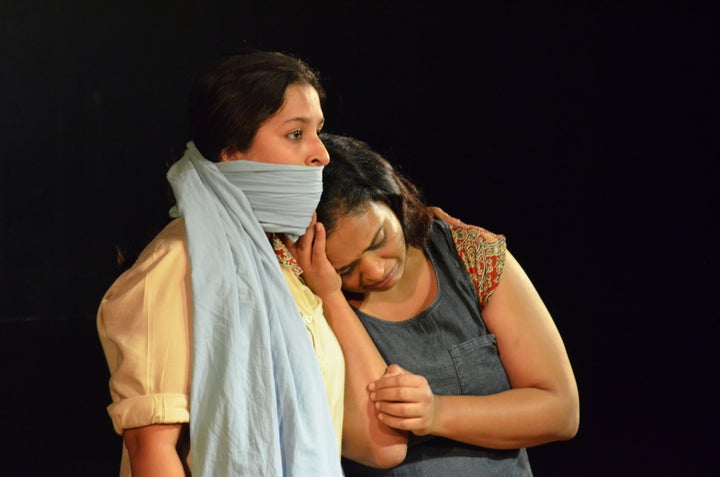 Delhi Police's most successful initiative so far for child sexual abuse is a programme called Operation Nirbheek. Started in 2015 in North-East Delhi, it educates students of colleges and schools, and enables them to file anonymous written complaints through letter drop-boxes. Its success prompted the police to extend it to all the districts in the Indian capital. Yet, the recent case of a Delhi tailor who assaulted 500 girls demonstrates that there many loopholes persist.
For Chandra, the play's most significant achievement is in changing the way the way the police force thinks about these issues. "Five women took decades to gather the courage to speak out. Child sexual abuse is not just a policing issue, it is also about sensitising people," Chandra said. "With every initiative, our (the police's) awareness is also growing and we are learning from it too."
At the end of the performance in Delhi, a police officer went up to the stage and spoke of how the play had affected him and the need to acknowledge childhood sexual abuse. "In this room, half of us have suffered child sexual abuse," he said, "and half of us have done it."