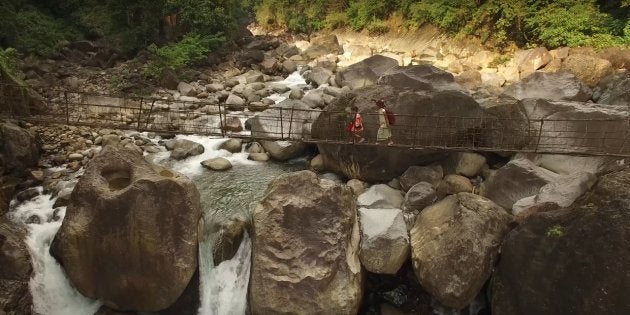 Meghalaya, a name that literally means "the abode of the clouds", conjures up images of the engineering marvel of the living root bridges, the quaint colonial-era capital Shillong, and Cherrapunji, one of the wettest places on earth. Yet, all except a few ardent travel enthusiasts know of the mountain state's magnificent diverse landscapes.
A new aerial video from Meghalaya Tourism shows that there's much more to the region. Shot in 4K resolution, it gives us a bird-eye-view of the state's stunning sights and experiences -- rolling green hills, verdant paddy fields glistening in the sun, breathtaking waterfalls, gorges and river valleys in the Sohra region, the imposing Kyllang rock and the thrill of walking on a creaking bamboo bridge dangling high above a river.
There's even a majestic sequence of Nohakalikai Falls, the tallest plunge waterfall in India, where water falls from a height of 335 metres into a green pond. The video was shot by Shillong-based Light Park Studios using a Phantom 3 drone, with music by Dexter Britain.