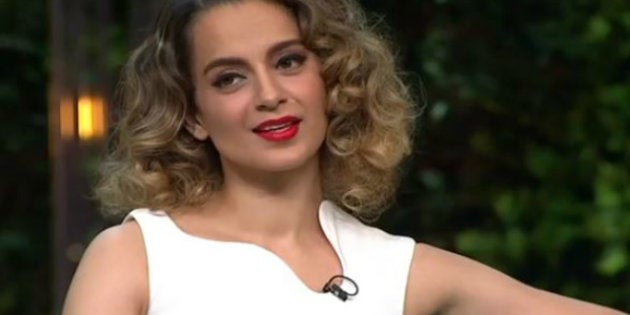 On last night's episode of Koffee with Karan, one found the show's flamboyant host in an uncomfortably sticky spot, on more than one occasion.
The guests were Saif Ali Khan and Kangana Ranaut, but even the usually in-command 'Nawab' seemed like a diminutive entity as Ranaut fiercely claimed her space. At one point, Khan even self-shaded when he said, "What am I even doing on this show?"
In an industry notorious for diplomacy, Ranaut was confident, and spoke with a certain sense of vindictive satisfaction.
She didn't mind reminding Karan that he had made fun of her English at that very show and that episode inspired her to do better.
"Karan, you've been the driving force of my life. If it wasn't for all the rejections and the mocking, I wouldn't have made it," she said, looking straight at Johar, undoubtedly one of the most powerful filmmakers in Bollywood.
This reflects something quite terrific about Ranaut's sense of self. When she was mocked for her accent, she was aware that the accent didn't sound as polished as one expected from a Bollywood star.
Instead of getting all wound up, she took the criticism on her chin and worked on improving it.
And she wasn't afraid to tell the man sitting in front of her that he was the trigger.
But that wasn't all. Ranaut, it appeared, came on the show with the intention of establishing a very intricate power dynamic -- for years, Johar never cast her in any of the big-ticket Dharma project and now she had reached a place where it was essential for him to invite her on a show that he hosts.
Ranaut, it appears is very aware of this shift in the power structure, and she asserted it with casual nonchalance.
Without mincing words, she blatantly called him someone who's 'intolerant' towards outsiders.
"If ever my biopic is made, you'll be the stereotypical Bollywood biggies who is snooty and completely intolerant to outsiders. Flag-bearer of nepotism. The movie mafia."
While this triggered bouts of laughter, Ranaut didn't say this as a joke. Well, at least not entirely.
What she was doing was holding a mirror to Johar who is notorious for peddling only industry talent. The gates of the hallowed Dharma Productions remain firmly shut for anyone who doesn't come with Grade A film pedigree.
She even took on Aditya Chopra as she revealed that he once told her that she'll never make it big in the industry. But last year, Chopra ate his own words when he called Ranaut to his office and confessed that she's proven him 'wrong.'
"I was very glad to hear that. He didn't have to do it," she said with a radiant smile.
For an actor to do this -- it is a big deal. This is an industry peppered with people who excel in pretending. They praise you from one end and before you are out of hearing distance, there is a snarky comment passed, much like you'd see in a Madhur Bhandarkar movie.
On the surface, everybody likes everybody and it's all very hunky dory. But once you look a little deeper, it isn't exactly the La La Land that it tries so hard to make you believe. Egos are bruised, tempers fly, and grudges are often held forever.
In this context, Ranaut is a refreshingly bold voice, one that we must take a moment to fully applaud. The ramifications of what she said on the show could be very real -- for all you know, Johar may never cast her in any of his films. But that doesn't scare her. It empowers her. She seems to be in such a secure space, it is scary.
And it isn't that she has not dealt with the consequences before.
Her outspokenness had led to a bitter fallout with her Rascals co-stars, Sanjay Dutt and Ajay Devgn. Such was the backlash that the actress was barred from coming to the film's promotional events while both, Devgn and Dutt vowed not to 'ever work with her again.'
Yet she came out of it stronger than ever before.
Actresses here send 'feelers' to directors and male co-stars, often going to great extents to secure a role in a tentpole entertainer.
But here she is, on national television, saying:
"I don't want to work with any of the Khans. I don't want to work with anyone with whom I don't have an equal role," she said, referring to the fact that most movies starring the Khans are also driven entirely by them.
No actress has ever tried to challenge the status quo like Ranaut has. By saying so, she effectively puts herself in a premier spot, where her relevance as an artist in the film industry is not dependent on the superficial validation that a movie with the Khans ensures.
While there was a fair amount of underlying tension in the episode, there were some lighter moments too. Like when she pointed out that on good days, Shahid is a dream to work with and that he even gets breakfast from home for her. And on bad days? "He looks at you like you are a suicide-bomber," she laughed.
About Saif, she said that he likes all the attention and wants to always be in the spotlight, which according to her was one of his bad qualities. The good? He's hilarious.
But this wasn't even the wittiest part of the show. That came when Johar asked her whether she'd like to be poor and in love or rich but without love.
Kangana replied saying, "Karan, your idea of poverty is very different from mine."
She's on her own trip, a league of her own.
One sincerely hopes that she's able to sustain it for as long as possible.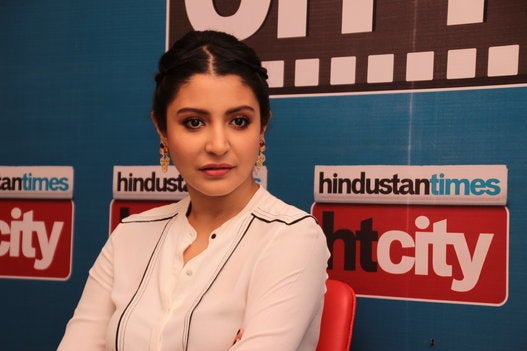 6 Times Anushka Sharma Nailed It While Speaking About Censorship