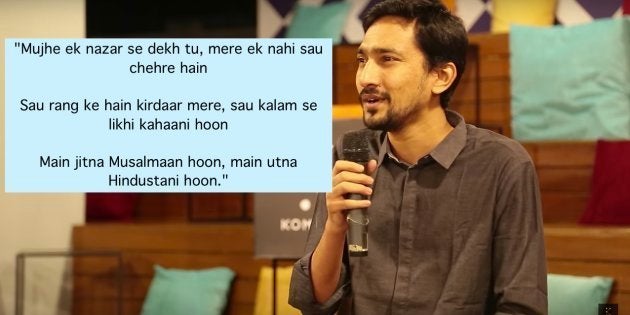 Being a Muslim today can come with its own baggage and stereotypes. The steady rise of Islamophobia in the post-9/11 world, the depredations of ISIS, and pronouncements by the new American president or leaders closer home don't make things any easier for Indian Muslim men, women, boys or girls as they try and go about their daily lives.
In his evocative poem, Hindustani Musalmaan, Hussain Haidry highlights the diversity of class, caste, region, belief systems, food habits and personal attitudes that a bland term like 'Indian Muslim' can hide.
Haidry recited his poem at Kommune India, a storytelling platform founded by performers Ankur Tiwari, Roshan Abbas, and Gaurav Kapur for young artists wanting to showcase their talent and share their thoughts.
Here are bits from his poem.
Main Shia hoon ya Sunni hoon

Main Khoja hoon ya Bohri hoon

Main gaaon se hoon ya shehri hoon

Main Baagi hoon ya Sufi hoon

Main Quomi hoon ya Dhongi hoon

Main kaisa musalman hoon bhai?

Main sajda karne wala hoon ya jhatka khaane wala hoon?

Main topi pehen ke phirta hoon ya daadhi uda ke rehta hoon?

Main aayat call se padhta hoon ya filmi gaane ramta hoon?

Main Allah Allah karta hoon ya shekhu se ladd padta hoon?

Main kaisa musalman hoon bhai?

Main Hindustani Musalman hoon

Dakkan se hoon, UP se hoon, Bhopal se hoon, Delhi se hoon,

Kashmir se hoon, Gujarat se hoon

Harr unchi neechi jaat se hoon

Main hi hoon julaha mocha bhi

Main doctor bhi hoon darji bhi

Mujhmein Geeta ka saar bhi hai, ek urdu ka akhbaar bhi hai

Mera ek mahina Ramzan bhi hai, maine kiya toh Ganga snaan bhi hai

Apne hi taur se jeeta hoon

Daaru cigarette bhi peeta hoon

Koi neta meri nas nas mein nahi, main kisi party ke bas mein nahi

Main Hindustani Musalman hoon