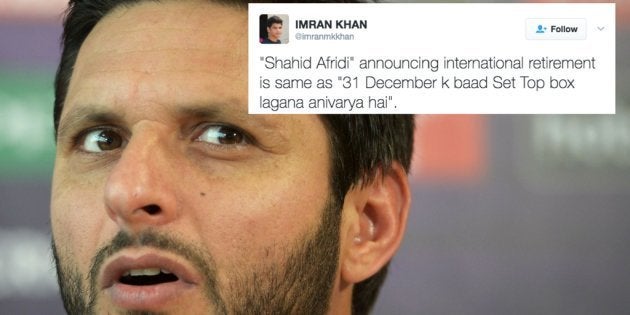 On Sunday, 36-year-old legendary Pakistani all-rounder Shahid Afridi announced his retirement from international cricket after a glorious 21-year-long career.
Nicknamed Boom Boom Afridi, the former Pakistani skipper is best known for his explosive batting, having hit a 37-ball ODI century when he was only 16. Now, he has decided to call it quits from the T20 format after a smashing 28-ball 54-run performance in a Pakistan Super League match in Sharjah.
But this isn't the first time that Afridi has retired or considered retirement.
In 2006, he announced retirement from the Test cricket but then withdrew his decision after just two weeks. He finally retired from Test cricket in 2010.
In 2011, Afridi retired yet again, this time from the limited-overs format, only to retract the decision 5 months later.
In 2014, he announced that he will retire from the 50-over format after the 2015 World Cup and followed up on his announcement, retiring after Pakistan lost to Australia in the quarter-finals of the World Cup.
And, in 2016, after announcing his intention of retiring from the T20 format after the 2016 ICC World Twenty20, Afridi once again reconsidered his decision.
Unsurprisingly, the master of retirements has become the butt of jokes on the Internet.
Shahid Afridi Timeline

1996: Debut

2011: Retired

2011: Came back

2014: Retired

2014: Came Back

2016: Retired

2016: Came Back

2017: Retired

— Broken Cricket (@BrokenCricket) February 20, 2017
And some blast from the past.