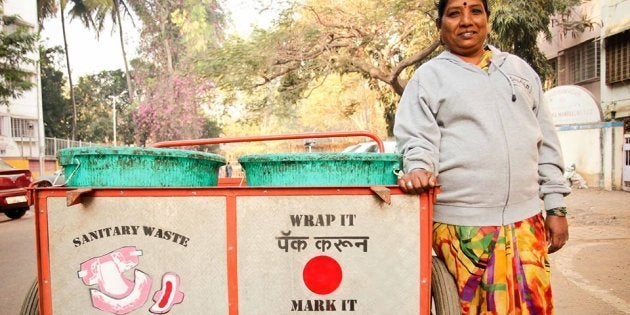 Every day, hundreds and thousands of sanitary pads and diapers make their way from households to garbage bins and landfills all over India. Unmarked and unsegregated, the packages are also a heath hazard for the waste pickers who have to deal with them.
"Every bit of waste is valuable to the waste pickers. When it is not identifiable, they do a fine job of opening it, and separating each part into different materials because that is how scrap dealers buy it," Suchismita Pai, outreach manager at SWaCH told HuffPost India. "Opening sanitary waste is disgusting, and an assault on their dignity and health without any financial gain."
SWaCH, a Pune-based cooperative of self-employed waste-pickers led by women, is encouraging residents to segregate and dispose off their sanitary waste in a more hygienic way. Its Red Dot campaign is the first of its kind in India, and aims at encouraging residents to wrap their sanitary waste in a newspaper and mark it with a red dot to help waste pickers to identify and segregate it easily. The campaign was started in response to a 2016 ruling by the Ministry of Environment and Forests that made it compulsory for households to segregate sanitary waste in clearly marked bags.
SWaCH (Solid Collection and Handling) is cooperative of 2,800 self-employed waste workers and works with the Pune Municipal Corporation to service 5.3 lakh homes across Pune. "SWaCH manages 20 tonnes of unwrapped sanitary waste every day, which is a serious health risk for us," SWaCH waste-picker Mangal Gaikwad said. Unwrapped sanitary waste puts workers to harmful, disease-causing pathogens such as hepatitis, E coli, salmonella and typhoid.
The campaign also aims at raising awareness through stickers, posters, T-shirts, pushcarts, radio ads and door-to-door outreach -- and has already reached a lot of people through this Facebook video.
In the long term, SWaCH hopes to involve manufacturers like Kimberly Clark and Proctor & Gamble into the dialogue on disposing sanitary waste, most of which is non-biodegradable. "They end up in a landfill because they can't be recycled easily," Pai said. "We are fighting for extended producer responsibility to ensure that they are disposed off properly and to find a way of recycling them."