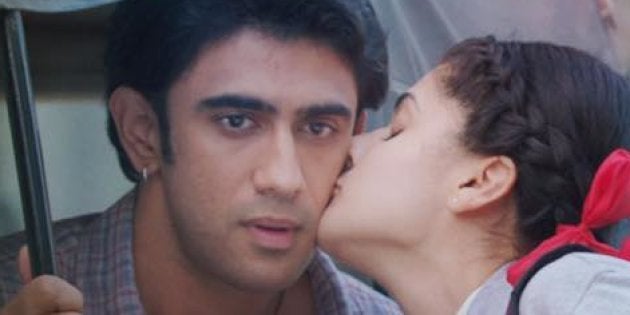 Why is Shaadi.com pissed with Running Shaadi.com? Before you go all 'lolwut', be warned, this isn't a PJ. The matrimonial website is actually miffed with the film called Running Shaadi.com and had moved court seeking to stop the film's release.
So Shoojit Sircar, the film's producer, has gone ahead and agreed to remove all references to the website in the film and also change the title. This would mean, the portions of the film starring Tapsee Pannu and Amit Sadh has to be re-dubbed. According to Mumbai Mirror, not just that, the publicity material has to be re-fashioned as well, keeping with the new title of the film, which the makers haven't announced yet.
The Mumbai Mirror reports that Shaadi.com took exception to use of its name as a part of the film's title. The report also said: "Apart from using Shaadi.com, a trade mark, in the title, People Interactive Pvt. Ltd, owners of the website, objected to the fact that the movie was about eloping couples which, the company feared, could negatively impact its image in the market."
However, Shaadi.com's CEO Gourav Rakshit told HuffPost India that while they were concerned about the brand getting tainted, they didn't have a moral position on eloping or marriage or suchlike. "Those are inference being made," he said.
According to Rakshit, Shaadi.com reached out to the makers of Running Shaadi.com because the title had a direct reference to their website. "We reached out to them three weeks back and asked them to let us see the script or the film, so that we can make sure that our brand was not being disparaged in the film. However, they said something about creative licence and didn't want to show us the script or show the film or properly discuss the issues we had with having our brand dragged into the title. After a while, it became untenable and their arrogance was simply disappointing. So we had to take legal recourse," Rakshit said.
He added that if there was any other brand involved in a similar issue, they would have done the same thing that Shaadi.com did. "So many people get married through the website and it's not fair on the brand or its consumers," Rakshit added.
(This copy has been updated to reflect Shaadi.com's response.)