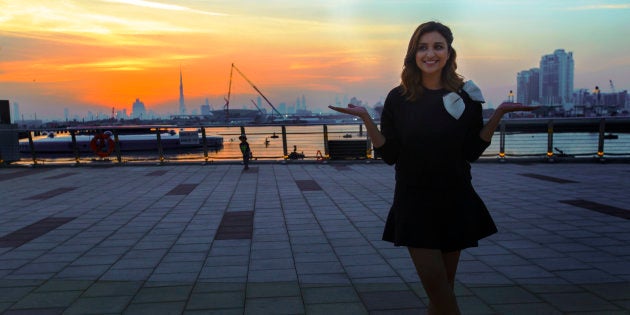 Just when you think you've got Parineeti Chopra all figured out, the pretty actor throws a googly at you. Her recent physical transformation to super-fit and sculpted might have fooled us into thinking that the Ishaqzaade star is carefully counting her calories these days. But guess what? On a recent trip to Dubai, Parineeti proved that actors don't need to go to dieting extremes to look fabulous. Tucking into different kinds of dishes and cuisines with abandon, Parineeti Chopra clearly enjoyed every second of her stay in the Emirates! Take a look at the actress lighting up the sands with her outfits and trademark joie de vivre.
Out for a walk on Kite Beach, Parineeti and her companion came across a cluster of food trucks serving cuisines from around the world. Check out Parineeti's delight as she scans the menu.
So what did she eventually try? Reliable sources tell us Parineeti opted for a Fried Chicken Sandwich, and pancakes and waffles with warm maple butter.
Yes, we'd be dancing too!
The same night, Parineeti and friend headed to Izakaya, a Japanese restaurant at the JW Marriot Marquis Dubai. The duo had a blast with the jovial chef, who put on quite a show for their benefit! The star of the dinner, for Parineeti, was the prawns tempura roll.
What could be better than a breakfast fit for a Sultan, in the shadow of the Burj Al Arab? Although stuffed, Parineeti was clearly reluctant for the meal to come to an end. The two later compensated by taking a power walk along the beach.
But Parineeti wasn't done yet! Her next destination was Al Fanar Restaurant & Café, a popular joint whose rustic, yet stylish interiors are reminiscent of Dubai in the 1960s. Ditching the fork and knife to eat with her fingers, Parineeti relished the traditional Emirati cuisine on offer, and even drew parallels between Emirati and Indian food.
The Shuddh Italian Romance
Parineet visited The Palazzo Versace Dubai, known for its signature Italian food, and was completely blown away by the chef's special preparations, and the attention he bestowed on her. And we don't blame him—this one made us look twice, too.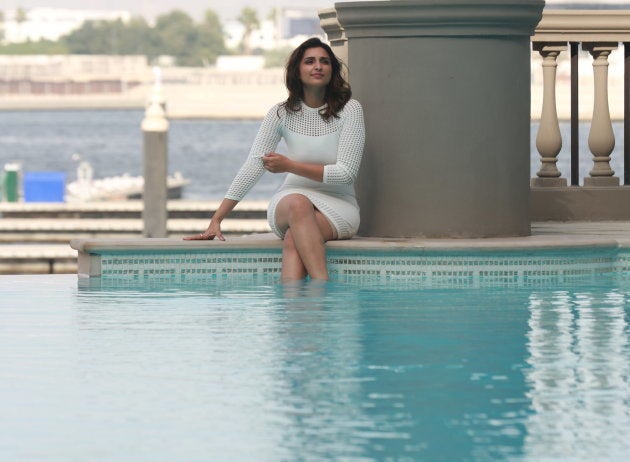 For her part, Parineeti was also completely floored by the beautiful hotel, whose neoclassical interiors reflect traditional Italian design elements with a touch of Arabian architecture. Before leaving the hotel, Parineeti made sure to take along a keepsake.
If Parineeti's trip was any indication, great food can only make you look more radiant and happier than ever. And speaking of great food, you too can have a foodventure like Parineeti at the Dubai Food Festival 2017, which is taking place between February 23 and March 11, 2017.