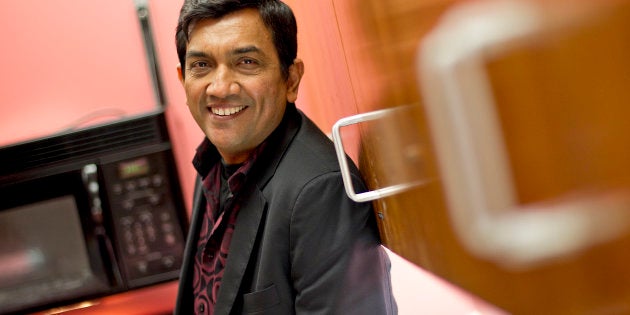 When Sanjeev Kapoor was awarded the Padma Shri award in January, he was only the third chef to get the recognition. In 1992, a year after cable television entered India, Kapoor began hosting Khana Khazana, an Indian cooking show that became so successful that it became the longest-running TV show of its kind in Asia. In the pre-Google and YouTube era, Kapoor's success rested on his ability to simplify complex recipes and his knowledge as a chef for an entire generation of home cooks, as well as engage the audience with his easy charm.
Over the years, Kapoor has built a large business empire, which includes a chain of restaurants, a range of cookware and appliances called Wonderchef, a line of ready-to-eat meals, and a 24-hour channel, Food Food. He has also authored hundreds of cookbooks and endorsed numerous brands. His website claims to have over 10 million views a month, while his YouTube channel has over million subscribers.
In a long-winding interview with HuffPost India, Kapoor talked about being one of India's first celebrity chefs, connecting with the Instagram generation and how he wasn't even the first choice as the host of Khana Khazana.
You were one of the first 'celebrity chefs' back in the day. What do you think you did differently from your contemporaries?
I don't believe in the word celebrity chef. I think it is an overrated word. I finished college in 1984. This was the time when traditional chefs didn't teach you anything. They were scared and guarded, and would keep recipes and skills to their chest. I thought that this was something that I should change. If I learn something I should teach it and as quickly as possible. At my first job at a hotel in Varanasi in 1985-86, I started teaching. Later, I went to New Zealand to work, and on Saturday and Sunday, the restaurant would be closed, and I would take classes. I came back to India as the executive chef of the Centaur Hotel in Bombay, and again I started taking classes.
When I got this offer to do an episode on a new show on a new channel to be launched, I thought it sounded like a good idea. Somewhere it bothered me that I had reached my professional peak at an early age. I was 28 and already the executive chef at a 350-room hotel (Mumbai's Centaur Hotel). I thought to myself: is this what I'm going to do all my life?
"Traditional chefs didn't teach you anything. They were scared and guarded, and would keep recipes and skills to their chest. I thought that this is something that I should change."
At that time, I had was doing a masters in marketing and management in Mumbai. The show was to be called Shriman Bawarchi. I refused to do it because I was the executive chef of a hotel and didn't like the name. After a few days, I gave them a few names, Khana Khazana was one of them. The producers agreed. The show was to be hosted by a film actress and I was to cook in just one episode.
The show started airing with another host. One day, I was called to cook for an episode as an emergency substitute. I cooked two dishes without any preparation. That episode went on air, and the response was phenomenal. There were lakhs of letters. The show was good, but because I had not planned the dishes but created them on on the spot, I asked the audience to suggest names for the dish. The audience were responding to that question, and sending in names for the dish. The episode was telecast again for the next three weeks. The number of letters that they received prompted a debate and I became the host. For the next 19 years, I did that show nonstop.
What was the transition from being a hotel chef to a TV chef like? Most five star chefs prefer to continue working at five star hotels. Did you think you were diluting your brand when you took to TV?
I always knew what I was doing. Deep down, I knew that I was not diluting my brand, but enhancing it. Not just then. Every day, I am not in the comfort zone, to do that is an easy task. I have been fighting, surviving and coming on top every day. To do that is not an easy task. I am not protected by any environment. When I quit my job, I didn't have any office or anyone working with me. Today, I see a veteran chef doing a show. What I saw 25 years ago, people are seeing now, which means the ability to foresee and know. It is an inherent need to learn, it is the desire which is insatiable. I say that the day I cease to learn should be my last day. That makes the difference. I cannot say I will take my food only to 23 people. I should not be in a highly protective environment. I love being in a ocean. I may struggle but I will survive.
You were only the third Indian chef to get a Padma Award. How has the chef's role changed in the last two decades?
All my life I've been trying to change concept of a chef being a bechara.I was taking pride in what I did. I had very little support. For the first three years of Khana Khazana, I didn't charge any money. All the chefs thought that I was mad and that I was getting paid much more than I should. They thought I had made a big mistake by quitting hotels in 1997. Actually, for the first 10 years, I had cut myself off and did not tell anyone what I was doing. I was doing my job and succeeding big time. People had no clue where I lived or what I did. Today, young chefs come and touch my feet and say that thanks to you we have joined. I can safely say that 50% of the chefs in the last 10 years have been influenced by what I have done directly or indirectly. There is recognition and it is a career option with some respect. Having said that, am I happy? No, because chefs are still underpaid and exploited. They are still not getting their due.
"Probably the biggest contribution of Masterchef India is the word plating, which has gained importance and popularity. "
We started talking about the Padma award 7 years ago, because chefs need this. There is no separate category for cooking but cooking is skill, art and science, all combined together. Last year, chef Imtiaz Qureshi was the second chef to get the Padma award. This year, I received it, but I'll be happy when it is given to five chefs every year. That will be the change.
How have India's attitudes towards food and cooking changed since the mid-90s? Earlier, cooking shows were all about Indian food earlier. Now, home cooking is much more aspirational. How do you keep up and cater to an audience who follows international chefs and wants to try different cuisines?
Conversations around food have increased and has inspirations. Probably the biggest contribution of the TV show Masterchef India is the word plating, which has gained importance and popularity. I understand their needs because I am one of them. While the forms are changing, but the taste hasn't changed. So Pizza Hut will have a tandoori chicken pizza and McDonald's will have an aloo tikki burger or now a dosa burger. Aspiration is the change in the belief that we want to have something international but we still want the comfort our familiar taste. Our taste is of chaat. We don't want Thai curry with fish sauce, but with khatta, meetha and teekha flavours. Once you understand these two, it becomes easy for you to give it to them which feeds both their aspiration and comfort both.
"Today, we want to have something international but we still want the comfort our familiar taste."
While they may see something from an international chef, when they need an eggless cupcake, who will give it to them? They want sushi, but can't get that sushi rice in India. So how do you create a comfortable mix of aspiration and comfort? When you do that, you may say that we are diluting the original recipe, but food is meant to change. What we consider authentic today in India, over 400 years, we didn't have chillies, potatoes or tomatoes. So it is okay to change. It is done knowingly. I know the recipe but I am changing it deliberately. If I am not putting seaweed or maki in sushi, I know what I am doing.
Cooking and food is big on social media. There is an explosion of Instagram chefs, food bloggers and home cooks. Where do you see yourself in relation to this food-obsessed generation?
I have been an early adopter of technology. In 1996, I launched my own website. Big publications didn't have a website at that time. People would ask me for my books, but I thought everybody does books. So my first publication was a CD ROM in the mid-1990s, before I launched my book. This was at a time when there were less than 50,000 home computers in India. I have always done things differently.
Today, we have close to 5 million Facebook followers. Our YouTube channel has 1.5 million subscribers, the largest by any personality in this country. How many chefs are on Snapchat? I don't need to follow, I lead. Right now, I personally enjoy doing live shows on Facebook personally and interacting with my followers. Soon, I think there will be technology that'll allow me to see you while you're commenting on my video.
Do you think you have a connect with the younger audience?
Yes, my largest audience set is a younger person who is more internet savvy. A few years ago it was all women above the age of 30, but today, the fan base is younger.There are more people who consume my content on the internet than TV, even though we have a 24-hour TV channel too. There is a whole generation who doesn't know that I have done Khana Khazana. They will know because we were an early adopter of technology. When you Google for butter chicken, Sanjeev Kapoor will still be on top.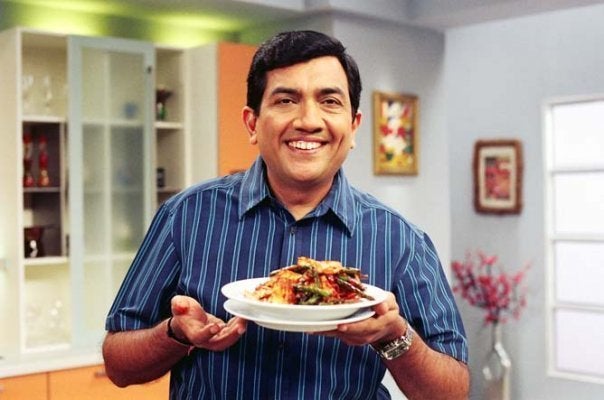 Who do you like in the current crop of chefs?
I know all of them. They are all like my adopted kids and younger brothers. Vikas Khanna has done a good job of reaching out in a very likeable way. Ranveer Brar is very close to me. Saransh Golia is very endearing. Harpal Sodhi has been with me for the last 25 years. Manish Malhotra at India Accent has done a cutting job. The younger chefs are doing an amazing job,they have passion and the road ahead is much clearer. When I started, I didn't know the way, I just went ahead. The chefs of this generation have that advantage.
Do you cook at home? What is your comfort food?
I cook at home on weekends and when I have people coming at home but I don't cook the same dish twice. I make some tweaks every time. My daughters never want Indian food, so I mostly end up cooking pan-Asian food. Over the years, my cooking has become lighter and healthier. For instance, a steaming hot bowl of laksa is quite common on a Sunday lunch at home. As for eating, I love my mom's food -- simple nostalgic food that brings back memories.