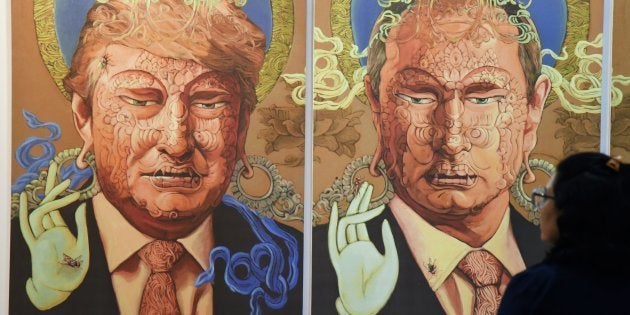 The ninth edition of the Indian subcontinent's biggest art event, the India Art Fair (IAF), is all set to begin in New Delhi from 3 to 5 February. This year, the fair brings together an eclectic mix of Indian and international artists, with over 70 participating galleries from around the world. From Donald Trump and Vladimir Putin to demonetised Indian currency and immigration, IAF 2017 features artists tackling a range of topical themes. This year's fair also provides a long-overdue platform devoted to India's diverse vernacular art traditions. Here are the art projects, booths and events you shouldn't miss.
This remarkable exhibition by Photoink gallery consists of intimate and candid photographs of Mahatma Gandhi and other contemporary political leaders, taken by his grand-nephew and personal staff member, Kanu Gandhi. Taken between 1936 and 1948, the black-and-white images present a rarely-seen side of Gandhi in the years leading up to Independence and the Partition.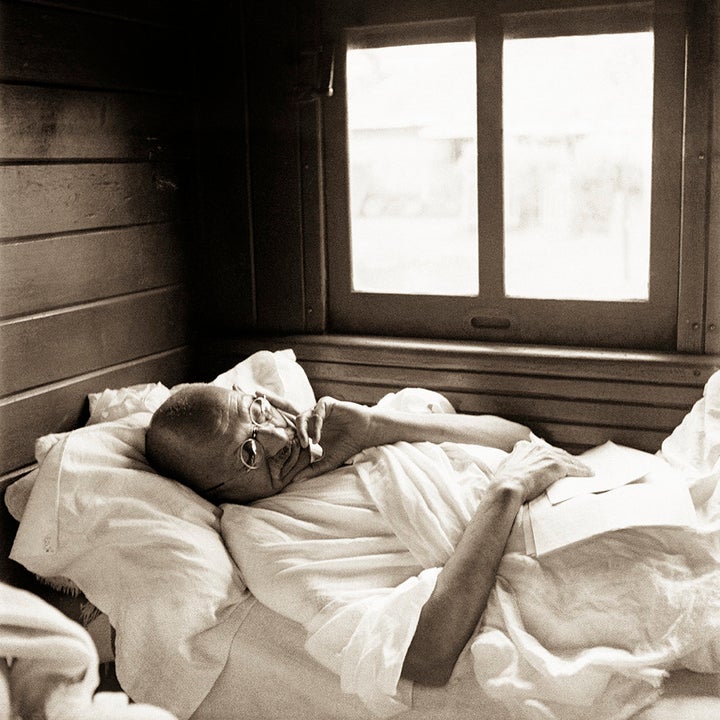 Jaipur-based jewellery house Amrapali makes its debut at the India Art Fair with a preview of its forthcoming museum. The fascinating exhibition showcases chunky heritage and tribal jewellery, as well as silver handicrafts from across India. Look out for rare necklaces, bracelets, paandaans, hand fans and statues.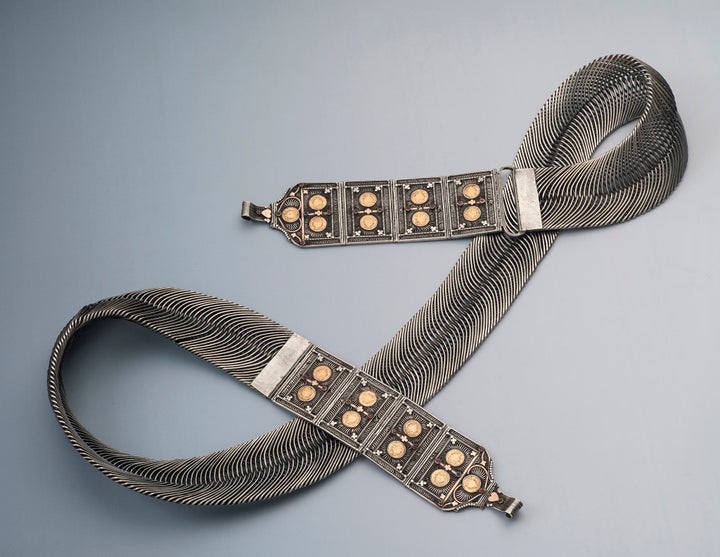 Sudarshan Shetty's 'Taj Mahal'
Like the original Taj Mahal, this imaginative piece by Sudarshan Shetty is a sight to behold. It reimagines India's most famous tourist spot with a sculpture made of 250 miniature metal reproductions of the monument of love. On the inside of the sculpture, a video shows the central dome of the Taj Mahal being consumed by flames. Shetty's piece is a comment on how, while the Taj Mahal is marketed and replicated in the form of tacky souvenirs, the original monument suffers from lack of adequate preservation.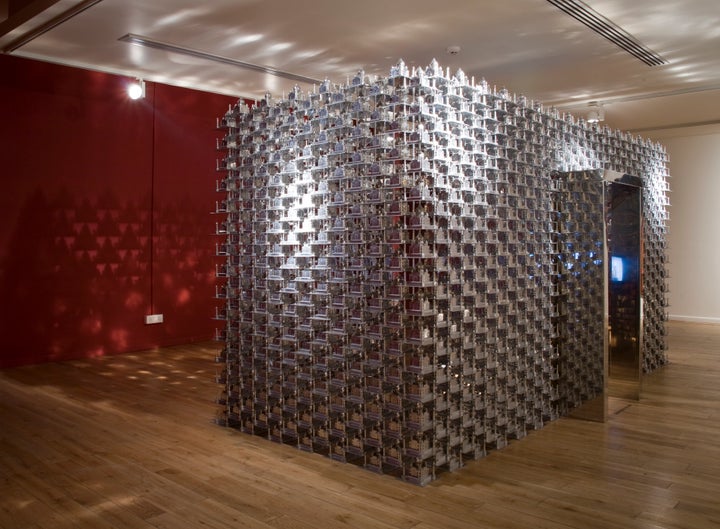 This new exhibition space curated by Annapurna Garimella provides a much-needed platform for vernacular art in the India Art Fair. It focuses on the storytelling and techniques used in Gond, Madhubani and Mysore painting, and features artists such as Bhajju Shyam, Neelkanth Choudhary and Bima Dutta. On 4 February, Garimella will also moderate a discussion on how vernacular artists balance the demands of being both traditional and contemporary. Another stall by Delhi-based Gallery Espace focuses on traditional leather puppets from Karnataka which were used to narrate stories from the Mahabharata and Ramayana.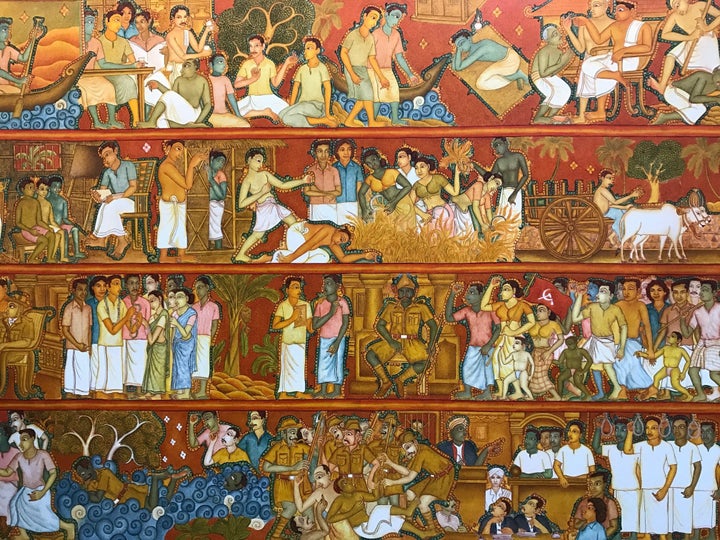 Thukral and Tagra's 'Memoir Bar'
This interactive project by the artist duo Thukral and Tagra has already been attracting a lot of visitors. Memoir Bar deals with the idea of capturing and preserving memory in an object. Participants are invited to pick a memory, and write it down on a piece paper, and then see it being shredded and made into a cement tile. Together, the tiles will become part of a bigger installation, which is meant to serve as a library of preserved memories.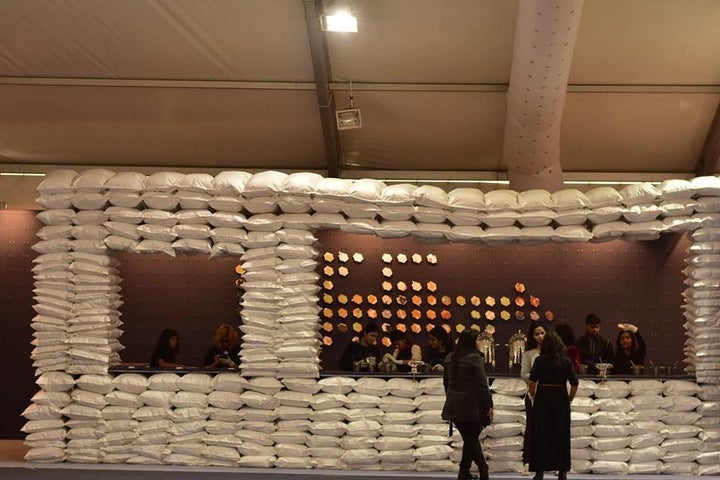 Anila Quayyam Agha's 'All the Flowers are for Me'
One of the most captivating exhibits this year, Pakistani-American artist Anila Quayyam Agha's critically-acclaimed sculpture All the Flowers Are For Me has won several international awards. An homage to her mother's beauty, the work comprises a lit-up metal box with laser cutouts of delicate floral and geometric designs that refract light. The resulting work casts delicate patterns on its surroundings. This is also the first major piece by the artist to be exhibited in India.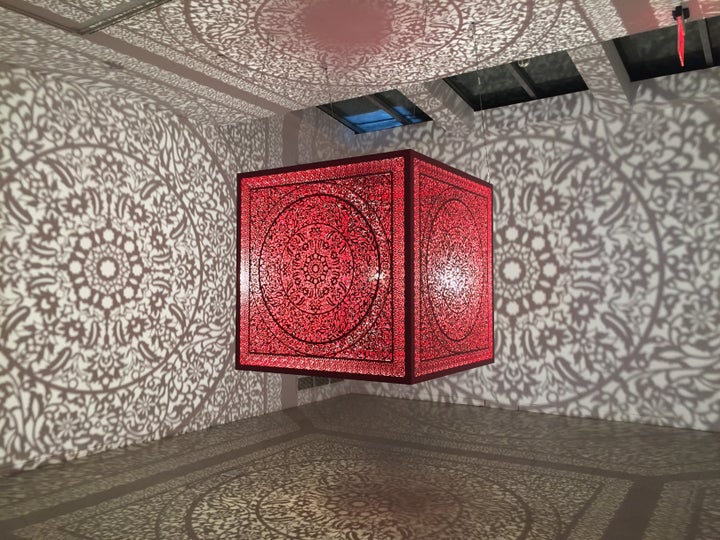 Every year, BMW exhibits a new Art Car at the IAF. This time, the car maker will be showcasing a colourful BMW M3 GTR car painted by the Italian artist Sandro Chia. Designed by Chia in 1992, the car is covered with numerous faces, who represent the audience. "This car here meets the people who look at it like a mirror," Chia said about his work.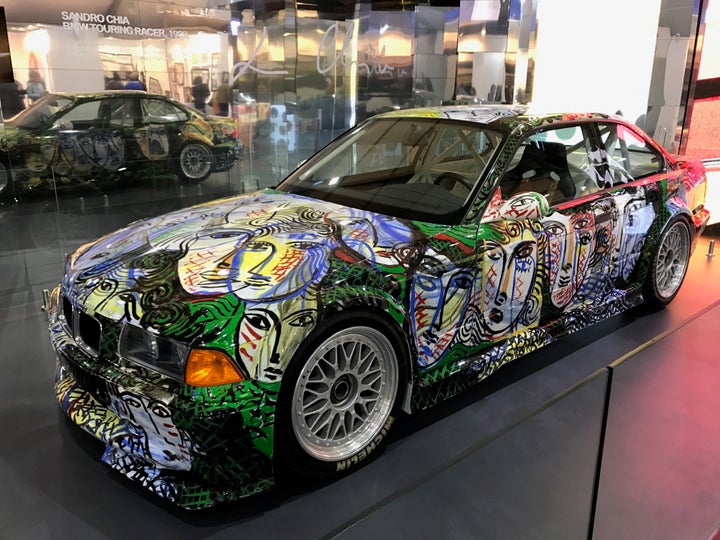 Reena Saini Kallat's 'Woven Chronicle'
In this topical piece, Mumbai-based artist Reena Saini Kallat creates a woven map that reflects the contradictions of an increasingly digital and connected world, stringent immigration laws, prejudices against immigrants and closed borders. Kallat uses multi-coloured electrical wires to trace the routes of refugees, contract workers, asylum seekers and other migrants traversing geographical boundaries between different countries and continents.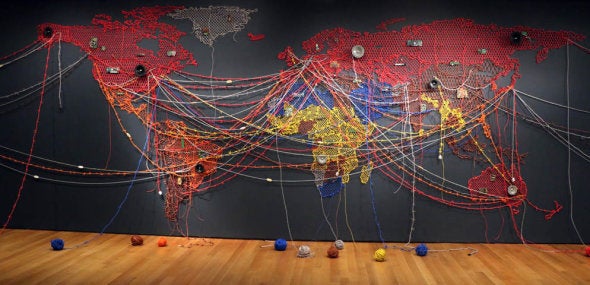 Alberto Echegaray Guevara's 'Empty Illusion'
Don't be surprised if you come across rows of Indian currency framed on a wall. At the Spanish gallery Mondo Galeria's booth, Venezuelan artist Alberto Echegaray Guevera has made an artwork featuring rows of ₹50 bank notes with the word "dharma" written across them in Hindi. Guevera, who is known for using currency to explore society's relationship to money, has also made an installation called Empty Illusion, comprising shredded ₹500 and ₹1,000 notes.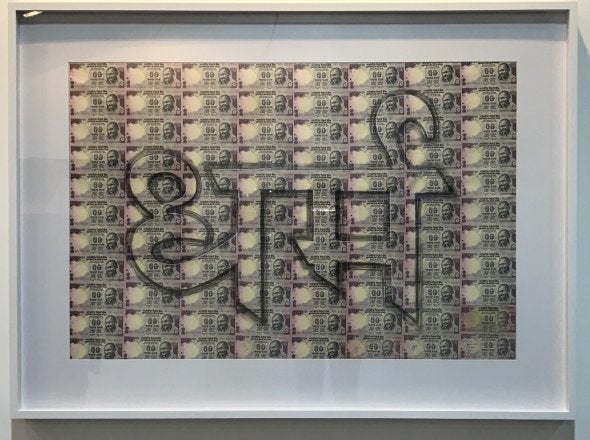 Delhi Art Gallery's 'Masterpieces of Modern Indian Art'
Take a crash course in Indian art history at Delhi Art Gallery's large booth, which presents a well-curated collection of 100 iconic Indian artworks from the 19th century onwards. The exhibition includes works by Rabindranath Tagore, Jamini Roy, SH Raza, MF Husain and Raja Ravi Varma. Don't miss Modernist master FN Souza's 1957 oil painting Man and Woman Laughing, which was auctioned for ₹16.84 crore in 2015. Notably, the gallery has also included accessibility tools for selected works to enable differently-abled persons experience the artworks.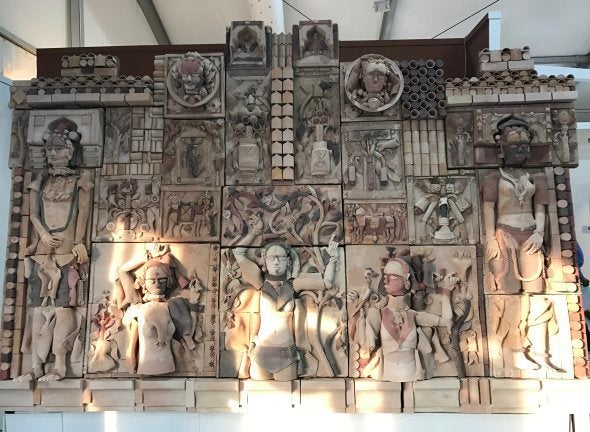 This year's fair focuses on South Asian art, with galleries from Bangladesh (Britto Arts Trust), Nepal (Nepal Art Council), Sri Lanka (Theertha International Artists' Collective) presenting interesting projects. No Man's Land revisits a 2014 community project which saw artists from India and Bangladesh crossing their respective international borders to meet each other in a no man's man and reflect on their common culture and geography. Gallery Espace's A Tale of Two Cities features 12 Indian and Sri Lankan artists, who travelled to the historic cities of Varanasi and Anuradhapura in both the countries over a year. Look out for Nepali artist Sunil Sigdel's Peace Owners II, a satirical painting starring the trinity of Donald Trump, Vladimir Putin and Kim Jong Un using Buddhist imagery.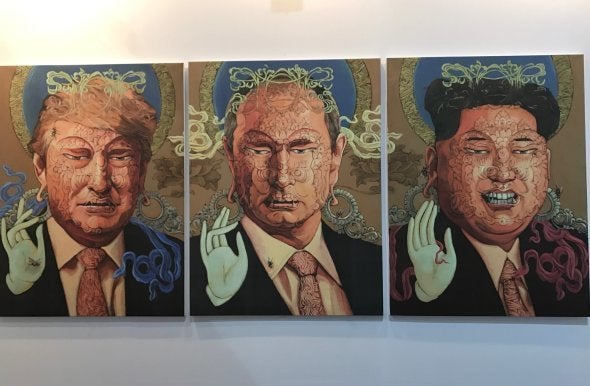 In 1969, Akbar Padamsee, a pioneer of Modern Indian art, made an experimental 16mm film called Events in a Cloud Chamber, which was lost over the decades. The film has now been remade by Padamsee in collaboration with filmmaker Ashim Ahluwalia and will be screened at the fair. Events in a Cloud Chamber is part of a special film programme, which features films about and by artists from the 1960s to the present. Curated by filmmaker Avijit Mukul Kishore, along with architect-academic Rohan Shivkumar and the Godrej India Culture Lab, the programme includes rare films such as MF Husain's Through The Eyes of a Painter and Tyeb Mehta's Koodal.