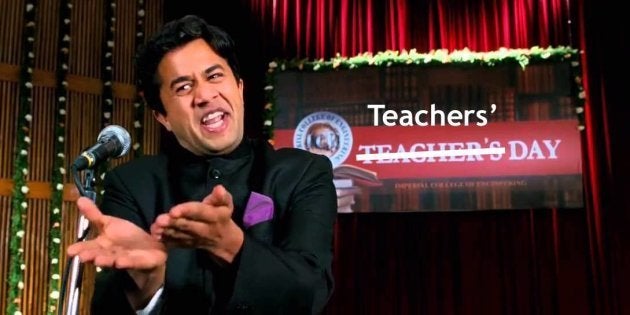 It's not like we expect Bollywood films to be great pieces of realism. In fact, we love the fact that people break into a dance pretty much anywhere in these films and the music comes from a source you cannot see on screen.
So it's not surprising that we fail to notice errors dime a dozen that Bollywood films make. From seeing a glimpse of Thakur's hands hiding underneath his kurta to Rustom's majorly flawed uniform, we have probably overlooked some bloopers, which would have been pretty hilarious to spot while watching the films.
So here's a list of such bloopers you may want to re-watch these movies for.
1. Ra.One (2011)
Shekhar Subramanium, a game designer, played by Shah Rukh Khan is killed by antagonist Ra.One. Khan who plays a South Indian Hindu in the movie is given a Christian funeral.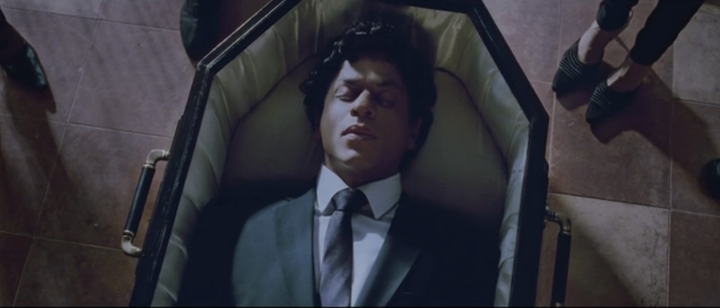 2. Dhoom 2 (2006)
Mr. A (Hrithik Roshan) who steals valuable artefacts from under the police's nose, roller skates in Mumbai traffic, turns into a plaster of paris statue while remotely controlling a robot (that goes unnoticed, LOL) to steal a diamond. He changes clothes as well and all this he does in 4.5 seconds -- you took more time to read these two sentences.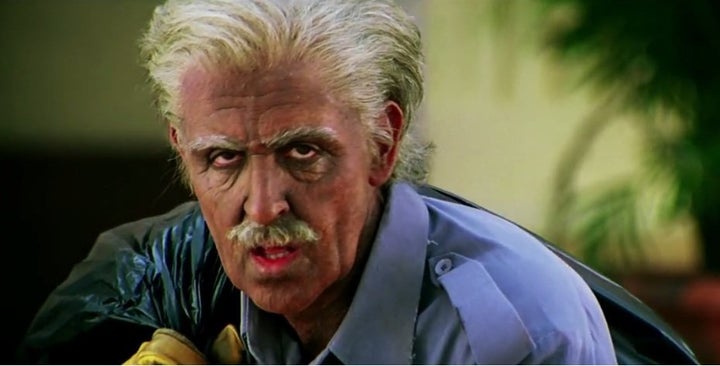 ... this. Just like that.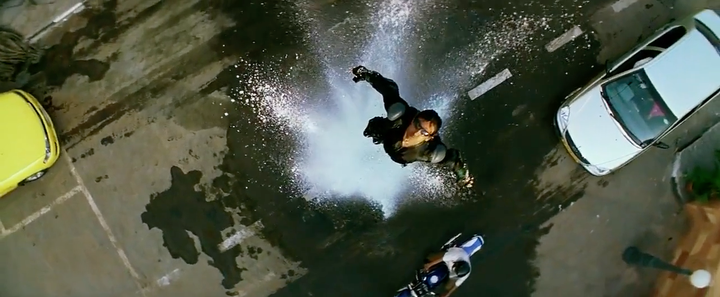 But among the impossible thefts shown in this action-packed movie, the movie shows something else which we failed to notice.
Mr. A who's waiting at the airport sees the news about the robbery being flashed on TV.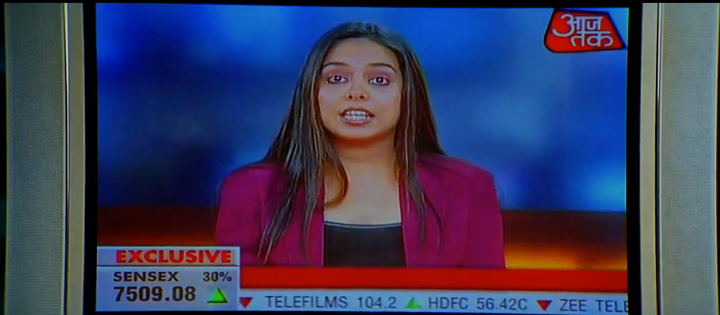 Sensex is up by 30%. Nifty is down by 27%. On the same day. So what exactly is a news channel doing, discussing a robbery on such a volatile market day?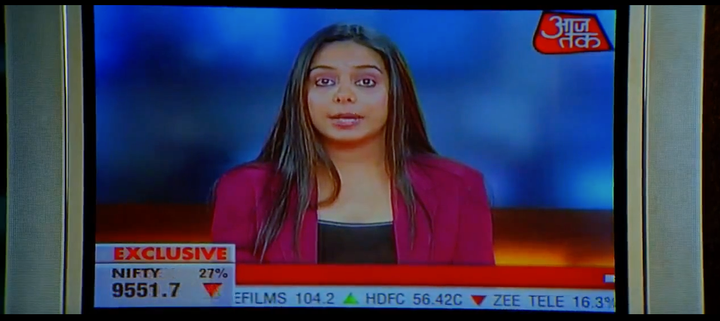 3. Ajnabee (2001)
Everything in this 2001 suspense-thriller is planned. Except for the moment when Bobby Deol types in the password of Akshay Kumar's Swiss bank account and shows it to him.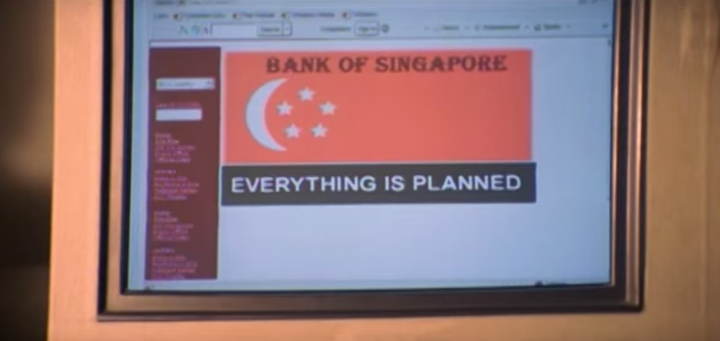 Any decent site would display the password as ************* let alone an International bank. Also, space between characters of a password? WHYYYY?
4. Lagaan (2001)
The epic sports drama, Lagaan was set in India during the British Empire in the year 1893. The match played between the villagers of Champaner and Captain Andrew Russell's men, each team gets 6 balls over.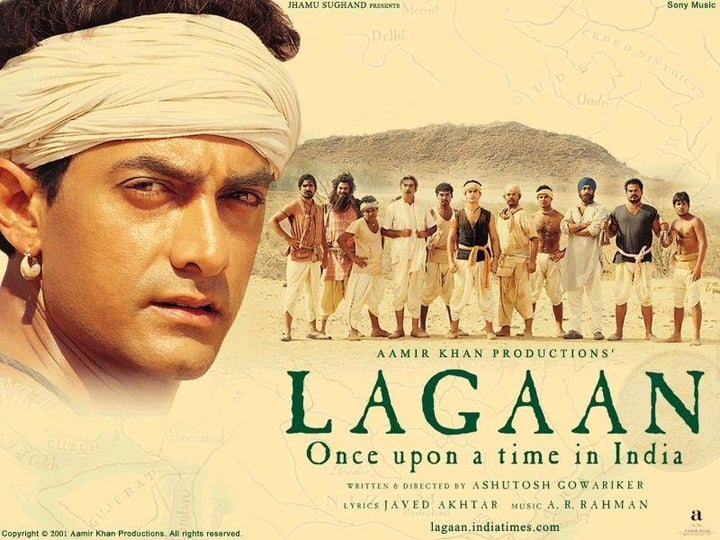 However, in reality, England during the years 1889 to 1899, played only a 5 ball over. But who cares, HUM JEET GAYE.
5. Bhaag Milkha Bhaag (2013)
Rakeysh Omprakash Mehra takes you on an epic journey with the "The Flying Sikh" --- legendary Indian athlete Milkha Singh.
In one of the scenes, while romancing Sonam Kapoor and trying to woo her, Milkha sings the song, "Nanha munna raahi hoon."
This scene is supposed to be set in the early 1950s while the song from the movie Son of India was only released in 1962.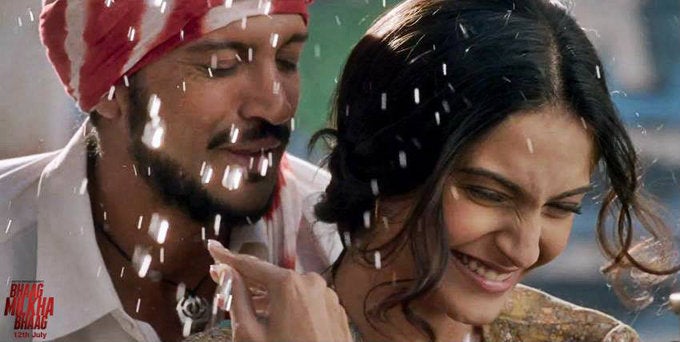 Also, the bike Milkha Singh rides while visiting Pakistan for the competition is a 2012 model Royal Enfield.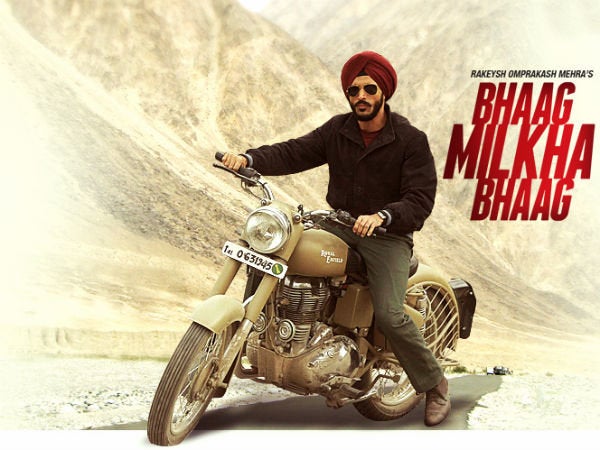 Cell phone tower. Umm. In 1950.

6. Badlapur (2015)
Bent on exacting vengeance, Raghu (Varun Dhawan) meets Harman (Vinay Pathak) and his wife Kanchan (Radhika Apte) at their house and interrogates them about his wife and son's murder.
Harman offers Raghu money as a compensation for his lost family which agitates Raghu and he flings the wine bottle that he had bought while visiting them.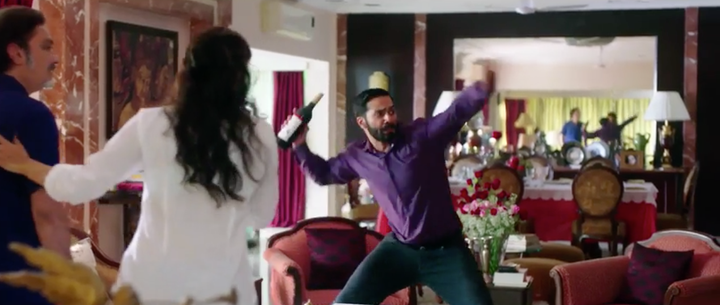 He smashes the wine bottle against the wall.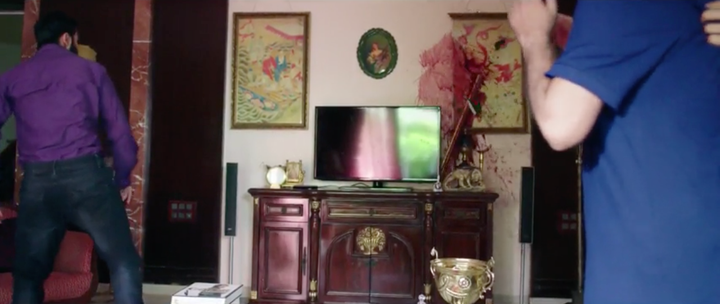 And the very next frame... I need such self-cleaning wall. Goddammit.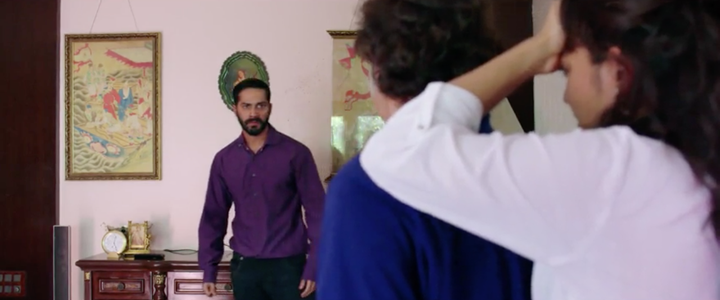 7. PK (2014)
Jaggu's (Anushka Sharma) love interest Sarfaraz (Sushant Singh Rajput) tells her that he works in the Pakistani embassy in Bruges, Belgium. However, the Pakistan embassy is situated in Brussels, Belgium.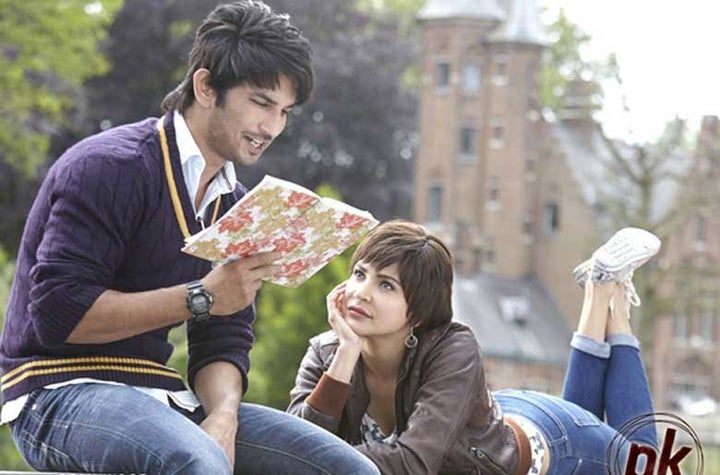 8. Rustom (2016)
Let's not get into the details, shall we? Or if you really want to get the detailed analysis of all the errors committed, India Todayand Sandeep Unnithancomprehensivelytake down the movie and tear it apart.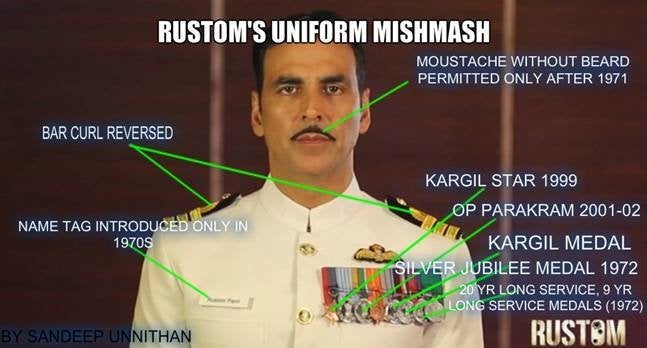 9. Kuch Kuch Hota Hai (1998)
Tina (Rani Mukherji) aware of the complications involved in her pregnancy, chooses to save her child Anjali (Sana Saeed). At the hospital, Tina hands over 8 letters explaining her life in detail to Rahul's (SRK) mother Farida Jalal, one for every birthday.
If Anjali read her 8th letter on her 8th birthday, how did she manage to read at the age of 1? ¯\_(ツ)_/¯
10. Kabhi Khushi Kabhie Gham... (2001)
In the opening scene when Shah Rukh Khan returns to his house, Jaya Bachchan knows about it. She can feel it. Because maa ki mamta and all.
But we wonder how she knows.
11. Sholay (1975)
One of the most iconic movies of Bollywood, Sholay had a blooper moment too. In the legendary scene when Gabbar (Amjad Khan) says, "Yeh haath mujhe dede Thakur", and then goes on to chop off his hands, who would have thought that we could get to see a glimpse of Thakur's (Sanjeev Kumar) hands later on in the movie?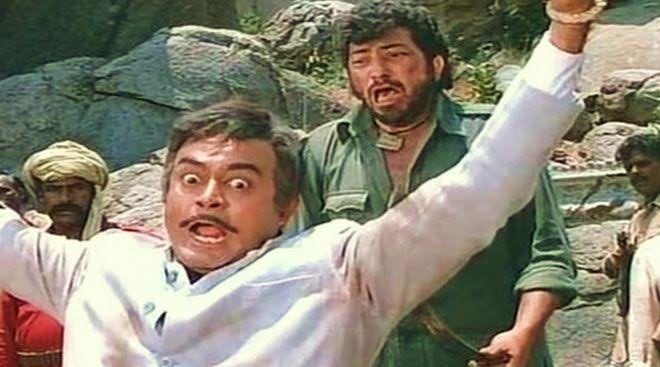 In the final moments of the movie, Veeru (Dharmendra) hands over Gabbar to Thakur who then uses his spike-soled shoes to injure Gabbar and destroy his hands. But... look closely, what else can you see?
12. Queen (2013)
Rani (Kangana Ranaut) goes on a solo honeymoon trip after her fiance calls off the wedding. During the trip, she makes friends of different nationalities and finds joy in the independence.
In the climax scene, Rani takes part in a cooking contest and is unable to find the English name of one spice -- heeng. So she does the most Indian thing ever, calls up her mom back in India.
As it is evident that this is happening during the morning in Amsterdam, and India is only 4 hours and 30 minutes ahead, Rani's family is shown sleeping at night.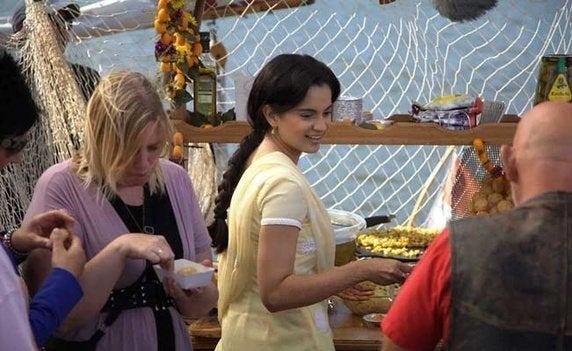 13. 3 Idiots (2009)
Okay, honestly, this one is a little meta. Kudos to this Quora user for his tezz nazar.
In the opening scene when Farhan (R. Madhavan) is about to take off, he gets a call from Chatur (Omi Vaidya) claiming the whereabouts of Rancho (Aamir Khan).
Here is a screenshot of Farhan's aircraft taking off. You can see it is an Airbus A321. (Note the 4 wheel landing gear)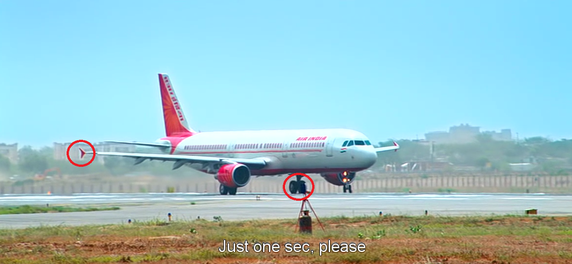 And while touchdown the landing gear is shown to have a 8 wheel layout. Only seen in Airbus A300, A330 or the Boeing 767, but definitely not an A321.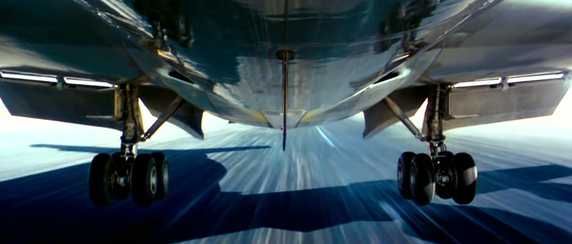 Also, it is Teachers' Day. You're welcome.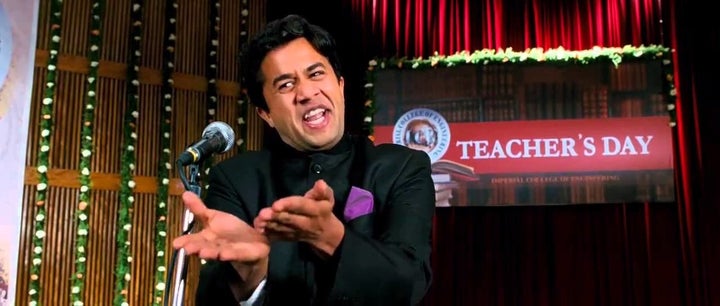 14. Baghban (2003)
In the movie, Big B, and Hema Malini decide to live with their kids to enjoy their affection. They get separated after Holi (that roughly falls in Feb/March) for 6 months.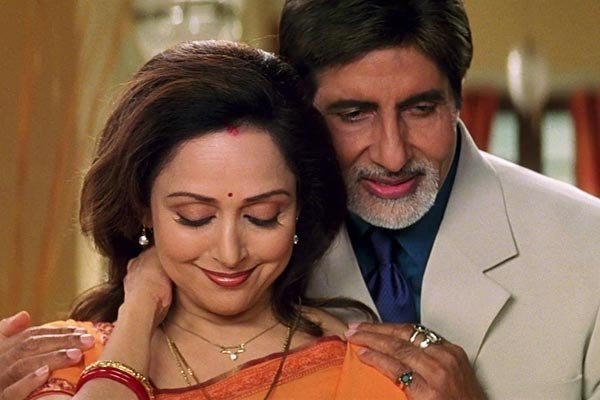 And during those 6 months, they are seen celebrating Valentine's Day.
15. Mr. & Mrs. Khiladi (1997)
This one I remember from childhood. Juhi Chawla takes her dad (Kader Khan) on a drive of their life in a brand new Maruti Esteem.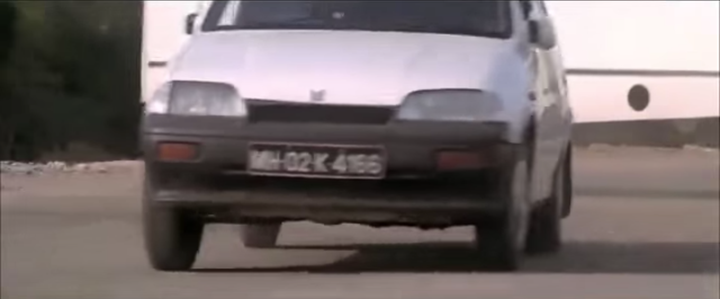 And while on the drive she unleashes her rage on the car and nearly destroys it.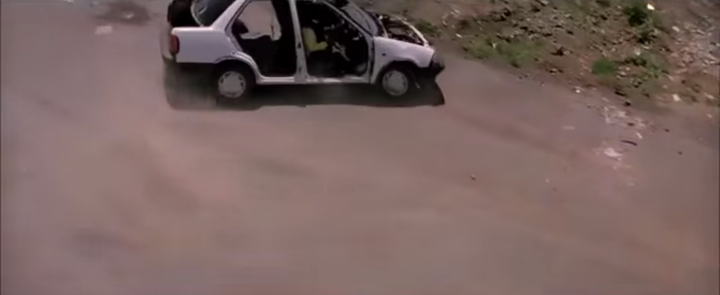 Finally, when they return, driving the 'same' battered car, the Maruti Esteem has magically transformed into a Mercedes.