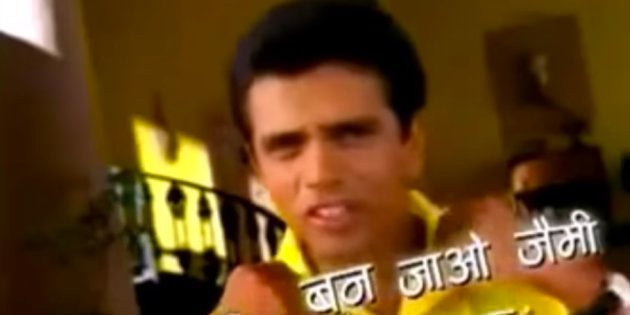 As the cliche goes, cricket is a religion in India. Cricketers become demigods and, when that happens, can sponsors and advertisements be far behind?
Thus it has been for many years now. Our beloved cricketers such as Sachin Tendulkar, Sourav Ganguly, Rahul Dravid, Kapil Dev, have not only made tidy sums for themselves by endorsing several products, they have also given us commercials now etched in our memories.
Here are some, that will definitely take you down the memory lane.
1. Rahul Dravid
"Naya hai, phir style maarne lagega". Always consistent, the Wall has remained arrogance-free and humble all his life.
2. Sachin Tendulkar, Vinod Kambli, and Mohammad Azharuddin
Young Sachin and Kambli fight for the last Pepsi in the fridge. They're in for a surprise.
3. Sourav Ganguly
"Hi, mera naam Sourav Ganguly hai. Bhoole toh nahi?" The time when dada wasn't in the team. This ad will break your heart.
4. Indian cricket team
Team India discovers a surprise visitor when they take a drinks break.
5. Shane Warne, Carl Hooper, and Sachin Tendulkar
The phrase, "Iski to gayi," was on every lip after this ad was aired.
6. Mohammad Azharuddin
Azhar bhai grabs everything that comes his way.
7. Rahul Dravid
Fun fact: Dravid's father used to work at the Kissan jam factory, which earned Dravid the nickname "Jammy" from his classmates. This ad made his nickname popular and "No Jam for Jammy" tagline was born.
8. Sachin Tendulkar and Kapil Dev
I always knew that Boost was the secret behind Tendulkar's energy. Turns out, the drink was Paaji's energy booster too.
9. Sachin Tendulkar
Talking of Tendulkar and not remembering this ad would be a sin.
10. Sachin Tendulkar
Tendulkar may have saved India from trouble many a times but in this Action Shoes ad he saves a kid.
11. Indian cricket team
Indian team breaks into an impromptu match for Pepsi on a boat. Yep.
12. Indian cricket team and Shah Rukh Khan
Shah Rukh Khan disguises himself as Sachin for some Pepsi.
13. Kapil Dev
Batsmen across the world may have had a close shave while facing Kapil Dev but the tables have turned now.