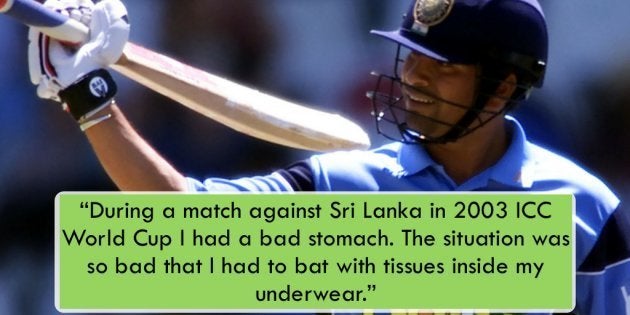 Followed by a billion Indians, cricket is a religion in our country. Still, there is plenty going on with game and its players that the fans do not get to see on their television sets or on the cricket ground.
The dressing room talk, the sledging on the field, cricketers' individual quirks — so much happens away from our adulatory eyes and ears.
Let's unveil a few big cricket 'secrets' that, chances are, you didn't know about.
1. Mohammed Azharuddin — Collar and White Helmet.
The Hyderabadi batsman was one of India's most successful Test captains. The successful yet controversial cricketer was known for his stylish batting but his on-field mannerisms were what made him stand out from his peers.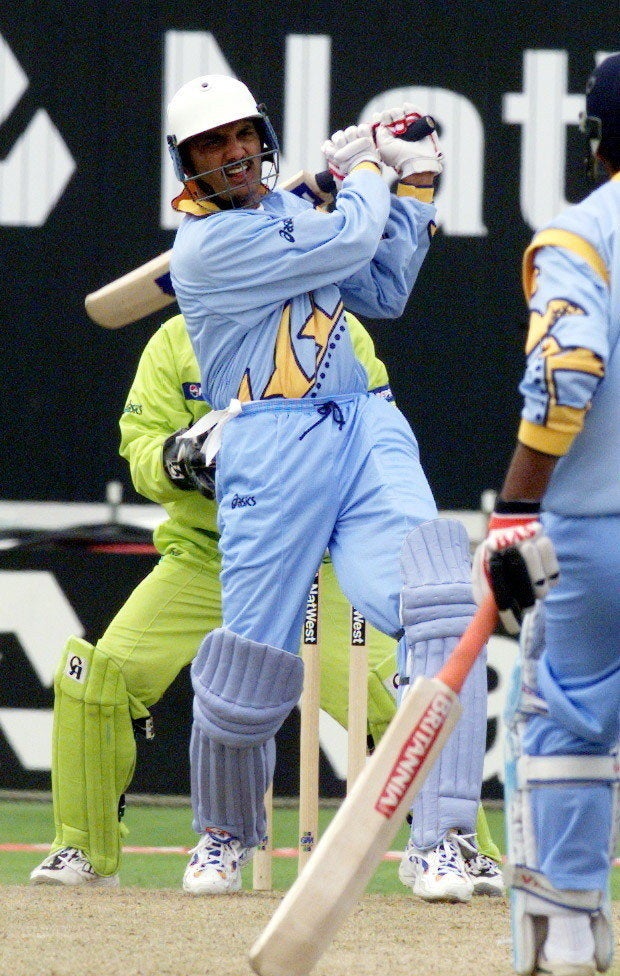 Speaking to the radio station, Fever 104 FM, Azhar said, "While fielding at point, I used to have problems in my neck skin because of the exposure to the sun. Hence, I decided to raise my collar as protection and it became a habit."
"I had a liking for white helmet since we used it a lot during playing Tests. And since there was no compulsion of using a blue helmet, I played with a white one," Azhar told the radio channel.
2. Kapil Dev once cried during an interview
During an interview with Karan Thapar for the show, Hardtalk India, the Haryana Hurricane broke down inconsolably when asked about allegations of having made money and fixing matches.
"I will commit suicide before that rather than taking bribe from somebody," the distraught former India skipper said on air. "Take all my money, I don't want it. I come from a family where pride is the most important thing."
Here's the entire interview:
3. Shahid Afridi's fastest ODI 100 was with Sachin Tendulkar's bat
On 4 October, 1996, 16-year-old Shahid Afridi hit the fastest One Day International century in a 37-ball performance against Sri Lanka. His record was only broken in 2014 by New Zealander Corey Anderson against West Indies.
Also note: Shahid Afridi's DOB is 1 March 1980 but the match stat shows his age as 21.¯\_(ツ)_/¯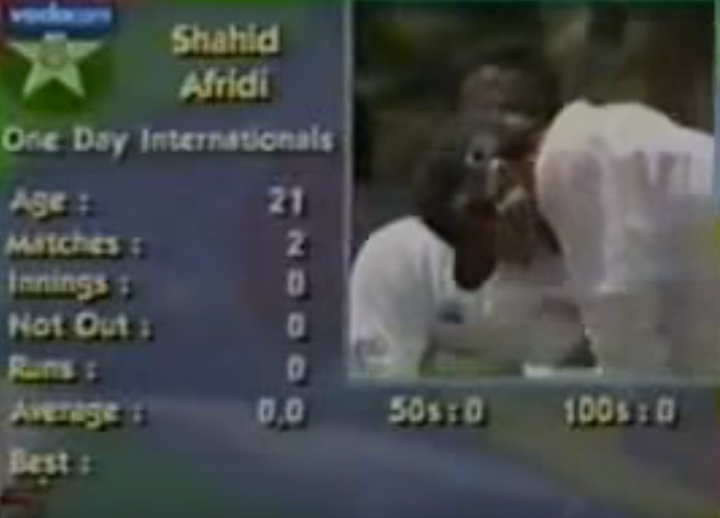 The young player probably lacked a proper cricket kit and was therefore provided with Pakistani spinner Saqlain Mushtaq's boots and helmet, and maestro Sachin Tendulkar's bat.
"I had just got into Pakistani cricket team and during the practice session in Nairobi, Waqar Younis gave me a bat and said, play with this and see, it is Sachin's bat," Afridi told the Daily Pakistan.
"I feel very honoured for playing with Sachin's bat in my first ODI match, Sachin had given the bat to Waqar Younis requesting him to get a similar one from Sialkot," he added.
4. The day when Anil Kumble could've missed his 10-wicket haul against Pakistan
Former Pakistan captain Wasim Akram revealed that his teammate Waqar Younis almost ruined Anil Kumble's record 10-wicket haul in the 1999 Test Match at the Feroz Shah Kotla grounds in Delhi when Kumble picked up 10 wickets for 74 runs.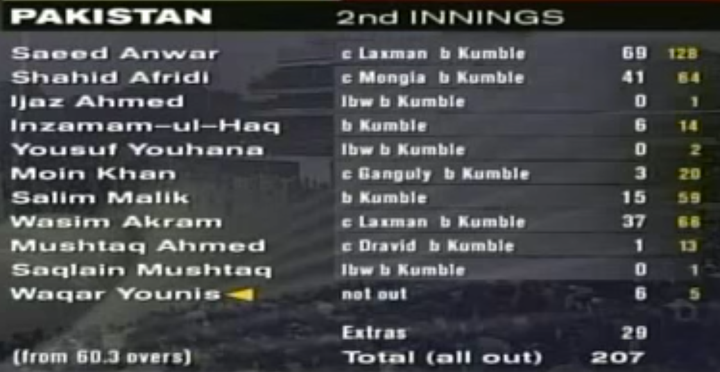 "Kumble had got nine wickets and me and Waqar (Younis) were batting in the crease," Akram recalled. "Waqar came to me and said 'How about getting run out?' so that Kumble does not get his 10th wicket."
"I said," Akram continued, "'You can't deny him the feat if he is destined for it. But I can assure you that I'm not going to give my wicket to Kumble. But, subsequently, it was me who gifted my wicket to Kumble."
5. Virender Sehwag once stopped a test match to recall a song
Yes, Sehwag has his priorities sorted.
"Once when I was batting in Chennai on 300, I forgot the lyrics of a song," Sehwag told the Times of India. "So, I called Ishant Sharma, who was the 12th man for that game, to the field and told him to get the lyrics of the song from my iPod, and he did that. Obviously, everyone thought that I had asked for 'drinks' from Ishant, but sometimes, the 12th man can be used in this way too! The song was, Tu Jaane Na."
While we don't have a footage from that match, Sehwag must have really liked Tu Jaane Na.
6. Sachin Tendulkar once played with tissues in his underwear
Okay, so you are saying TMI, but Tendulkar is a legend for a reason. He revealed that because of an upset stomach, he once had to play with tissues in his underwear. Yep. The incident happened during the Super Sixes phase of the 2003 ICC World Cup against Sri Lanka.
In his autobiography, Playing It My Way, the maestro wrote: "Here I am a bit embarrassed to reveal a very personal secret relating to the Sri Lanka match. On the eve of the match, I had a bad stomach and was feeling dehydrated. This happened because I had not yet fully recovered from the cramp I had suffered while playing Pakistan and as a result had a lot of isotonic drinks."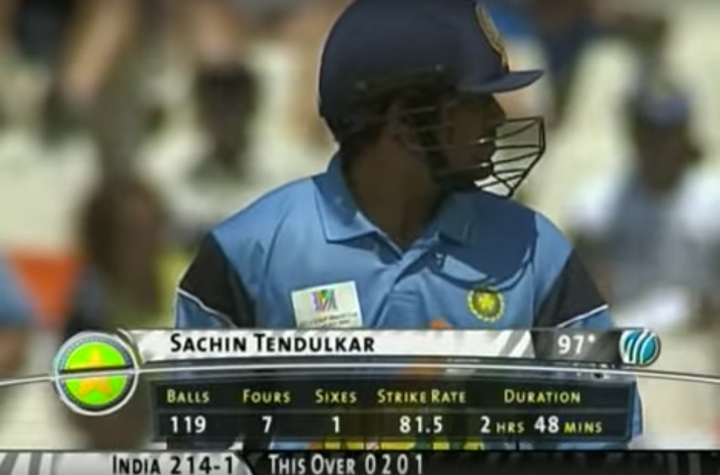 Tendulkar continued, "I also added a teaspoon of salt to the energy drinks, thinking it would help the recovery, and that caused a tummy upset. In fact, the situation was so bad that I had to bat with tissues inside my underwear. I even had to go back to the dressing room during one of the drink breaks and was feeling extremely uncomfortable in the middle."
Tendulkar eventually went on to score a patient 97 off 120 balls. Take a bow, sir.
7. Rahul Dravid's declaration in the 2004 Multan Test when Tendulkar was at 194*
Sachin Tendulkar spoke about the anger and shock he felt by stand-in skipper Rahul Dravid's decision to declare test innings against Pakistan when the master was batting at 194.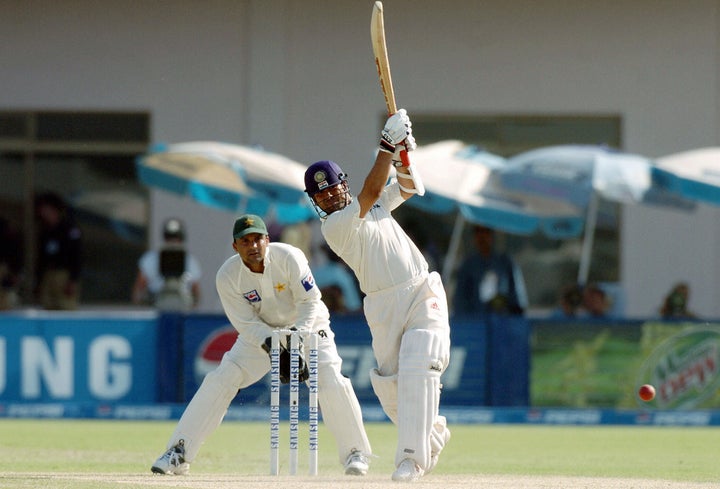 Tendulkar reveals in Playing It My Way, how hurt he was at the declaration. He told Dravid to "leave him alone" so that he could come to terms with the disappointment of missing out on a double century.
"I assured Rahul that the incident would have no bearing on my involvement on the field, but off the field, I would prefer to be left alone for a while to come to terms with what had happened," Tendulkar wrote.
8. Dawood Ibrahim entered Indian team's dressing room in Sharjah in 1987
Former India captain Dilip Vengsarkar, while addressing a gathering at Jalgaon claimed that underworld don Dawood Ibrahim entered the Indian team's dressing room, offering each player a car if they won the Sharjah Cup in 1987. The offer was turned down by the team and Pakistan went on to beat India.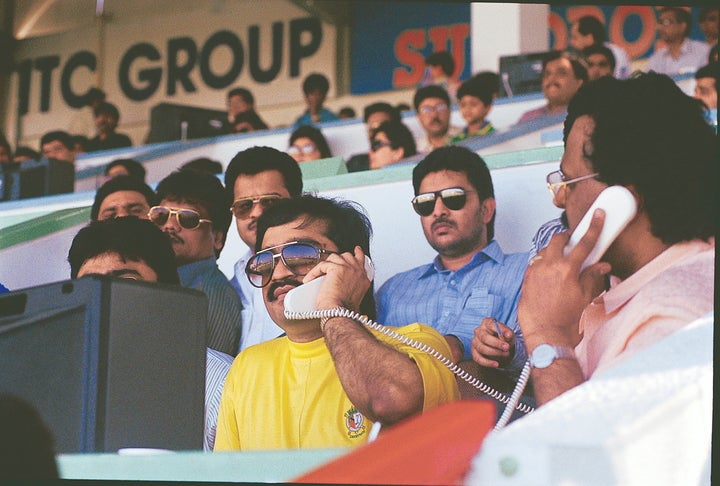 "Actor Mehmood was in our dressing room. Kapil Dev was not in the dressing room at that time because he had gone out to address the press conference. Dawood was introduced by actor Mehmood," Vengsarkar said at a function in Jalgaon, the Deccan Heraldreported.
"No one recognised him but I had seen his photographs," Vengsarkar recalled. "Mehmood introduced him to us as a big businessman from here. Mehmood said he wanted to announce a prize for us. He said 'If you beat Pakistan tomorrow, everyone will get a car.' Jayawant Lele was our manager then."
9. When the entire Indian team played a prank on Sourav Ganguly
In 2005, the Indian cricket team players played a prank on their captain, Sourav Ganguly. The prank left Ganguly practically in tears and almost had him give up his captaincy.
Yuvraj Singh was the mastermind.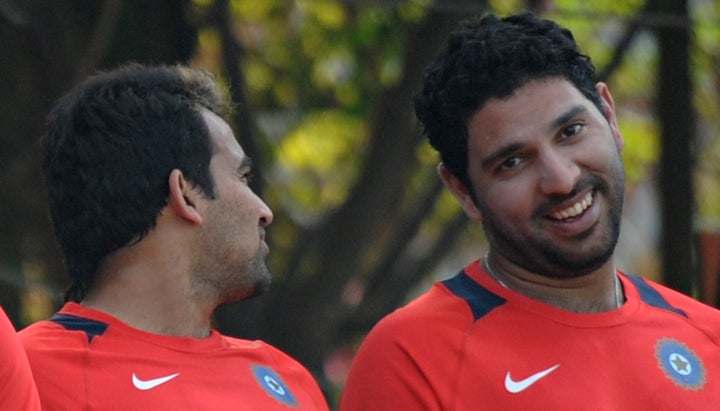 Before the match against Pakistan, Ganguly entered a very 'silent' dressing room. Yuvraj, the prankster, held up a fake newspaper interview of Dada's in which he had made comments against several players.
"We arranged a printout of an imaginary interview of Sourav, where he'd been critical of his players," Yuvi recalled to the Cricket Lounge. "When that was shown to him, he pleaded he had not given any such interview."
"I almost had tears in my eyes," recalled the former skipper. "These were the same players I had always fought for. I didn't know why they were suddenly saying all these things."
Sourav even offered to resign from captaincy and reiterating that he had never made any such statement.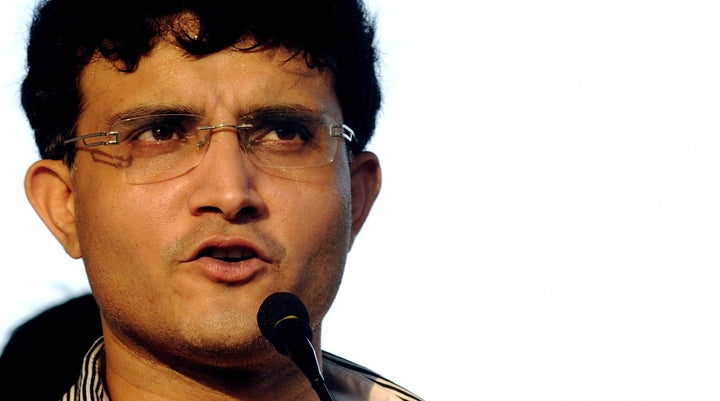 When the truth emerged — "I was more relieved than embarrassed," Ganguly added.
He was handed a sheet signed by all. He could barely find the courage to read, but when he did, it warmed his heart.
It read, "Dada, we all love you." The captain promptly hugged each one of his boys but gave them a strict warning never to repeat such a prank.
10. Coach John Wright caught Virender Sehwag by his collar
In an explosive moment in the Indian dressing-room during the NatWest Trophy in England in 2002, Virender Sehwag was grabbed by the collar by John Wright who was the coach at the time.
Recalling the incident in his memoir, Indian Summers, Wright wrote, ''I had been trying to get Sehwag to temper his boldness which too often of late had crossed the line into recklessness.''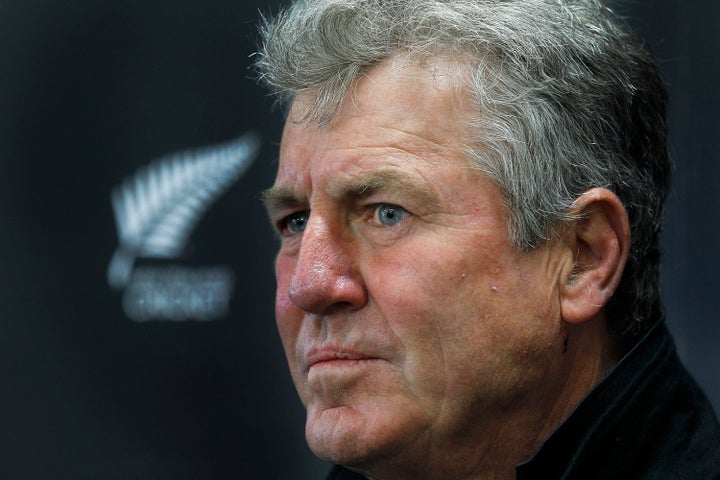 Shortly after skipper Sourav Ganguly was out, Sehwag gave away his wicket while playing his "natural game". India was just 26 for 2.
''I had enough of players trotting out the 'natural game' line as an excuse for failing to take responsibility and disregarding the match situation,'' Wright wrote.
"When Sehwag wandered in, I decided it was time for a sort out," he continued. "Not realising that my exasperation levels had soared into the red zone, I went up to him, grabbed him by the collar and barked: 'What the hell's going on?'"
"'How can you come back in here after playing a shot like that and unbuckle your pads as if nothing's happened.' Everyone froze — it was like someone had pulled out a gun — and I turned on my heel and stomped out."
11. When Sourav Ganguly and Navjot Singh Sidhu were held at gun point
In Beefy's Cricket Tales, former Indian skipper Sourav Ganguly recalls "one of the most terrifying moments" of his life, which occurred in 1996. Ganguly was with Navjot Singh Sidhu at the time.
"We got on the London tube and set off towards Pinner," he wrote. "In our carriage, there was a group of young teenagers, two boys, and three girls, and they were drinking. We were sitting opposite them and I could see that one of them was looking at us while he was drinking his beer." Then, the boy threw his beer can at them.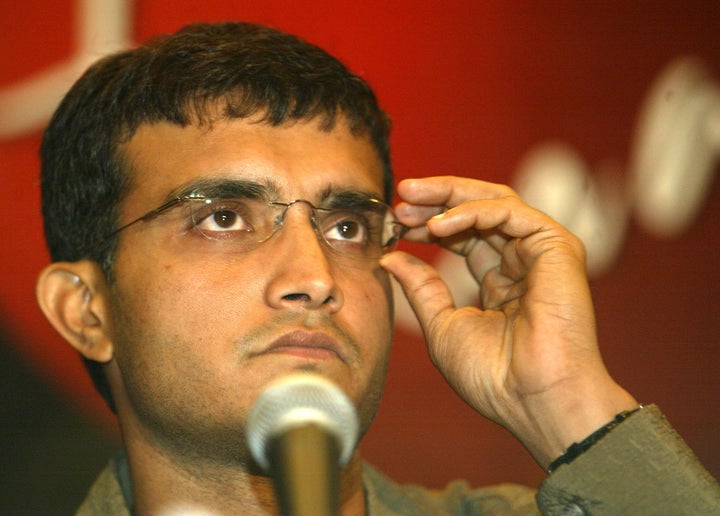 "I could tell he was looking for some kind of reaction. I didn't want to get involved at all and I said to Sidhu to leave it alone. I picked up the can and put it to one side, at which point the young lad stood up and said to me, 'what did you say?'
"I told him I didn't say anything, but Sidhu jumped in and confronted him. I knew then that there was going to be some trouble. I took my glasses off and threw them to the floor away from us, and got ready for whatever was to come.
"There were some punches thrown and, just as we got to a station, I pushed the lad and he fell over. He got up and the next thing I saw was a gun in my face. I thought, My gosh, this is it — my life is going to be over here on this train," recalled Ganguly.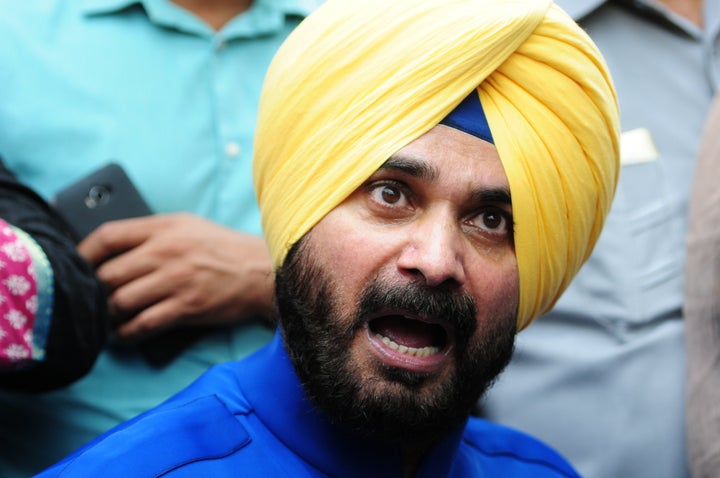 "But then one of the girls, who was quite big, grabbed him and pulled him away and took him off the train. She was really quite strong and I don't think the young boy wanted to mess with her. I was shaking and obviously very upset, but thankfully my tour and my life were able to continue," Ganguly concludes.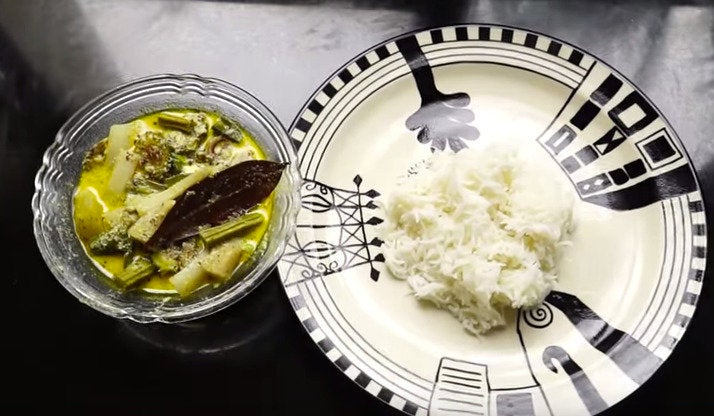 20 Bengali Vegetarian Dishes That Can Give Meat, Fish A Run For Their Money