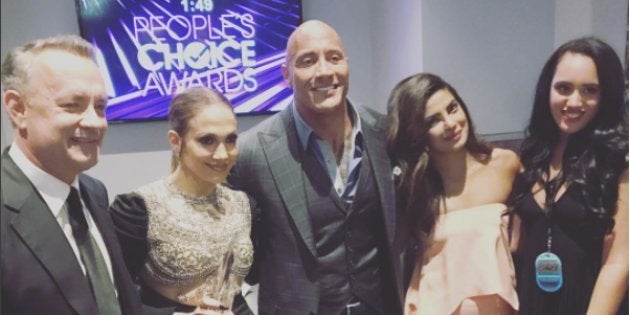 There is no stopping Priyanka Chopra.
On Wednesday, the actress, who won her second consecutive People's Choice award for her ABC TV show Quantico, turned heads by marking her presence at the event in her Sally LaPointe attire.
The actress's Baywatch co-star, Dwayne 'The Rock' Johnson, who was also present at the event was snapped cheering his Victoria Leeds.
Later on, Priyanka hung out with Oscar winner Tom Hanks, Jennifer Lopez, and Dwayne 'The Rock' Johnson.
Some solid company to have a chill day with, isn't it now.
She even posted a picture on her Instagram with the caption:
"Beautiful evening with beautiful people! Congrats @therock @jlo@tomhanks on your amazing wins! Awesome to meet you @simonegjohnsonyou looked lovely! Thx for the tip."
Chopra, who will be seen in a negative role in Baywatch, is currently filming the second season of Quantico. A Bollywood project announcement is also imminent.