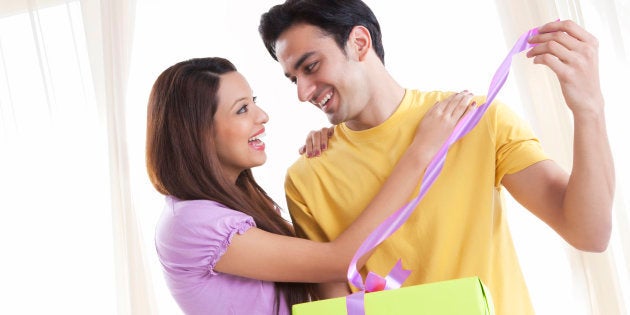 Have you ever noticed that most men don't know what to do with themselves when receiving a gift? Sure, they might mumble a 'thank you', shuffle their feet uncomfortably, and force an embarrassed smile, but an online poll actually claims that the primary emotion felt by men on receiving a present is...anxiety.
And that might have to do with the kind of gifts men usually get, like card cases, desk ornaments, cologne or (ugh) photo frames. With Valentine's Day around the corner, The Viral Fever (yes, the YouTube group) asked men to share their reactions to receiving 'typical' gifts, through an open online poll. And they found out that unlike women, men actually experience stress in such situations. So what do men prefer instead?
Surprise, surprise...a bottle of scotch whisky, or 'liquid sunshine' to paraphrase George Bernard Shaw, is an unconventional but tremendously popular choice among Indian men. Scotch whisky ranks second in the online poll, with watches topping the list. Here are the top 5 preferred gifts.
Every man, in his mind, is a James Bond-esque model of machine-like efficiency and timeless style. And one of the finest machines a man can carry on his person is a great watch. Watches topped the TVF online poll as the most preferred gift for Indian men.
The online poll suggests that Scotch whisky is seen to have a rare value of 'shareability'. With traditional taboos around gifting alcohol making way for greater appreciation of fine spirits, Scotch is now considered an easier and hassle-free purchase for the gift-giver. Scotch whisky is also a gift that is linked to strengthening of human bonds. Therefore, it is a great giveaway for occasions such as anniversaries or Valentine's Day. So the next time you want to see a grown man's face lighting up with boyish joy as the gift packing comes off, you know what to get.
Denim, leather, blazer, bomber—whatever the type, jackets are a great gift idea for men. Jackets work for multiple occasions: semi-formal meetings, parties, bike trips, weddings etc. High-quality jackets are also quite expensive, which is why they are regarded as a premium gift.
Centuries ago, Roman Emperor Nero (37 AD-68 AD) is said to have used emeralds to view gladiatorial duels in the arena. And while sunglasses have evolved hugely since then, they are, and will always be, a vital fashion accessory for the stylish man (and woman).
We're not talking about the cheap earbuds you pick up at an online sale. Good-quality headphones are a must-have for men who like their music crystal clear and static-free. Equally important are the colours and the comfort level, so shop wisely!
Looking for a Valentine's Day gift your man will love? Before you automatically reach for a necktie, pause for a second. Give him something he'll love and can share with others, like a bottle of the good stuff, aka scotch. To see more gift ideas for men, click here.