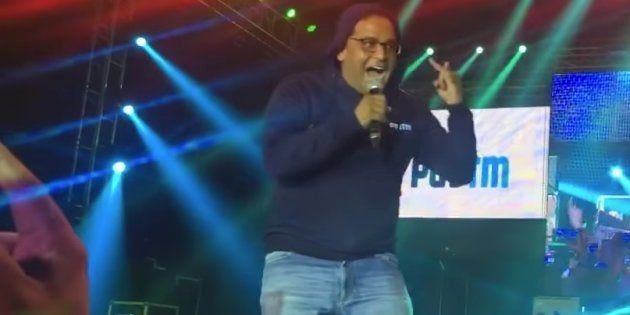 Ever since the announcement of the scrapping of ₹500 and ₹1,000 currency notes was made by Prime Minister Narendra Modi on 8 November, Paytm, India's largest mobile wallet company, has upped its marketing on social media, asking people to use their services to avoid the hassle.
According to DNA, the growth of Paytm can be seen on the first two days itself. It had a 435% increase in traffic on day one itself and offline payment transactions increased by 400%. Even the transaction amount has increased by 200% of the average ticket size.
"Since demonetization, we have witnessed a 3 times surge in overall traffic and added more than 20 million users--170 million wallets now," Paytm's VP Sudhanshu Gupta told DNA.
And high on a roaring success and being the only lifeline to many in the rough days, Paytm's founder Vijay Shekhar Sharma minced no words at the company's annual party. A video has now surfaced from the party, which shows Sharma is a never before seen avatar, pumped up and motivating the team, occasionally going overboard. It was a performance reminiscent of former Microsoft CEO Steve Ballmer, who was known for his charged on-stage appearances at Microsoft developer conferences.
Here are a few things he said:
Ye hai Paytm!

(This is Paytm!)

Jo hamare saath nahi hai woh royenge!

(Those who aren't with us will cry!)

Ek saal mein woh kiya jo unhone 10 saal mein nahi kiya!

(We've done in a year what they couldn't in 10 years!)

2017 will be ours!

Kaise nahi hoga?

(How will it not happen?)

Kaleja diya, jaan di, khoon diya, saara kuch laga diya

(I put my heart (liver), life, blood and everything at stake.)

B*******

Humne kuch socha, humne kuch socha, humne kuch socha aur saala doosron ki pant geeli nahi hui toh kya socha!

(If we thought of something that didn't wet the pants of others, did we even think?)

Ab koi India mein hamari taraf nahi dekh raha, kyon? Hamare ko saara desh nahi, saari duniya dekh rahi hai!

(Now no one in India is watching us because the entire world is.)
In never seen andaazbefore:
Here's the video: