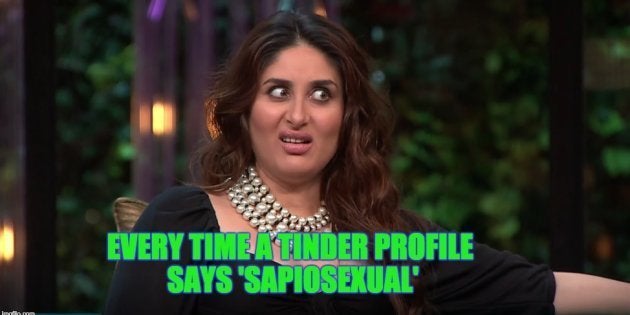 Love, in these times of verbal cholera, isn't easy. No one had warned us that we'd have to wade through hashtags, carcasses of English words and relics like BBM pins, in our journey to find that elusive one who likes his/her words whole.
However, anyone who has roamed the dictionary-less alleys of Tinder will attest the fact that some English words and phrases enjoy way more popularity than others on the app. So much so, they are Tinder laws unto themselves. Here's a look at the words that owe their fame to the dating app.
NOMAD
Now given how friendly landlords in all cities are, it is only fair that every second person on Tinder is that.
KINGSIZE
I have overspent on my credit card.
SAPIOSEXUAL
New fashion, bro. Sab bol rahe hai. #MustSay
FITNESS FREAK
If you're photographing your own bicep's reflection on the gym mirror, this is an honest admission.
AVID
If you are on Tinder, you got to be avid something, at least. Avid reader, avid traveller, avid coffee drinker, avid bullshitter.
HOOK-UPS
What no one wants on a dating app.
FANATIC
Anyone who has felt the need to hold a gun to the boss' head while asking for leave knows that 'travel fanatic' could be a real thing.
ADDICT
You must say that about coffee, tea or rains, because you can't just say, 'main intellectual type hoon' no?
BIBLIOPHILE
This one comes with 'sapiosexual' as a package deal of sorts.
FOODIE
Because unlike other claims, such as 'witty', this one isn't impossible to back up.
HAPPY-GO-LUCKY
You didn't read a single book with grown-up words after standard X.
JUNKIE
Everything's more hardcore-sounding with that word. Eg: I love Gelusil vs Gelusil junkie.
DREAMER
You've often dozed off at work, and now you've found a way to admit it.
GLOBAL CITIZEN
You have been to Bangkok. Twice.
TALL
What if your date needs the tube-light fixed? Or the fan dusted? You could try to be a little artful and call yourself avid-grower though.
CHILL/CHILLED OUT
You drink a lot of beer and want to make it sound like a quality.
TINDERELLA
You want your date to clean your kitchen and wash utensils.
CONVERSATIONALIST
Your sentences begin with, 'When I was in foreign-city-with-lots-of-white-people-and-pretty-walls...'
KEEP-IT-SIMPLE
You don't want to type full words on WhatsApp and often use 'k', 'tks' to end conversations.
LIKE-MINDED
Questions are your least favourite thing in the world.
DECENT
aka. 'what is mobile number?'