Tucked away in the remote hills of Nagaland near the Indo-Myanmar border, the village of Longwa is uniquely positioned, with the international boundary cutting right through it. It is also home to the the warrior Konyak tribe, now famous for its practice of human headhunting.
Until the practice was banned, it was common for the Konyaks, the largest of the 16 tribes in Nagaland, to kill their enemies from neighbouring villages by cutting their heads and bringing their severed head back to the village.
Baroda-based photographer Fanil Pandya has captured the last generation of Konyak headhunters in a series of arresting portraits, as part of his project, titled Headhunters, which is on display at Delhi's Egg Art Studio until March 1. "The Konyaks have a very fierce reputation so I was initially scared when I had first met them but as days passed and I spent more time with them, I realised that they were an extremely social people," Pandya told HuffPost India.
The 32-year-old first visited the village in December 2015, building a rapport with the headhunters and their families over two weeks. He returned in November 2016 to show them the pictures that he had taken on his first visit.
The last reported incident of headhunting in the tribe was in the 1980s, by a man named Chinkhum. "I am the last headhunter," Chinkhum, now 82, told Pandya. "I was the last man to cut our enemies head and bring it back."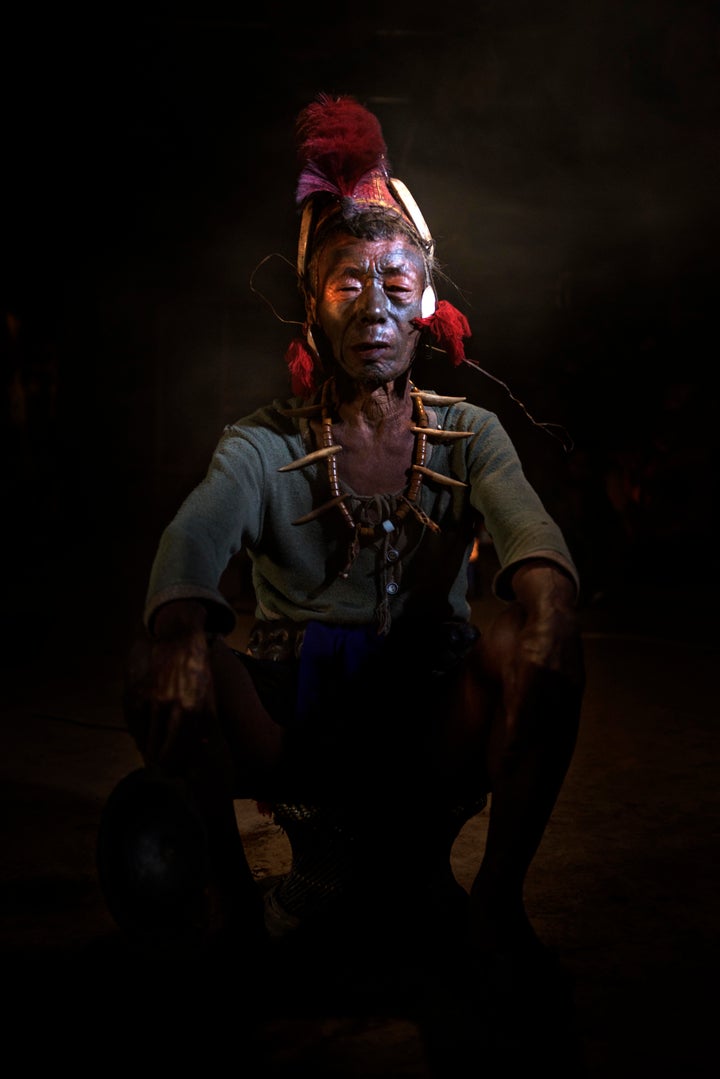 Chinkhum is part of the last generation of 25-odd living Konyak headhunters in the village. Most of them are above 75, and distinguished by their striking facial tattoos and traditional jewellery, such as a brass skull necklace that conveys how many heads they have severed. Every house is decorated with bones of animals such as buffaloes, deer, boars and hornbill. Once, human skulls of enemies were also displayed as trophies, but after head hunting was abolished, they were removed and buried.
Longwa looks like any other picturesque village but according to Pandya signs of change are everywhere now, in the form of mobile phones, motorbikes and TV sets. "The younger generation is moving quickly away from their roots," he said. "The gap between the old and new is difficult to bridge. The young feel that their past in tainted with blood and don't want to relate to it whereas the old consider that the reason why their bloodline is successful is because of the bloodshed in the past."
The older Konyaks view these changes with mixed feelings. "I love my grandchild more than anything in this world. I am happy that he has been able to evolve from the world I've grown up in. He has more opportunities for himself." one of the older headhunters told Pandya. "The fact is also that our identity, which we are very proud of, is in our warrior past which has the most important lessons and a heritage I don't want him to forget. That is his foundation".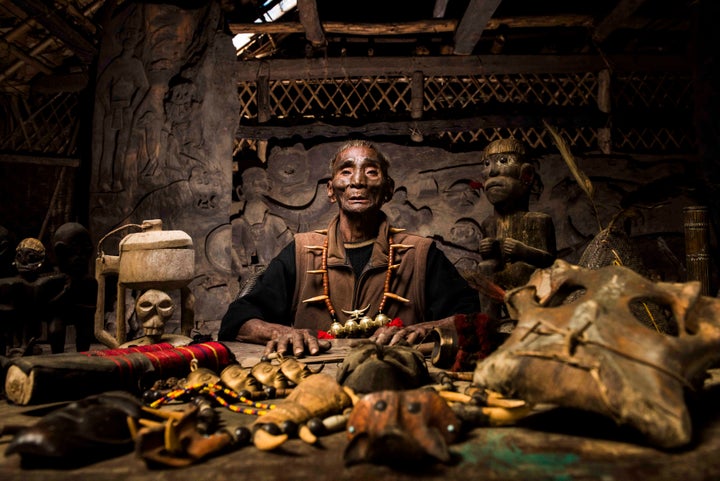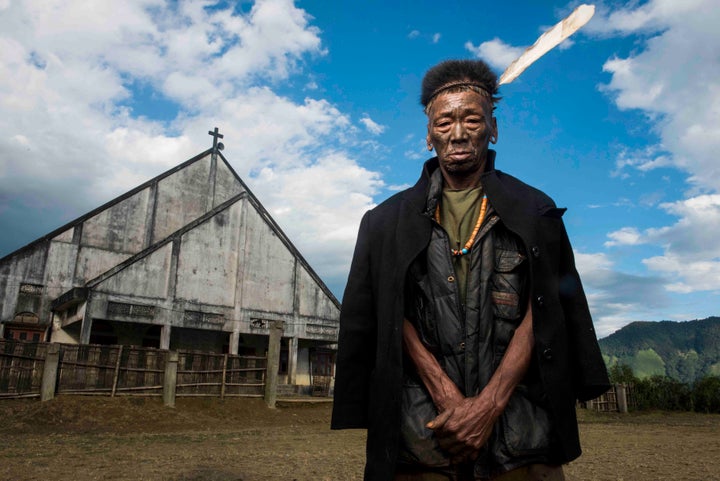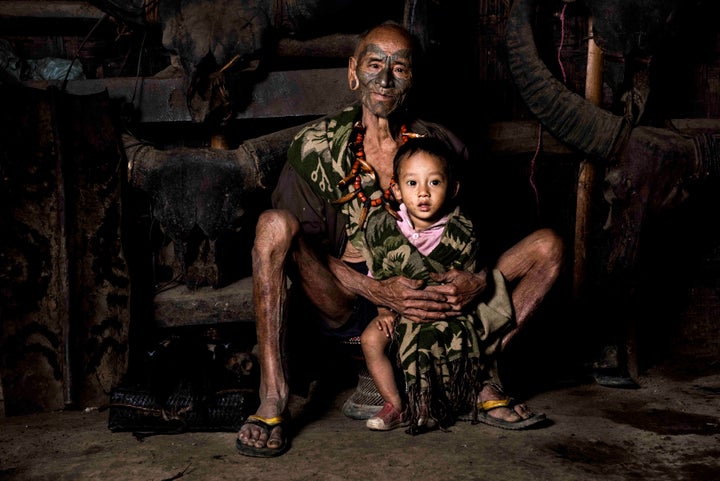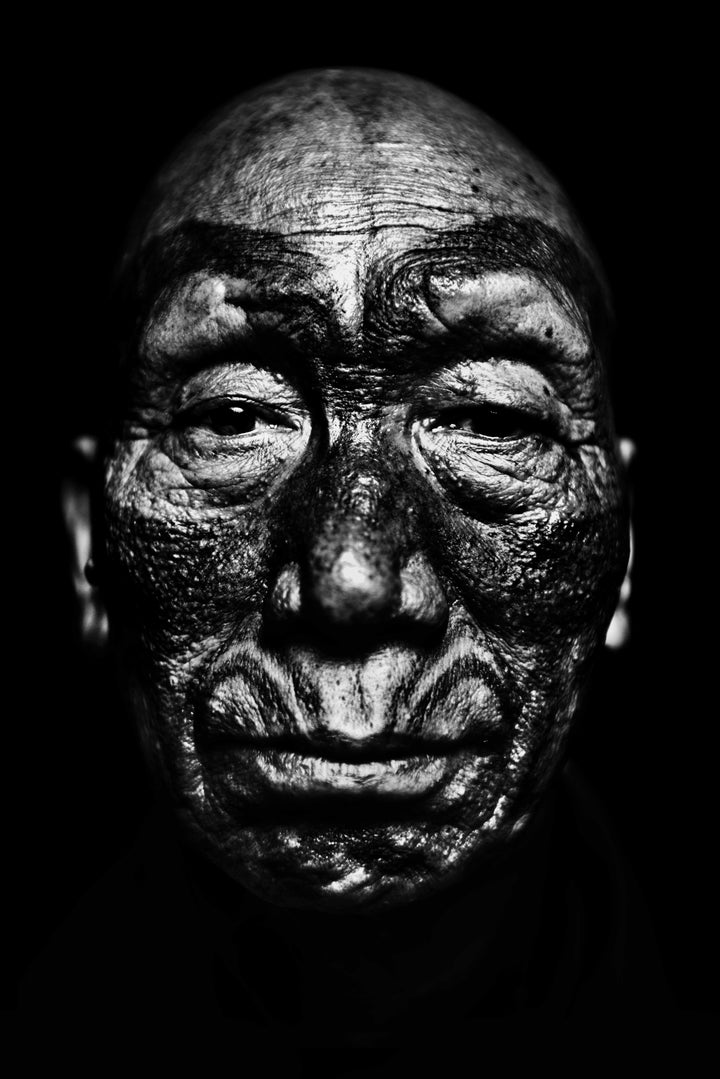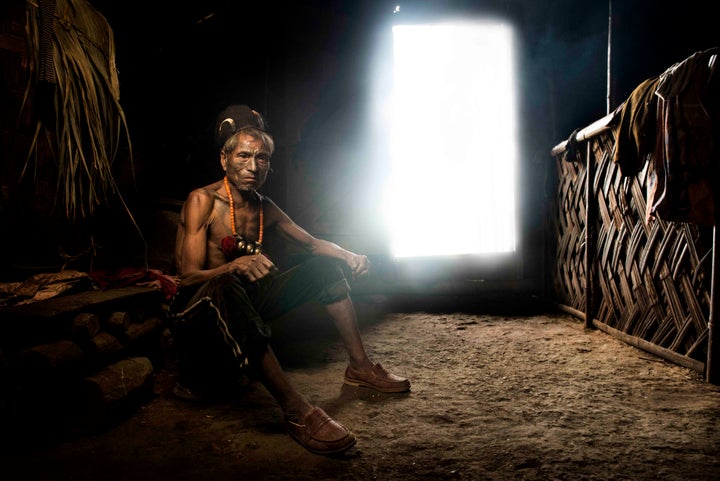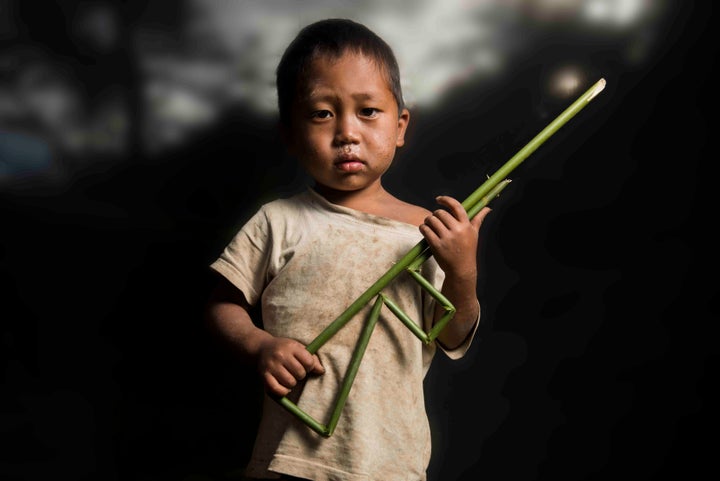 'Headhunters' is on display at Egg Art Studio in Delhi until 1 March.