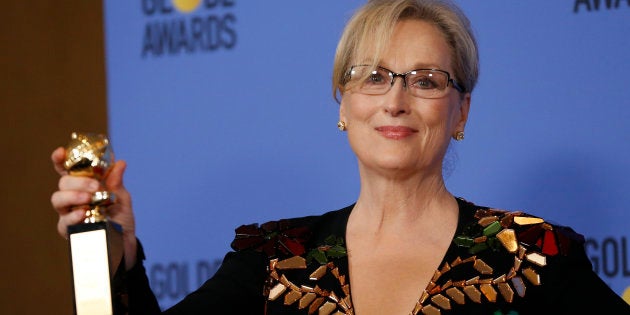 Unless you are on a meticulous No-Social-Media diet as part of your New Year resolution, there's no way you could have missed Meryl Streep's evocative acceptance speech at the recently concluded Golden Globe Awards. Without naming the US President-Elect, Streep took on Donald Trump and called him out for allegedly mocking a disabled reporter during his election campaign last year.
She also stated how Hollywood thrives on diversity and laid stress on why that was essential, besides speaking about the need to support journalists and foreigners as Trump inches towards the White House.
Streep was being given the honorary Cecil B. DeMile Lifetime Achievement Award and she could've walked the traditional speech path -- acknowledging the people who have contributed to her success. Yet she chose to use the platform -- the Golden Globes is a widely-watched televised event that reaches more than 20 million people -- to speak out against Trump's divisive politics that has left a vast number of Americans feeling alienated.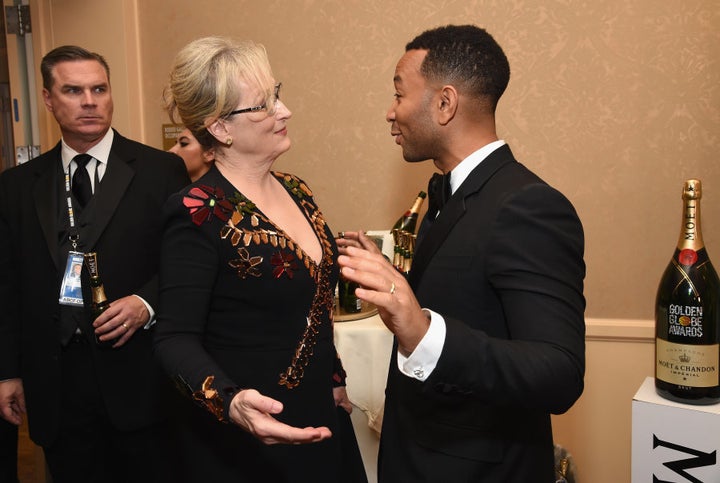 While Hollywood, which was largely rooting for Hilary Clinton, has remained silent post the rise of Trump, Streep realized the best way to register her protest against Trump's xenophobia was to keep the voice of dissent alive, even at the cost of provoking the easy-to-rile Trump supporters.
But back home, things couldn't be more different.
Blame it on the current environment but our stars have become so cautiously diplomatic on every issue that the only time they'll take a stand is when they are promoting a movie which revolves around the same theme.
Streep chose to speak out because it is important and it will perhaps inspire others to use the opportunity of televised award shows (and there are many to come) to raise key issues. Her rousing political statement comes at a time when the world needs it the most. She capitalized her stardom in the best possible way.
I say this because, on numerous occasions, Bollywood refuses to take ownership on a number of issues because they're 'unrelated.' Will stars, who have considerable sway over public opinion and could possibly wield their influence to swing it in the fair direction, please use events to make a political comment?
A press conference or any event to promote a movie is the best platform we have to connect with you. Hiding under the garb of 'this is unrelated to the movie' is just a poor excuse for not having the courage to take a stand when it's essential, when your voice counts, and when it will make a difference.
In October last year, I was covering the Mumbai Film Festival. It was around the same time when Karan Johar's Ae Dil Hai Mushkil was embroiled in a raging controversy regarding the inclusion of Pakistani actor Fawad Khan, who had, without a hint of doubt, signed and shot the film well before tensions between India and Pakistan escalated.
Yet, Raj Thackeray demanded a ban on the film. Johar remained mum. If he spoke, he spoke with slouched shoulders and a defeated voice. He pleaded for something that no filmmaker should be bending down for. Ever.
Finally, a 'settlement' between Thackeray and him was reached at Chief Minister Devendra Fadnavis's office. Hours later, he was at the ongoing Mumbai Film Festival, promoting the movie. As a journalist, I felt it was important to question him on what transpired and whether the conclusion was something that he was satisfied with. At the panel discussion hosted by senior journalists Anupama Chopra and Rajeev Masand, I was prevented from asking "that question" as it was "unrelated to the movie."
It was baffling and disheartening.
It is almost as if the film fraternity wants to absolve itself from all responsibility. Any coverage that veers beyond the PR-approved narrative is met with a tediously diplomatic 'no comments' stance.
Contrast this with what happened around the same time in the US last year.
Actor Brandon Victor Dixon addressed Pence directly saying, "We, sir — we — are the diverse America who are alarmed and anxious that your new administration will not protect us, our planet, our children, our parents, or defend us and uphold our inalienable rights," he said. "We truly hope that this show has inspired you to uphold our American values and to work on behalf of all of us."
That's what taking a stand means. It tells the political class that the voice of the people will find an expression in art. That we won't allow ourselves to get bullied. Or be suppressed by power.
So when a Karan Johar caves in by succumbing to pressure, it ends up empowering bullies. It doesn't give them a false sense of importance -- rather it gives them a very real sense of authority. And it sets a terrifying precedent. When the film industry, with its decidedly liberal worldview, chooses silence over calling out the blatant saffronisation of its own institutes – whether it is the Film and Television Institution of India (FTII) or the Central Board of Film Certification (CBFC), it normalizes something that one should only confront, not conform to.
Silence is complacency. One can argue that Bollywood has raised its voice. Both Shah Rukh Khan and Aamir Khan were aggressively trolled and deemed 'anti-national' for their comments on rising intolerance in 2015 and have been excessively careful in opening up ever since.
But should a backlash, which Streep too will indisputably face, stop them from ever taking a stand?
If anything, it should harden their resolve of being firmer the next time around. Sure, the society, the culture, and the prevalent environment in India isn't as tolerant as compared to the West, but by imposing self-censorship for the sake of commerce, you are only making it worse.
No doubt that there is enormous pressure on them and the vilification that follows is a nightmare to deal with. The internet culture has given rise to the troll, who under the garb of anonymity, spews vitriol that'll make even the most thick-skinned celebs think twice before raising their voice.
Moreover, with every Tom, Dick, and Harry waiting to file a case because of "hurt sentiments", the persecution celebs face for their most innocuous remarks can be tiring, demoralizing, and put the future of those who are dependent on their celebrity for a livelihood at risk.
Unless we, as a society, can guarantee their safety, and secure their right to express an opinion without being abused for it, it is not entirely right to expect them to stick their neck out for contentious issues.
As writer Deepanjana Pal noted in her piece on Newslaundry, celebs are as vulnerable as any of us and "we still have laws that a colonial government had drafted to control and trample those who opposed the state. From the sedition law to the ones that clamp down on hate speech, there are many legal ways to silence those who dare to criticize."
But should protesters on the street, raising their voice against rape, violence, female foeticide, or corruption just shut up and never talk again because they were picked up or bullied?
A protest shouldn't be driven by the guarantee of the outcome but by the will to register dissent.
After Johar, it is Shah Rukh Khan. (He has a movie coming up, Raees, with Mahira Khan, a Pakistani actress) This time, Thackeray didn't even have to resort to theatrics to draw his attention. Mr. Khan himself went to the MNS leader and ensured him that Mahira wouldn't be coming to the country to promote the film.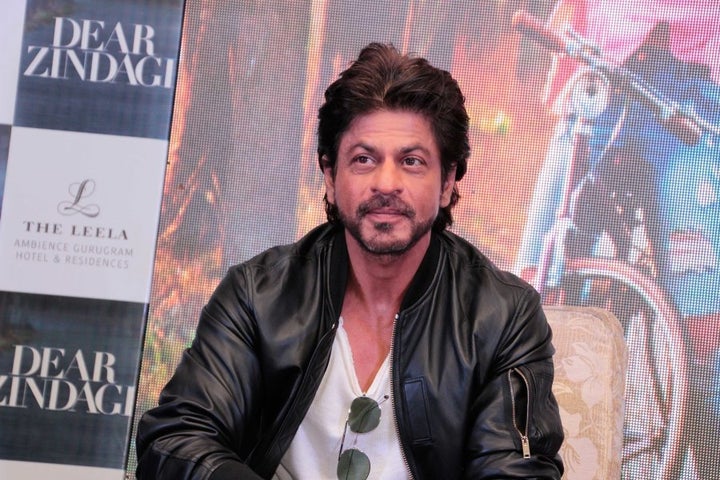 Unfortunately, a fear psychosis has taken over Bollywood today. And they have their reasons. "We're not activists, we're actors," they say. It couldn't be more misguided. As anyone in a position of privilege, your social responsibility extends beyond your own well-being. To absolve yourself of that is nothing short of self-serving.
Streep took on Donald Trump.
In 10 days, he will officially be the most powerful man on the planet. Karan Johar and Shah Rukh Khan, wildly successful Bollywood filmmakers, caved into the demands of Raj Thackeray, a politician with an attitude of a local thug, whose party's last big victory was 7 years ago.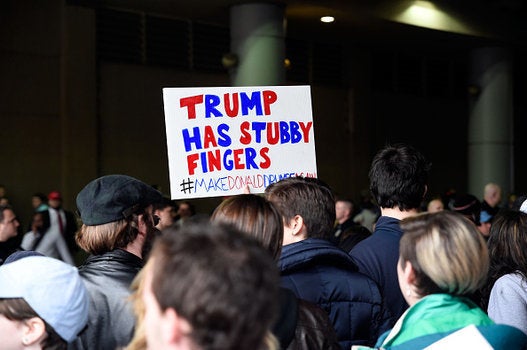 11 Donald Trump Protest Signs