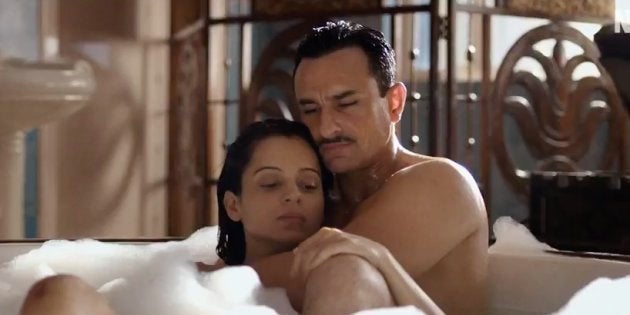 Vishal Bhardwaj's Rangoon, a high-octane romantic drama set against the backdrop of World War 2, is undoubtedly one of the most awaited movies of the year.
After a long wait, the film's trailer finally dropped around midnight and it is pretty phenomenal.
Bhardwaj has teamed up with Shahid Kapoor and Saif Ali Khan, two actors who've given their career-best performances in two of his films. The result is a solid love triangle as you see both, a movie producer (Saif) and an army man (Shahid), clash over the feisty Kangana Ranaut, who plays Julia, the reigning queen of Bollywood circa 1940.
Shot by Pankaj Kumar, who was also the cinematographer of Haider and Ship of Theseus, the film's visuals are strikingly reminiscent of a bygone era while the production design is elegant and give the period drama the right touch. The film also has a very old-Hollywood-movie vibe going for it.
With music by Bhardwaj and lyrics by Gulzar, Rangoon looks like a sure shot winner, a film that promises to showcase terrific performances by its talented ensemble.
While the plot itself is easy to decipher broadly, the director's real genius has always been in his treatment, the dialogues, and most of all, the details that are interwoven subtly.
Rangoon opens in cinemas on February 24. Watch the trailer below.