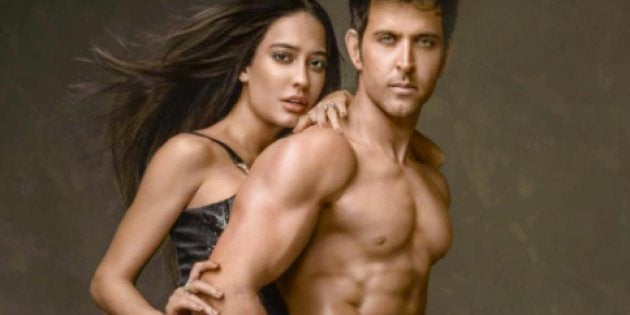 What happens when two of the sexiest Bollywood actors are thrown together for scintillating cover shoot?
Hrithik Roshan and Lisa Haydon, two actors who have immensely sexy bodies, are on Vogue magazine's January cover and it's hard to keep your eyes off the good-looking couple as they exude a decidedly sensual chemistry.
The two have been photographed for the magazine by Errikos Andreou and styled by Anaita Shroff Adajania, Vogue's fashion director.
The cover story focusses on health and fitness and the mag describes Hrithik as a 'focused gym buff' while calling Lisa a 'sensuous yogini.'
"All credit to my mother who, despite having to look after eight children, always made time for exercise. She'd work out to Jane Fonda and later Kathy Smith and Cindy Crawford in between managing us. I soon joined her, as I loved aerobics and its accompanying music and the gorgeous swimsuits these women wore, showing off their super-fit legs that I desperately wanted. Then at 17, when I hit adolescence, I took to running for both the adrenaline rush and to blow off steam."
Hrithik shares a similar passion for running. In the interview, he said, "I love the feeling of running on the beach. Currently, I am also obsessed with calisthenics — it not only pushes you to challenge yourself, it also teaches you patience, because to achieve those big, crazy moves you have to start slowly."
He also revealed that he listens to old Hindi classics while exercising.
Meanwhile, have a look at the pictures.