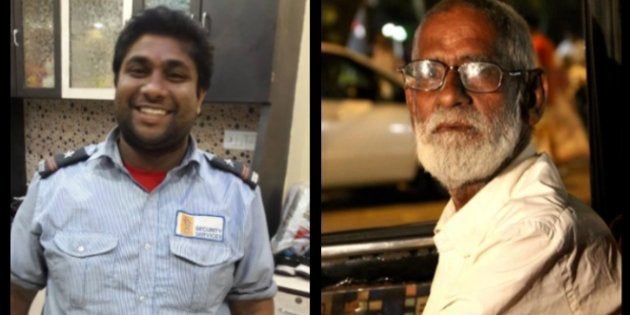 Spending a lot of time on the Internet can get you down with all the trolls, the incessant arguments and unpleasant news. But it can also bring happiness and cheer in good measure. Even during a year that stood out for being exceptionally bad, there were people spreading happiness and helping other people. From fulfilling last wishes and feeding the hungry to making a car by watching YouTube tutorials and distributing roses to overworked bank employees, people who care about something have been quietly doing their bit. We are glad that the Internet introduced us to some of them.
Here are a few people we are glad we found through the Internet this year.
1. This guard who is a supremely good singer
Shauwik is a security guard in Kolkata, who also happens to be an immensely talented singer. Facebook user, Adarsh Singh, uploaded several videos of Shauwik singing that instantly went viral. Arijit Singh has got some fierce competition, we say.
2. The Uber driver who gave away his jacket to a homeless person
Anirban Banerjee posted on Facebook about his Uber driver who stopped the car mid-way, opened the rear door, took out a leather jacket and gave it away to a homeless person sitting on the pavement. Banerjee's post has been shared more than 1.5k times and liked by more than 6.6k users.
3. This sweet lady who distributed roses to bank employees as a token of her appreciation
Prashant Singh, an employee of State Bank Of India, Indira Nagar, Lucknow posted a video on Facebook of an elderly lady giving red roses to bank employees as a token of her appreciation for all the hard work they have been doing since the demonetisation announcement. The video shows people standing in the queue applauding her for her thoughtful and sweet gesture.
4. This boy-genius who built his own car by watching YouTube tutorials
A resident of Mumbai, Prem Thakur, built his own buggy car from scratch just by watching DIY videos on YouTube. He got a second-hand Hyundai Accent engine, welded the car and even painted it himself.
5. This badass gentleman who scaled a 13,500-foot mountain despite having lost an arm to cancer
Humans Of Bombay carried a post on 4 October where Rachit Kulshrestha revealed how his life panned out after he was diagnosed with cancer at the age of five. He lost his left arm to cancer but that did not stop him from playing cricket, chess, table tennis and climbing a mountain, 13,500 feet above sea level, with a 75 ltr backpack -- twice.
6. This elderly taxi driver who saved a girl from a couple of drunk goons in the middle of the night
This is another story that was brought to light by Humans Of Bombay. A taxi driver narrates how he chased away a couple of drunk guys who were catcalling and chasing a girl. He saw the scene and honked continuously. Alarmed by the incessant honking, the men fled.
7. The people behind the mobile langar outside Amritsar airport that feeds the needy for free
Standup comedian Atul Khatri spotted a food cart outside the Amritsar airport but it was without any hawker. He then found out that a nearby gurudwara manages this cart and they go around feeding security people, taxi drivers and anyone else who is hungry.
8. This thalassemia patient who helps in fulfilling the wishes of terminally ill people
Twenty year old Partth Thakur was diagnosed with thalassemia when he was three months old. He was expected to live no more than 17 years. But when he realised he has more time than he imagined, he decided to bring cheer to the lives of terminally ill people and established an NGO, dedicated to fulfilling the last wishes of thalassemia and leukaemia patients. He told his extraordinary story to Humans Of Bombay.