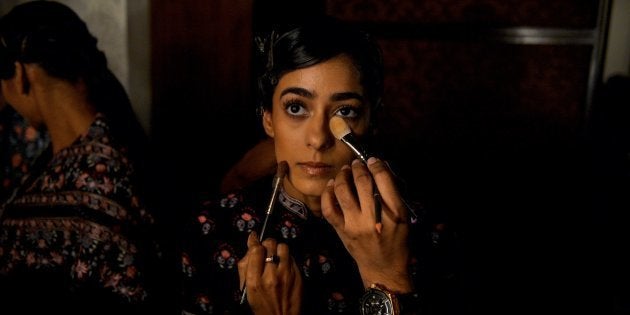 Unless you are a Trump supporter or love standing in queues, this year has been one huge disappointment for you. Since our little lives are all about small mercies, beauty enthusiasts like yours truly found consolation in new trends and statements that dominated fashion headlines this year.
Here are the 12 beauty trends we feel really grateful for this year.
#NoMakeUp
2016 saw a bunch of big names join the #NoMakeup movement, much to the delight of women everywhere. Alicia Keys raised haters' hackles when she showed up sans makeup at the MTV VMAs. Kerry Washington let the world see her natural textured curls in all their voluminous glory at the Emmys (it's a big deal because black women's hair have been beauty's political battleground for unforgivably long). And then came the coup de grâce: Hillary Clinton went makeup-free for her first appearance post elections, immune to the hysterics of trolls. While our Indian celebs haven't quite embraced the no-makeup movement yet, it was pretty cool of Sonam Kapoor to let the curtain finally slip from the perfection myth in clear, cutting words when she penned the blog, 'I didn't wake up like this'.
Self-love is the best love
The most inspiring and defiant act of self love this year came from beauty vlogger, 21-year-old Marimar Quiroa who was born with a facial tumour, affecting the size of her face and head. Her beauty tutorials have taken Youtube by storm as she challenges what beauty means and encourages the world to be more inclusive, using sign language to spread the message of self-love and acceptance.
Goodbye, contouring
2016 was a time to rejoice for women traumatised by the laborious process of slapping on several shades of foundations to make the face look more angular. Contouring was edged out by its much kinder cousin—strobing—a minimalist technique which uses light foundation and a highlighter on those parts of the face that catch light to give it a fresher, natural and more dewy look.
Accio makeup!
The nerd in us squealed in delight the day we saw this magical set of Harry Potter makeup brushes by Storybook Cosmetics from The Geeky Cauldron. It's one of those things that makes you slap your forehead and shriek, "This is so obvious, why did no one think of this before!?"
Blue eyes, hypnotise
While black, brown and smoky are going nowhere, cobalt made a huge splash on runways this year. Vivid blue eye-makeup—particularly as liner—was all the rage at New York Fashion Week, showing up everywhere, from Marc Jacobs to Hugo Boss, Bibhu Mohapatra, Monique Lhuilier and many others. Its high approval rating in glam circles aside, we love that cobalt is particularly loving of the darker, earthy Indian skin tone.
Team Gabby
It was disgusting to watch racist trolls have a field day at the expense of gold-medallist Gabby Douglas at the Rio Olympics this year; the focus was more about her "unkempt" hair than her performance. But it was awe-inspiring to see Douglas' supremely unconcerned response to it. Even USA's rigid beauty rules for gymnasts couldn't keep the 20-year-old's sass from shining through as she accepted her medal wearing a fierce oxblood lipstick, the virtual equivalent of waving a giant middle finger at all the haters who tried to run her down by criticising her appearance.
Lip service
2016 required some serious commitment to lip looks: are you the flirty, bold type who makes a beeline for pop colours? Or do you prefer flying under the radar with barely-there nudes? Do you worship at the altar of dramatic gothic glam lips? Or are you all about the glossy vinyl sheen? Do you pucker with berry lips? Or stick to slashes of powerful red? This year even saw hypnotic, eye-popping holographic lip glosses and cool, but questionable crystal lip art. The emphasis on lips was unmissable, so much so that MAC came out with its Liptensity Lipsticks collection—24 completely new shades created with the help of tetrachromat Maureen Seaberg.
All that glitters...
For those of us who thought glitter was too loud, sparkly and gauche to ever be taken seriously, 2016 was a rude awakening. From Coachella to the runways of Burberry, Baja East, Creature Of The Wind, Naeem Khan and so many others, glitter was everywhere. And we're talking serious stuff, here. There were fierce glitter bombs in the form of tears, brow bone highlights and lace, paillettes, sequins and vivid powders on cheekbones... There was no escaping the flamboyance of glitter this year.
Incy wincy spider
For years, women winced at the merest mention of clumpy eyelashes and cakey mascara. But since 2016 was all about throwing out the playbook, it went and made spidery eyelashes a raging runway trend. The guys at Jason Wu called it "beauty with distortion", a "rebellious edge" and "messed up, but polished" when they sent models down the runway sporting overdone eyelashes, sparking the trend. And while I may not personally be a fan, who doesn't like the idea of disrupting some age-old "rules"?
Now you see it, now you don't
Speaking of disruption, the big brow trend in 2016 was pretty... eyebrow-raising. The eyebrows had all but vanished at Marc Jacobs AW16 showing in New York and Ashley Williams' show at the London Fashion Week—they literally bleached them away! This trend was the brainchild of the world's most popular makeup artist, Pat McGrath, who first used it to stunning effect on supermodel Cara Delevingne for Givency's SS16 show at New York Fashion Week.
Space odyssey
Negative space was one of my favourite makeup art trends this season. Sleek and sharp, with a very retro feel, negative space was used on lips, nails and, my favourite, eyelids. First used in nails, a strip of nail was left unpainted to create a cool graphic pattern. Then came eyeliners, which involved drawing lines on the crease of the lids to give them a cut-out effect. Negative space lip art is relatively new, popularised by makeup artist Vlada Haggerty, who used it for a shoot for Vogue China.
Hide and seek
Not all of us have the bravado or the option of walking around the world (mostly, office) with bubblegum pink hair. But when bright coloured hair is what the heart wants, what can one do? Carla Rinaldi, a senior hair colourist at Not Another Salon in London came up with the clever idea of concealing one's personal VIBGYOR beneath layers of uncoloured hair, visible only when you want to show it off. It's a high-maintenance look, bright hair colours tend to fade irritatingly fast, but so very cool!