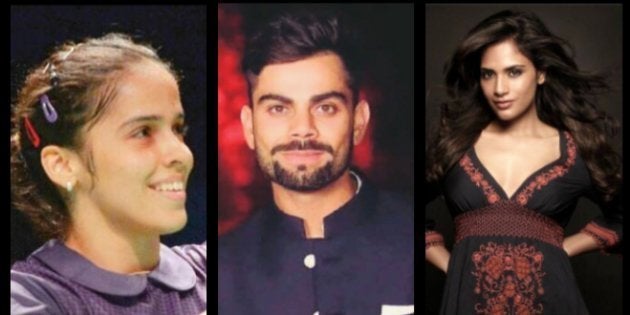 Most of us are familiar with the egg profile photo Twitter handles, or the random flower/god DP Facebook profiles. You know, not because we love our anda bhurjee or flowers so much that anything close to them stays in our memories. But because several of these handles, often, are the ones hurling the most pathetic abuses at other users.
Now imagine that you are a celebrity or someone who carries a lot of clout on social media, the number of such people -- trolls in common parlance -- just increases manifold. But over the years, our celebrities have stopped turning a blind eye to such noxious creatures. The result was the amazing clap backs that we were witness to this year.
Here are a couple of instances on Indian Twitter this year where trolls deserved what they got -- a stunning burn.
1. This troll who messed with just the wrong person
When JNU took out a dossier on the 'immoral' lives of its 'anti-national' students, a feminist page called The Spoilt Modern Indian Woman put up a Facebook post damning that dossier. The post called out the authors of the dossier for slamming Kavitha Krishnan, Secretary of All India Progressive Women's Association and for calling her a "Naxalite who has free sex". While the post started a zesty discussion on free sex and the inhibitions surrounding it, one tone-deaf troll decided to say "ask your mother/daughter whether she had free sex". A lot of people gave a fitting reply to the troll but the classy exchange including Krishnan and her mother is simply priceless.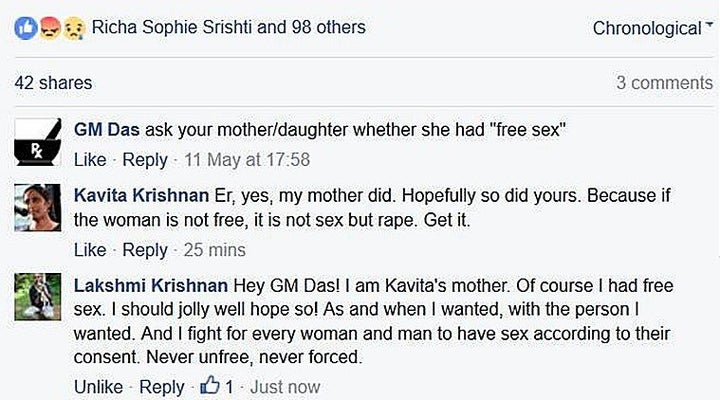 2. This troll who decided to take his words back as soon as he realised what he had done
Saina Nehwal did not have the best of times in Rio Olympics owing to a knee injury that marred her run in the tournament. And when PV Sindhu, shone through, people started comparing the two brilliant players.
A guy decided to tweet this to her:
Nehwal being the sport that she is replied:
Twitter joined forces to slam the guy, after which her apologised to Nehwal:
Nehwal quickly forgave him but Twitter is a very unforgiving place. Twitter continued to bash him for his tweet.
3. These trolls who have been rightly schooled by Richa Chadha
During the Indian Film Festival in Melbourne, which Richa Chadha was attending with Fawad Khan, he was asked about how the Pakistani culture was different from India's. Chadha took over before he could reply and said that the question does not make much sense as North Indians have more in common with Pakistanis than with South Indian. Twitter went up in arms about her 'nothing in common with South Indians' comment and trolled her.
She tweeted back at one troll...
... and then another one ...
... and she went on a troll-bashing spree. TL;DR: you don't mess with Richa!
4. The trolls whose baseless notions were powerfully put to rest by Mayanti Langer
After Stuart Binny's not-so-great performance during the T20 against West Indies, trolls on social media started slamming his wife, Mayanti Langer, a sports anchor. She was going to have none of that and tweeted this:
5. The sexist trolls who were slammed by Virat Kohli
Anushka Sharma, rumoured to be in a relationship with Virat Kohli has always been blamed for his weak performance on field. Sexist trolls believe that she has been distracting him, leading to his poor performances. Kohli shut down these guys with a tweet that has become the most retweeted on of the year. This is the extended version of his tweet on Instagram:
6. These trolls who were asked to take a chill pill by Bipasha Basu
Bipasha Basu and Karan Singh Grover had a low-key but a gorgeous wedding earlier this year. Her Instagram pictures from her honeymoon could put even the best of travellers to shame. But did that stop trolls from trolling her? Of course, not. She decided not to succumb to the online bullying and called out the trolls, specifically the ones on her post on towel art. She put this on her Instagram:
7. The trolls who were asked to mind their own business by Neha Dhupia
Neha Dhupia has an enviable Instagram account where she posts some of the most beautiful travel photos and impeccable fashion sense. On one such post, where she was chilling at a beach in a bikini, trolls decided to 'educate' her about Indian culture. So, like the badass she is, she put up another post where she was at the beach wearing a bikini. This was the post:
8. When Sidharth Malhotra took on the biggest troll on social media
KRK is known for his distasteful and mean tweets. He has been asked to shut up by almost everyone. The February Vogue edition had Sidharth Malhotra and Alia Bhat on its cover. His tweet said "Alia looks so Bacchi in panty but still some people keep forcing her to wear it." Malhotra decided to take on KRK and said:
KRK is not the one to learn a lesson, hence he followed with:
Sidharth Malhotra was also on a mission that day:
Well, KRK was never the one to make much sense, anyway.
Till the next year then. Bye haters, see you laters.