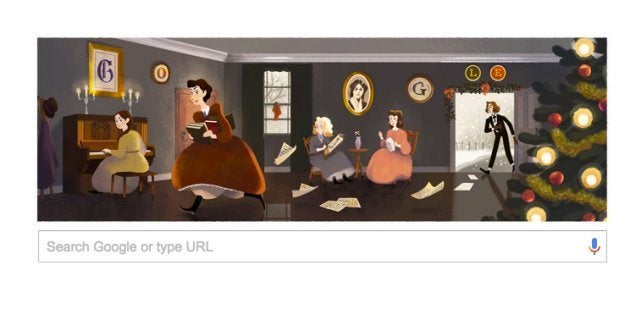 Today's Google Doodle celebrates the 184th birth anniversary of Louisa May Alcott, an American novelist some of us may be familiar with. For those who didn't know her, just yesterday Bollywood celebrity Shilpa Shetty mentioned Alcott's classic novel, Little Women, as recommended reading for school children, in an interview with a newspaper.
What makes Little Women so special and Alcott an important writer to have survived two centuries in the public mind across the world?
To understand the significance of Alcott's legacy, we must go back to her life, most of it spent in 19th century Massachusetts, when women were not even allowed to exercise their franchise.
Born in Pennsylvania in 1832 to an unusually progressive family, Alcott was the second among four daughters. Her father, who moved them to Boston while Alcott was still young, was a firm believer in unconventional methods of teaching. He was also close to members of the Transcendentalist Movement. And so, the girls grew up among the leading intellectuals of the day.
Embracing values of goodness over hard rationality, Alcott was influenced by the writings of Ralph Waldo Emerson, Nathaniel Hawthorne and Henry David Thoreau. She would go on to champion the call to abolish slavery, fight for women's right to vote and serve as a nurse during the civil war. She also became the first woman to register to vote from Concord, Massachusetts. However, it was the success of her book for young readers, Little Women, based closely on her life with her sisters and best friend Laurie, which made her a household name.
The girls of the March family (Beth, Jo, Amy and Meg) overcome personal trials and trying situations to emerge as upholders of values that put their family first. In spite of the somewhat predictable turns of plot, a common complaint pertains to the marriage of Amy to Laurie rather than to Jo, his best friend, who was believed to have been based on Alcott's own character. The Google Doodle, designed by artist Sophie Diao, depicts the March girls among a clutter of books and papers, with Laurie looking in at the door.
The stupendous reception of the book prompted Alcott to write several sequels to it -- Good Wives and Little Men -- and cast more stories based on the lives of the much beloved March sisters. However, the later volumes did not win over millions of hearts as the first one did.
With the popularity of Little Women, Alcott could devote more time to writing than doing other odd jobs -- she worked as a teacher and seamstress, among other things -- to keep her financially fragile family afloat. Suffering from various ailments, she died of a stroke at the age of 55.
The story of her iconic novel, which recounts the coming-of-age struggles of four sisters, may seem tame by today's standards, but it does still manage to touch a chord among generations of readers. Although the book celebrates the power of girls from so-called ordinary backgrounds to overcome adversities with the help of their emotional intelligence, it speaks to young readers, of both genders, across nationalities.