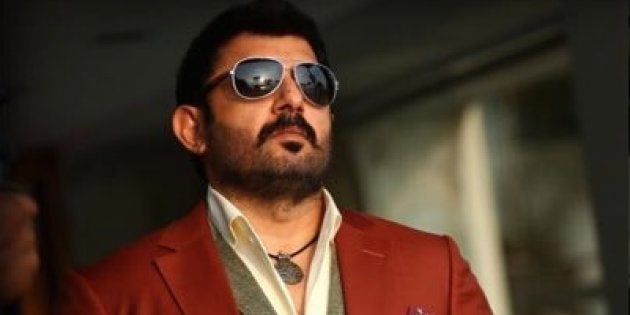 The manner in which Indian movies are made, it is rare for a movie trailer to be noticed for anyone except the leading man. More so when the movie takes its title from the protagonist's name in the film.
But Telugu film `Dhruva IPS' does precisely that. Arvind Swamy plays the bad man in this flick that stars Chiranjeevi's son Ram Charan in the leading role.
If the 17 lakh-plus views that the trailer has garnered since it was released on Friday are anything to go by, Swamy is a `criminal' Tollywood would welcome with open arms. He reprises his role in 2015 Tamil superhit `Thani Oruvan' in its Telugu remake `Dhruva IPS'. His good looks and charm make the contest between good and bad more fascinating to watch.
Swamy calls himself an "accidental actor.'' He has done just about 20 movies in 25 years. Making a quiet debut in 1991 in Rajinikanth starrer "Thalapathi," he stormed the silver screen with his blockbuster introduction as the leading man in "Roja." In 1992, India woke up to two 'Made in Madras' products with "Roja" - AR Rahman and Arvind Swamy.
He followed it with another superhit "Bombay," again with his mentor Mani Ratnam. And then after a few other movies like "Sapnay" (Minsaara Kanavu in Tamil with Kajol and Prabhu Deva) in 1997 and "Devaraagam" with Sridevi in Malayalam in 1996, Swamy took VRS from silver screen. He spent the next decade and a half, focusing on his business.
That was until Mani came knocking again – this time to offer his protege the role of a do-gooder priest in his film "Kadal." That movie sank without a trace but it would seem the greasepaint had tempted Swamy once again. With "Thani Oruvan," Swamy has returned to explore the darker side. But what makes this dark character tempting is that it is more suave, intelligent and razor-sharp that challenges both the hero and the audience. As Swamy says, this evil mould breaks the hero-villain paradigm.
"Dhruva IPS" will be Swamy's second Telugu film after "Mounam" in 1995. But what he brings to the table now is significant as the Telugu film industry has stuck to the same set of half a dozen bad men for the better part of the last decade. The star cast more often than not showcases the bad with north Indian imports like Sayaji Shinde, Rahul Dev and Mukesh Rishi. Talented actors all of them but evil in Tollywood has become repetitive now.
In terms of acting abilities, Swamy brings a gravitas and freshness to the scene, his swag marking a departure from the rusticity and loudness that the other negative characters showed. Arvind is also very different from a Prakash Raj, who has increasingly been typecast in the same kind of negative roles in Telugu and Tamil movies. In `Thani Oruvan', as Siddharth Abhimanyu, the character of the evil scientist, Arvind Swamy made diabolical, look classy.
One can but not help rewinding to 1991, when the same Arvind Swamy played the "good guy" district collector standing up to the grey of Rajinikanth's Surya in "Thalapathi."
It is interesting to know why Swamy accepted the role in the Tamil original, considering he had never played a negative character before. He liked the fact that Siddharth Abhimanyu was not apologetic about his villainy. Nor was there a flashback justifying his black shades. The credit for this should go to the writer Mohan Raju, who also directed the film because he clearly had not kept the goody-goody screen image of Swamy in mind while conceiving the character.
There is an important lesson in this: most writers, in any industry, are not able to make their mind free of what the audience expects from a particular big hero. Nor are most actors willing to take that risk, taking refuge in the excuse that "fans won't accept it."
Swamy had no such qualms. Swamy very early on in his career had reportedly frowned upon fan associations. He basically wanted the audience to relate to his character on screen and not to Arvind Swamy. One could credit that school of thought also to the early influence of a Mani Ratnam.
Swamy, it would seem, is in an interesting space. The next movie he is doing, "Sathuranga Vettai 2" is the story of a heist in which Trisha plays his co-star.
Meanwhile, the `Dhruva IPS' trailer ends with Swamy saying to Ram Charan's character "Love you sweetheart." If the reaction to Swamy in the Tamil original and the Telugu trailer is anything to go by, he could have the Telugu audience saying the same to him. Time for an encore?