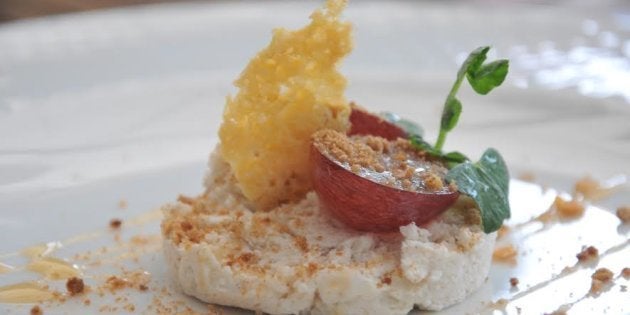 A very common myth associated with diabetes is that desserts are a big no-no for diabetics. The key lies in moderation. Here are some healthy and innovative dessert recipes that anyone with a sweet tooth can relish, while keeping their blood sugar levels under control.
These sugar-free desserts have been specially created by restaurant chefs in five different Indian cities for the month-long Diabetic Food Trail festival held every year in November. Many recipes include fruits and use honey, figs and sugar substitutes such as stevia. This year, the festival was organised by Mumbai-based event manager Seema Pinto, who has been a diabetic for 12 years. "I cook and eat healthy meals at home, but when I step out, there isn't a single restaurant which offers healthy and tasty food, especially dessert," Pinto said. "Most people with diabetes are unaware of the significance of a healthy diet in blood sugar management."
The desserts will be available at the restaurants and bakeries until 30 November, but to help you savour them after that, we've also included the recipes below.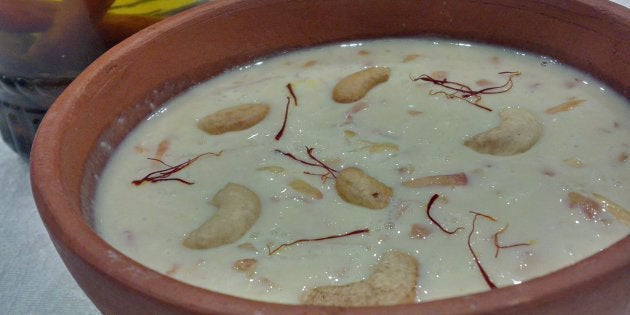 Apple rabri, GRT Grand Chennai
3 cups low-fat milk, 99.7 percent fat-free
3/4 cup grated apples (with skin)
1/4 tsp. cardamom (elaichi) powder
a pinch of nutmeg (jaiphal) powder
1 teaspoon sugar substitute
1. Bring the milk to boil in a deep non-stick pan and simmer it for 10 to 12 minutes, while stirring in-between and scraping the sides of the pan.
2. Add the grated apple, mix well and simmer for another 2 to 3 minutes, while stirring in-between and scraping the sides of the pan.
3. Add the cardamom powder and nutmeg powder mix well and keep aside to cool.
4. Once the rabadi has been cooled, add the sugar substitute, mix well and refrigerate for at least 1 hour.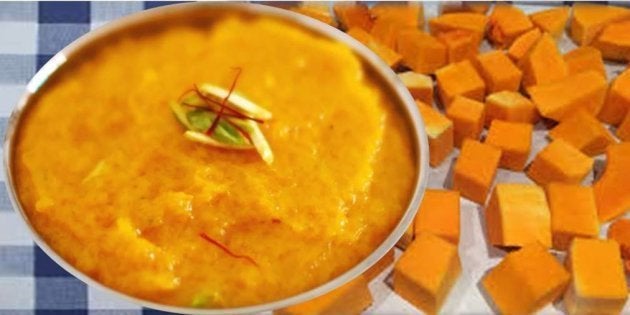 Red pumpkin halwa, Anjappar, Chennai
½ tablespoon cardamom powder
2 strands of saffron strands soaked in little milk
1. Grate the pumpkin, after peeling the skin and removing the seeds.
2. In a pressure cooker, fry the almonds (cut into slivers) in some ghee. Cool and keep aside.
3. Add some ghee and add the pumpkin puree. Saute on low heat for about 10-15 minutes.
4. Add water and close the lid of the pressure cooker. After two whistles, lower the heat let it cook for approximately 15 minutes on a low flame.
5. After the pumpkin has softened enough, mash it more if required, with a masher. Add the stevia powder, saffron and cardamom powder and mix thoroughly.
6. Increase the heat and let all the excess water dry out.
7. Add the almond slivers on top as garnish. Serve hot.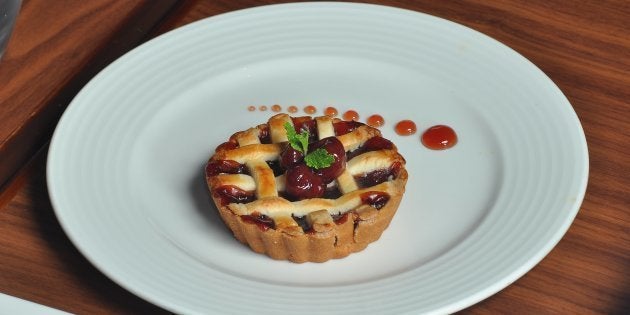 Mason Jar Cherry Pies, Radisson Blu Chennai
3 tablespoons lemon juice
3 tablespoons corn starch
1 box refrigerated pie crust
Garnishes: sanding sugar free, melted butter, whipped cream
1. Preheat the oven to 400º. Combine cherries, lemon juice, sugar free, and corn starch on a skillet and cook over low to medium heat, stirring occasionally until everything is mixed.
2. Roll out pie crust dough and cut in half. Line the inside of one jar with one half of rolled out dough. Repeat with remaining jars and pie crust dough.
3. Scoop out the cherry filling into the dough-lined mason jar. Slice strips of dough from the other half of the pie crust for the lattice. Interweave the strips of dough on top of the mason jar to form the lattice. Trim as needed. Brush melted butter over the top of the lattice and sprinkle on sanding sugar-free.
4. Bake at 400ºC for 20-25 minutes or until golden brown. Top with whipped cream.
Lemon curd and Red Zen cheese cake, Tea Trails Bistro, Mumbai
3 tablespoons unsalted butter
1/8 teaspoon cinnamon powder
1. Make short dough with butter, semolina and oats, with a sprinkle of water. Roll and cut in the cutter and bake it.
2. On double boiler, whisk egg yolk, stevia, milk, lemon juice, zest until its thick foamy. Add hung curd and whisk it.
3. Melt gelatine in warm water and fold it in the egg mix.
4. Pour it in the blind baked crust inside the cutter and keep it in the refrigerator for 2 hours.
5. Steep the Red Zen tea for 2 minutes at 90 degrees and mix it with gelatine.
6. Top the cheesecake mixture in the cutter with Red Zen mix and set again for 3 hours.
7. Take out and demould it. Serve with a few blueberries and a sprig of mint on top.
8. Dust cinnamon powder on the side of the plate.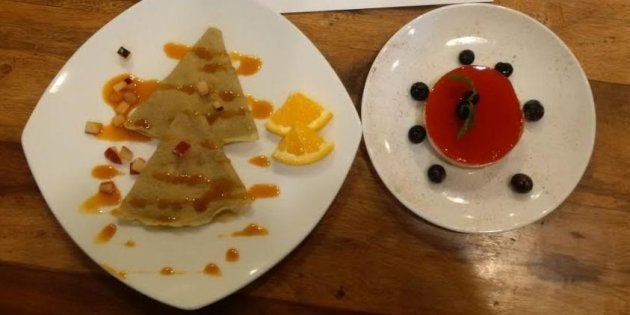 Matcha crepes with Seville Sauce, Tea Trails Mumbai
1/3 cup self raising flour
1/8 teaspoon matcha green tea powder
1 teaspoon roasted ground almonds
A pinch of cinnamon powder
1/8 teaspoon baking powder
1. Make crepes batter with flour, matcha powder, baking powder, salt, stevia and milk. Keep it overnight.
2. For the filling, make chhenna with milk and lemon juice. Once it's cold, blend it with roasted ground almonds.
3. Poach pears and then blend it into a smooth puree and fold it with the chhenna mix.
4. Remove orange juice from oranges and reduce it, by cooking it along with the cinnamon stick, butter, clove till the consistency is thick.
5. Heat pan on medium heat and make thin crepes with the batter.
6. Cut crepe in half and then stuff the filling in it and fold it.
7. Top it with the orange sauce and few pieces of chopped plums.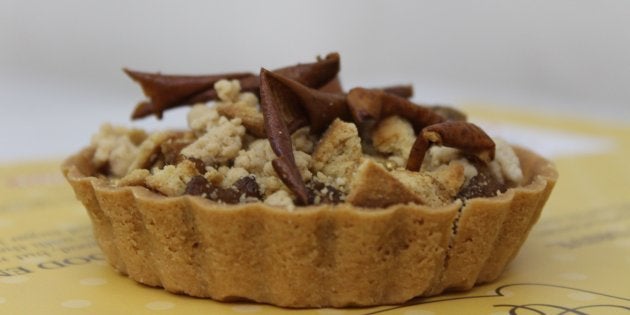 Apple and cinnamon cobbler, G's Patisserie, Delhi
4 apples, peeled, cored and sliced
2 teaspoons ground cinnamon
1 cup whole wheat pastry flour
1. Preheat oven to 375 degrees F (190 degrees C).
2. In a large saucepan over medium heat, combine the apples, water, cinnamon, cornstarch and fructose (fruit sugar). Cook until apples are soft and mixture is thickened, or about 10 minutes.
3. Pour the apple mixture into a casserole dish.
4. Prepare biscuit dough by combining the whole-wheat pastry flour and baking powder. Add the oil and stir until well mixed. Add the honey and buttermilk; stir with a fork until flour mixture is moist. Add additional milk if necessary.
5. Drop biscuit dough by tablespoons on top of apples. Bake for 20 minutes or until biscuits are golden-brown. Serve warm.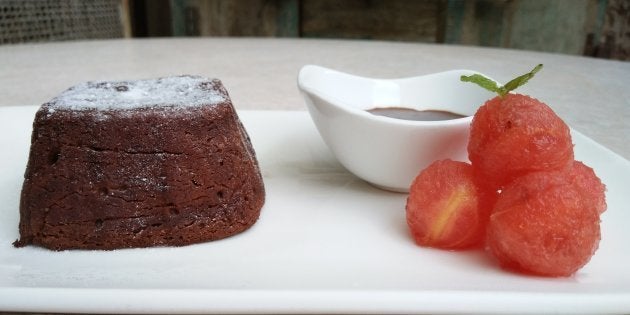 Sweet potato cake, The Sassy Spoon, Mumbai
Ingredients for the cake:
1 sugar free Splenda sachet
Ingredients for the sauce:
10 g of sugar free chocolate
1. Melt the chocolate and butter. Add the mashed boiled sweet potato and mix.
2. Now beat egg white in a separate bowl. Beat the egg yolk and Splenda sugar in a separate bowl.
3. Now mix all the ingredients together one by one. Fold in the chocolate mixture.
4. Bake at 200 degree Celsius for 15 minutes.
5. For the sauce, warm the cream in the saucepan and fold the melted sugar free chocolate in the cream.
6. Scoop out the watermelon in tiny balls. Serve the sauce in a separate bowl.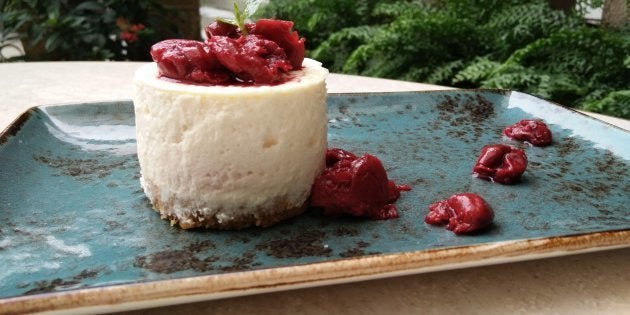 Sour cherry cheesecake, The Sassy Spoon, Mumbai
Ingredients for the base:
Ingredients for the cheesecake batter:
200 g frozen sour cherries
1. Take a machine bowl. Mix cream cheese and Splenda together and add eggs gradually.
2. Mix cream and cornflour together and add in the other elements into the mixture.
3. Bake at 160 degree Celsius in the oven for 20-25 minutes.
4. Mix all the ingredients for the sour cherry compote together.
5. Serve the cheesecake with the sour cherry compote.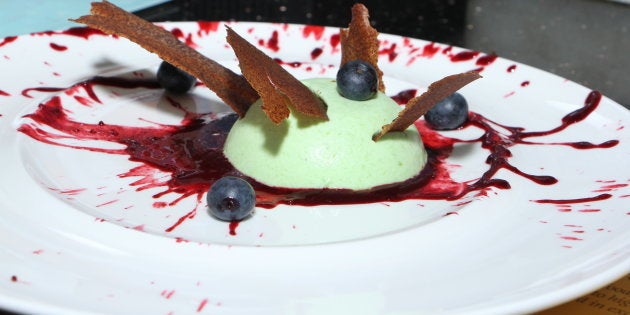 Asparagus fondue with ragi crackers, Meluha The Fern, Mumbai
Ingredients for the asparagus fondue:
5 g sugar free substitute
200 g double cream whipped
5 g sugar free sugar for double cream
1. Soak the gelatine in 21 ml of water and keep aside.
2. Boil the asparagus puree and 5 grams of sugar free sugar in a saucepan. Turn off the flame and add in the soaked gelatine.
3. Mix well till all the gelatine has dissolved.
4. When the asparagus mixture has reached room temperature fold in the whipped cream.
5. Pour in the desired mould and keep it in the freezer until set.
Ingredients for the ragi crackers:
1. Melt the butter and keep it aside.
2. Mix sugar free and ragi flour together.
3. Put egg whites and vanilla essence in a planetary mixer and beat until soft peaks have formed.
4. Fold in the dry ingredients.
5. Lastly, add in the melted butter.
6. Spread the mixture on a silicon pad and bake at 180 degree Celsius for 12 minutes.
7. Let the crackers cool down. Serve with chilled asparagus fondue.
Papaya low-fat yoghurt parfait with crispy oats, Hyatt Place, Gurgaon
200 grams of diced papaya
200 ml of low fat yoghurt (unsweetened)
20 grams roasted oats and almond flakes
1. Arrange the papaya in a bowl, layered by low fat yoghurt, roasted oats and nuts.
2. Serve chilled, garnished with fresh mint leaves.