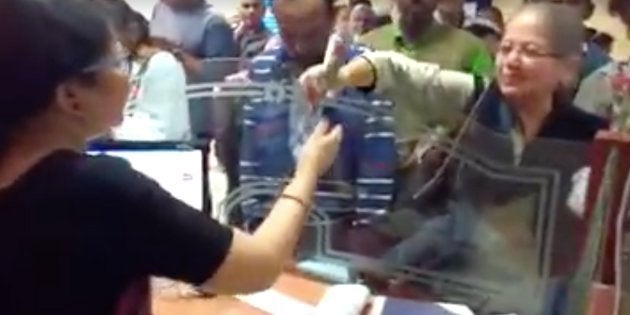 Ever since demonetisation was announced on 8 November, India's bank employees have hardly known any rest. They have been working tirelessly to address the demand for depositing old currency and withdrawing new currency. After the change was implemented, bank employees have been working overtime and on weekends. In some parts of the country, retired bank employees showed up to help out their swamped and harried colleagues.
In fact, according to reports, 11 bank officials have died due to the stress and the long working hours. The scenario continues to be grim. But then, amid all the chaos and distress, there are actually people doing whatever little they can to spread some cheer.
Prashant Singh an employee of the State Bank of India, Indira Nagar, Lucknow, posted a video on Facebook that shows a frail old lady carrying a bouquet of red roses and handing one rose to each bank employee. She can be seen thanking the officers for their tireless work and saying, "aap log bahut mehnat kar rahey ho." (You are working very hard.) People standing in queue can be seen applauding her simple but sincere gesture.
The video already has 61k views. You can watch it here.