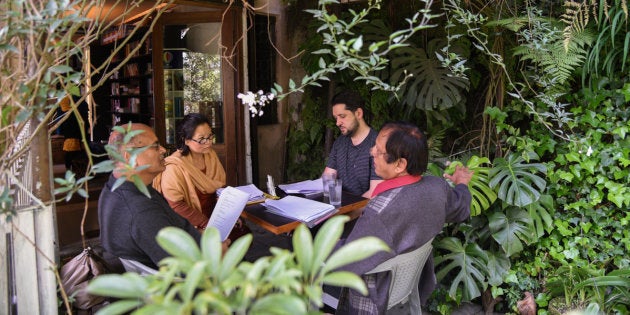 This November, over 100 poets from five countries will gather in Mumbai for a one of a kind festival that will celebrate poetry in 20 languages. This will be the culmination of a two-year-long Indo-German literary exchange project that saw South Asian poets translating German poems into their languages, and their own verses being translated into German.
The three-day Poets Translating Poets festival brings together poets from India, Bangladesh, Sri Lanka, Pakistan and Nepal, as well as Germany, who have been meeting each other in one-week residencies in nine cities across the Indian subcontinent. The project was started by the Goethe Institut Mumbai in 2014 to encourage literary exchange between South Asian and German poets.
The participants are all published contemporary poets who reside in the state or region in which their language is spoken and are already familiar with translation. Each poet selected six of their own poems which they wanted translated. In turn, they worked with a translator who was proficient in both languages and made a word by word translation of the poems. After this, the poets did the 'poetic' and 'literary' translations. The project has finally resulted in 280 translation in 20 languages, such as Urdu, Bengali, Marathi, Kannada and Malayalam, and can be accessed online.
Award-winning Tamil Dalit poet and teacher Sukirtharani was among those who took up translation for the first time. Sukirtharani's poems focus on the caste system and its effect on women, and the poet says she looked for this in her translation too. "Writing is my life. I am writing for the society and I use my poems as a weapon/tool to mend the society. While translating, I thought it would be the same for the other poets too," she told HuffPost India. "The biggest challenge was understanding the soul of the poem and recreating it in my language."
Along with poetry readings, discussions and performances, the festival plans to take poetry to public spaces, with the poets travelling on local cabs and buses to read their poetry at local tea stalls across the city. They will also visit colleges and schools in Mumbai to conduct workshops, readings and lectures. To celebrate India's Constitution Day on 26 November, the festival will focus on poetry of resistance and peace, with readings and discussions by Ranjit Hoskote, Kaiwan Mehta, Arunava Sinha and Arundhati Subramaniam.
Poets Translating Poets will be held in Mumbai from 25 to 27 November.