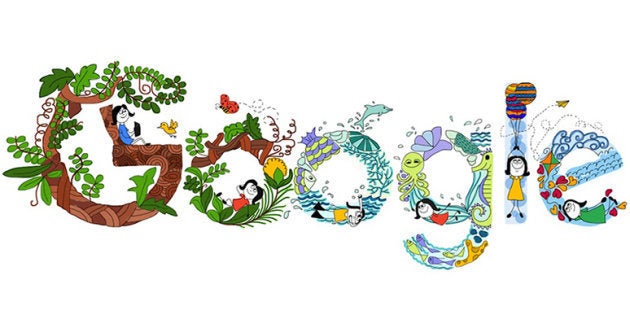 To mark Children's Day in India, Google is showcasing a picture drawn by an 11-year-old girl from Pune as its doodle of the day. Anvita Telang, a sixth-grade student at Pune's Vibgyor High School, won a nation-wide competition held by Google on the theme of "If I could teach anyone anything, it would be..."
When her mother Aparna asked her this question a couple of months ago, Telang's answer in the form of the doodle was that people should try and enjoy every moment. "In search of big things, we miss out on the small joys around us," Aparna recalled. "I asked her if she could translate her thoughts into paper."
Her final Google Doodle is illustrated with images of a girl having fun in the lap of nature. Telang sketched the design on paper using the template given by Google, then scanned it and coloured it on the computer using Photoshop. "In these stressful times, greatest joys of life are often hidden in simple things, thus I would like to teach everyone to take time to enjoy every moment of life and appreciate the simple things around us," Telang said.
The contest organised by Google saw participation from over 50 cities, with the winner being shortlisted by a jury comprising the political cartoonist Ajit Ninan, art director Savio Mascarenhas, artist Rob and the Google Doodle team lead Ryan Germick. Besides the national winner, there were also three group winners for different grades.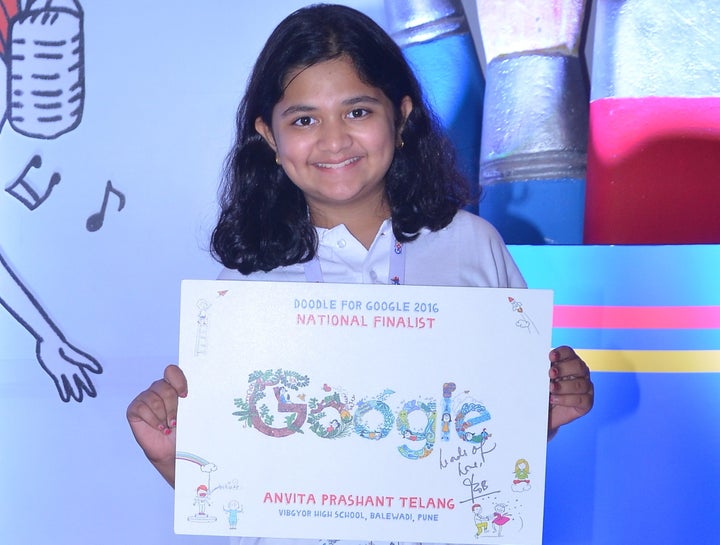 Telang says that her interest in art stems from watching her mother Aparna, who is a visual web designer. "I like painting and even go to drawing classes," she said. "I want to become an architect when I grow up because it is related to art and I love art."