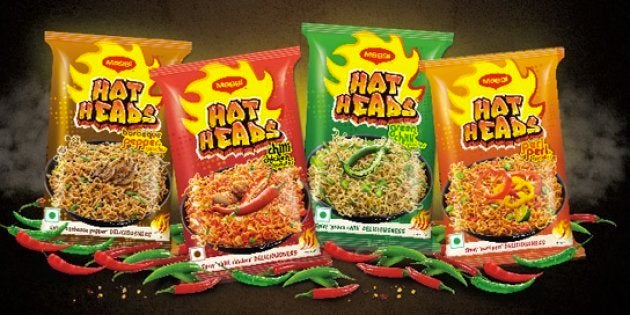 It's been a brutal week. So first, let's take a moment to appreciate that there is still hope in this world. Say for example, a packet of Maggi. It did gave you a scare by doing the disappearing act and it seemed like the world was going to end. But then it was back and your world, found its order back -- somewhat.
While fine dining connoisseurs and anyone who thinks food should be healthy doesn't appreciate your zeal for it, and rightly so, you are just 10 bucks away from a packet full of comfort.
So yes, thank god for small mercies, before we move on to more important businesses.
The said important business being doing what none of you will do easily. Try new flavours of Maggi.
A couple of months ago, Nestle released four new Maggi flavours collectively termed 'Hot Heads' in addition to a No Garlic No Onion Masala flavour (the sound of which gives me the jeebies, so I didn't try this out).
The new flavours available are the following: Green Chilli, Peri Peri, Chilli Chicken and Barbeque Pepper.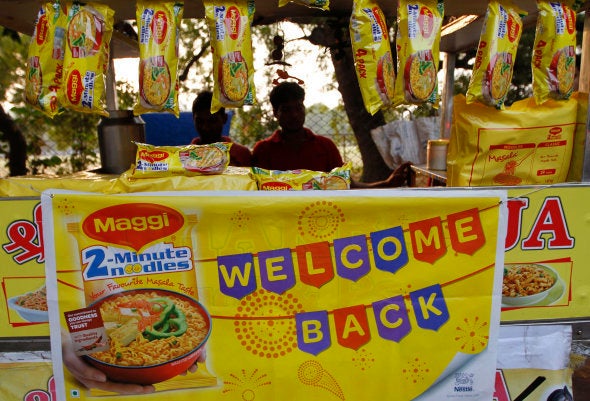 The four flavours are ranked in terms of spice factor, Green Chilli being the spiciest, and Peri Peri being termed 'mildly hot'.
I started with the flavour termed the 'mildest' by the makers of Maggi, the Peri Peri flavour. It may seem intimidating, what with its orange colour and flakes of what looks like pepper in it.
But, like the brand promises, it is indeed mildly spicy. If you are expecting it to taste anything like the burst of spice that peri peri flavoured chicken wings are, don't expect any such firework. It's not bad, but at double the price of the usual Masala Maggi, it may not feel like it's worth it. As for me, I would rather splash some tabasco sauce on the regular Maggi instead of buying this one.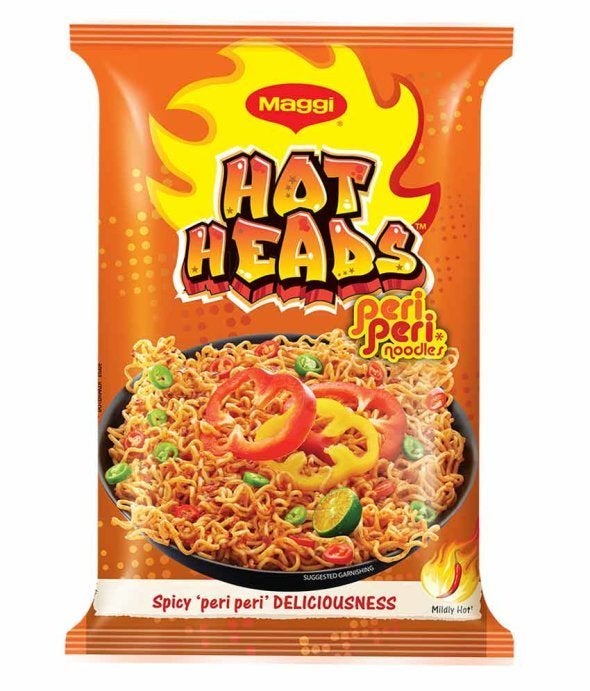 When I was about to try the Chilli Chicken flavour, I could almost hear excitement bubble inside me. Let's get this straight: I'm a Punjabi and my life gets a little better every time I tuck in a spoonful of the spicy Indianised chilli chicken. So Chilli Chicken Maggi is what heaven sounds like in my head.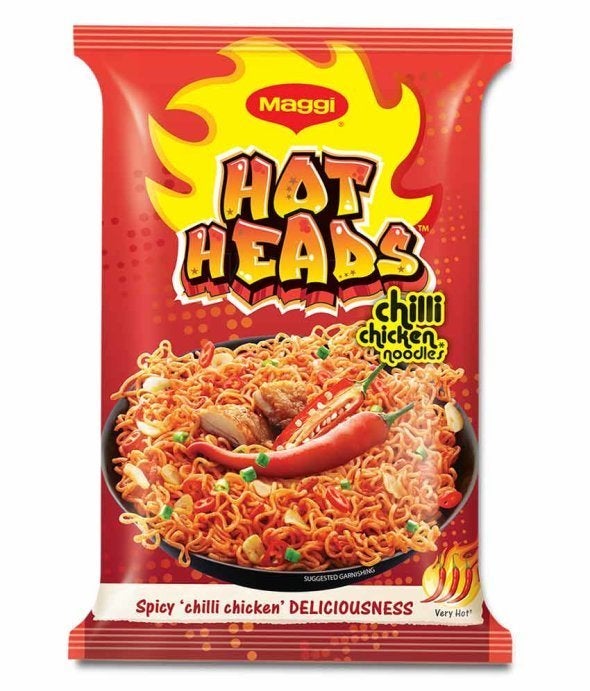 The cooked noodles look pretty unspectacular with little brown clumps of what is chicken-flavoured stubs. To be fair to the noodles, it tried its best to taste like chilly chicken. However, it wasn't as spicy and the fact that our palates are so enthusiastic about the real stuff, works against it. If you've ever swept up the last dregs from a plate of noodles that had a helping of chilly chicken on them, this is what this Maggi tasted like.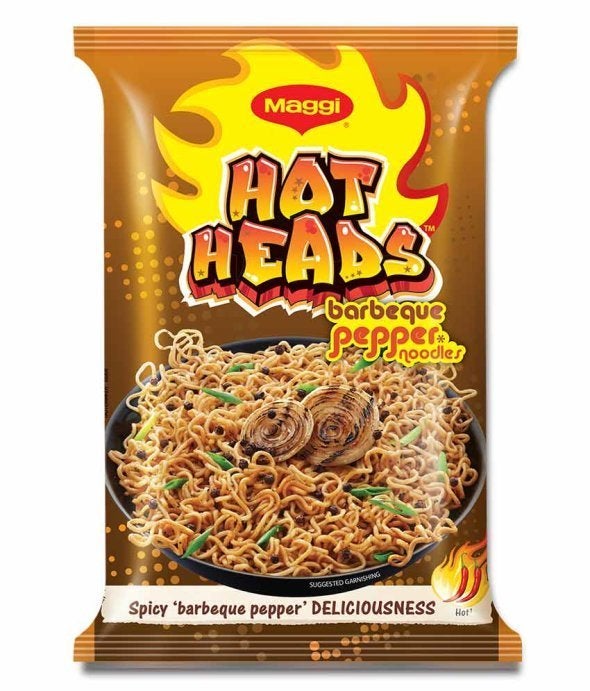 Then, it was Barbeque pepper Maggi's turn. It's easy to see how and why this flavour would appeal to several Indian chilli loving foodies. The noodles themselves are not typically spicy. But there is an intense pepperiness that hits your throat on swallowing a forkful of them, not unlike a helping of any curry with generous dollops of masala.
True to the graphic on their packet, these noodles also have a very strong onion flavour. The only thing that would make this better is actually adding fried onions to it.
Finally, I went for the Green Chilli Maggi. If you're a Harry Potter fan, please know that this is the Snape of all Maggi flavours.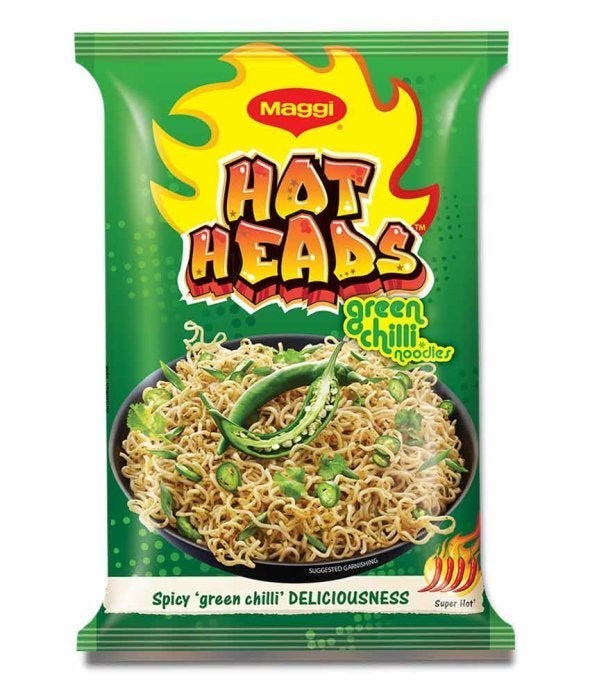 Others must know, this one doesn't look flamboyant like the rest but is the most lethal. It's spicy, tasty and you will absolutely love it. It feels like you've bitten into a plate of Maggi with only green chillies as its flavouring. However, after a couple of bites, it tends to get a little boring. This is where the Barbeque Pepper flavour edges past it, because the latter is zesty and fun.
So if you're going to really spend your money on a new Maggi flavour, you're better off trying the Barbeque Pepper one.
But all said and done, I am an old school girl and honestly, nothing's like the old school masala Maggi. Especially because how well it lends itself to all our crazy experiments.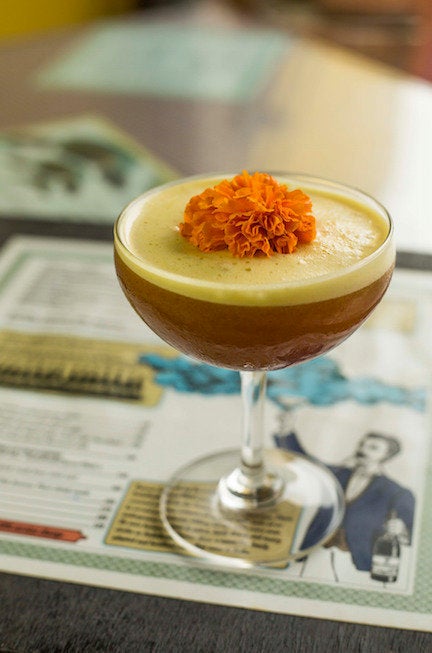 12 Indian Cocktails To Spice Up The Winters