CP
UPDATE - Nov. 9, 2016: More than 200,000 users were trying to access the site when the Canadian immigration site crashed on U.S. election night, said a government spokeswoman.
Sonia Lesage told The Huffington Post Canada that American IP addresses accounted for 50 per cent of the traffic, compared to a normal range of 8.8 to 11.6 per cent.
At the same time, traffic from Canadian IP addresses was at 37 per cent, followed by Australia at three per cent and U.K. at one per cent.
In comparison, the same period last week saw just over 17,000 visitors, she said.
This is what the Citizenship and Immigration Canada (CIC) website looked like on Tuesday night.

What else was happening on Tuesday night as the CIC site crashed? Donald Trump appeared to be heading to victory as U.S. president.
Yup, Citizenship and Immigration Canada crashed pic.twitter.com/85JD6f39TY

— Andy 🇨🇦 (@CanadianFanboy) November 9, 2016
At the same time, searches for one-way flights to Canada spiked, according to CheapFlights.com..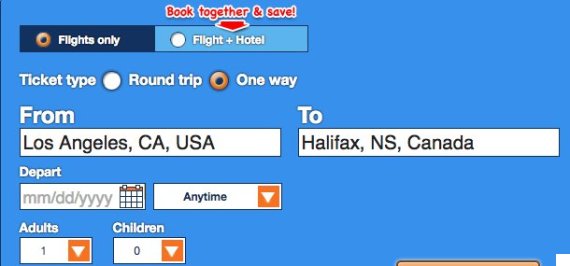 Searches for "moving to Canada" also peaked on Google: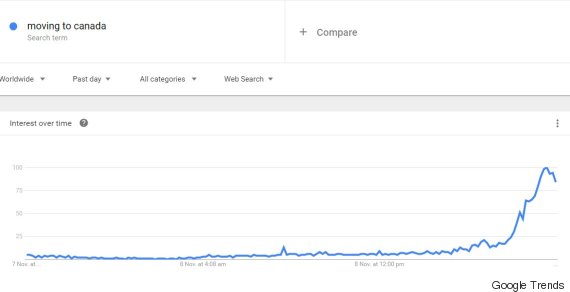 American searches for the term "emigrate" also spiked, according to The Telegraph:
People in the US are increasingly searching for the word "emigrate" over the last few hours #ElectionNighthttps://t.co/CJCBsKKKNEpic.twitter.com/hEH5lmPko1

— The Telegraph (@Telegraph) November 9, 2016
All that interest must be because of this very effective tweet from the Government of Canada as the U.S. election results rolled in:
In Canada, immigrants are encouraged to bring their cultural traditions with them and share them with their fellow citizens. pic.twitter.com/MOuStZbSX7

— Canada (@Canada) November 9, 2016
Well played, Canada. Well played.
- With files from Althia Raj