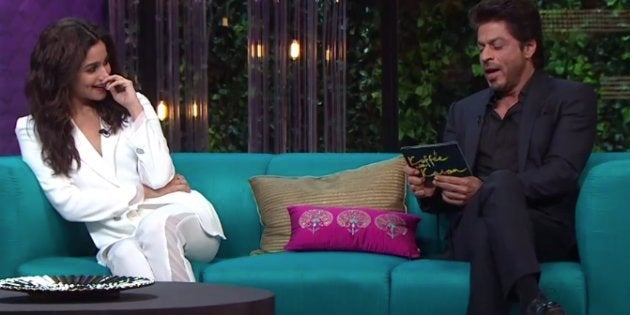 Karan Johar's chat show, Koffee With Karan, premiered its 5th Season on Star World last night and the first guests on the show were Alia Bhatt and Shah Rukh Khan.
And what can be perhaps described as a phenomenal coincidence, SRK and Alia also happen to feature in Gauri Shinde's Dear Zindagi, a film Karan Johar has incidentally produced.
Well, to synopsise the first episode, Khan appeared slightly awkward, trying to draw humor out of his age.
He also wasn't at his wittiest and seemed a tad bit conscious around the much younger Alia.
One of the most awkward moment was when he said he'd like to star opposite her in the Indian version of 50 Shades of Grey (even if Alia agreed, let's not forget Pahlaj Nihalani).
A threesome joke about SRK joining Katrina and Alia in 'bunny-hopping' also didn't quite have a great impact and felt a little out of place.
The truly fun part was to see Alia dodge questions about her relationships (SRK and Karan Johar addressed the age-old one rumor about themselves being a 'thing') as she has been linked with everyone from Sidharth Malhotra to Varun Dhawan to Arjun Kapoor.
The 23-year-old firmly claimed her singleton status going to the extent that she'd not go out with either Ranbir Kapoor or Ranveer Singh if they asked her out for a date.
Not in that mind space, she said. Oh, dear Zindagi.
Staying true to the gossipy nature of the show, what really came out were two stories which were never confirmed by the people who it revolved around: Ranbir and Katrina's break-up (multiple jokes were made at that expense, including RK's sex life now that he's single) and Ranveer Singh and Deepika Padukone's relationship (Alia said she wouldn't hook-up with Singh because he's 'so happy' with Deepika. Thank you, Alia.)
In a candid moment, Shah Rukh also confessed that he regretted letting go of the main role in Rajkumar Hirani's 3 Idiots, one that was eventually essayed by Aamir Khan.
While Alia admitted that she'd be pretty 'upset' if Sonam Kapoor wins awards for Neerja and if she doesn't get any for her performance in Udta Punjab.
To everyone's surprise, things also went insane when Shah Rukh spoke about Alia as an actress.
He said, "Alia is too good too soon. I don't want her to get trapped in just doing great acting without experiencing everything in Indian cinema. If you become too good too soon, you may have inhibitions being bad at times. It's really wonderful to be bad at times."
However, the truly outstanding moment of the show, one that was worth savoring was when Karan asked SRK to read out a butter chicken recipe while faking an orgasm.
Karan was courteous enough to credit American talk show host Ellen DeGeneres for coming up with the fun concept and took it delightfully forward by making SRK do it.
The result was terrific and SRK milked it to the fullest, even going on to say that he can 'cum multiple times.'
Watch the entire episode here. If you want to skip it straight to SRK's Butter Chicken gig, skip to 23:20.