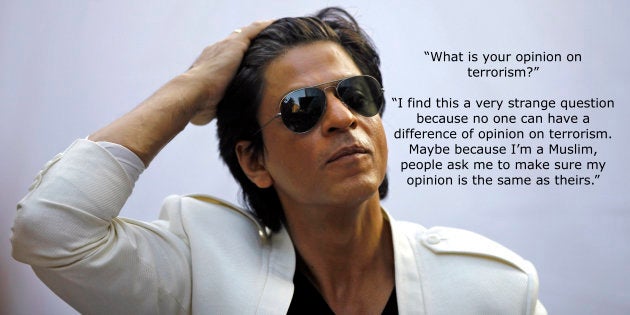 Shah Rukh Khan a.k.a. SRK a.k.a. King Khan turns 51 today. Khan who began his acting career in the television serial Fauji in 1988 and entered the film industry with Deewana (1992),has given us memorable characters such as Ajay/Vicky in Baazigar, Sunil in Kabhi Haan Kabhi Na, Raj in DDLJ, Kabir Khan in Chak De! India, and Mohan Bhargav in Swades.
Hailing from a middle-class Delhi family, Khan has reached the acme of Bollywood hierarchy through a combination of hard work and talent.
The numero uno star of Hindi cinema is also extremely articulate off screen, and known for his witty one-liners that make him stand out as one of the more intelligent artists working in the entertainment industry.
While many actors shy away from answering questions that could land them in controversy, SRK likes to take them head on.
1. On his arrogance.
"Film industry meinthodisi ji-huzoorizyaadahotihai. Wahanpe ektareeka hum logo neapnayahua hai ki jaise hi miltehaintoh, "Sirjee, kaisehain? Kamal hain aaptoh sir."
"Waise hi hum actor, producer, director sabek dusre kepeecheaise hi ghoomtehain. Toh yahan par jo bhi aadmikhadahokar namaste kardetohuskothodasa arrogant maanlilajaata hai."
(People in the film industry try to flatter each other a little too much. Actors, producers, directors practically tail each other just to stay in their good books. So, when a guy just stands still and greets someone with a Namaste, people call him arrogant.)
2. On intolerance.
"Creativity bahut secular hoti hai. Creativity ke andar na koi dharam, koi jaat-paat, region-religion nahi aata kabhi bhi.
"Humein kalaakaar se pyaar hai, na ke kahaan se aayein hain."
(Creativity does not involve caste, religion or region. We love the artist, not his or her background.)
3. On Anti-Nationalism.
In 1998, Shah Rukh Khan was interviewed by Farida Jalal and asked what he would change if he could rule the country for a day.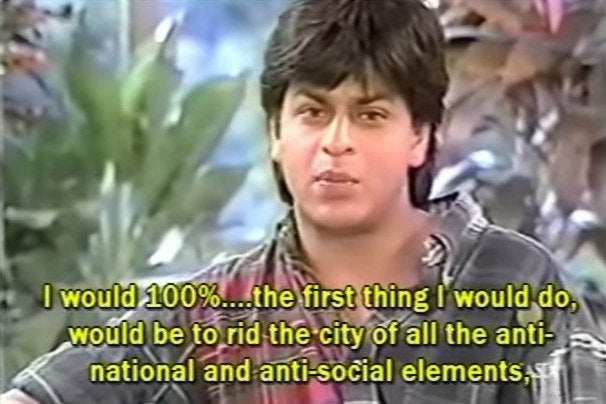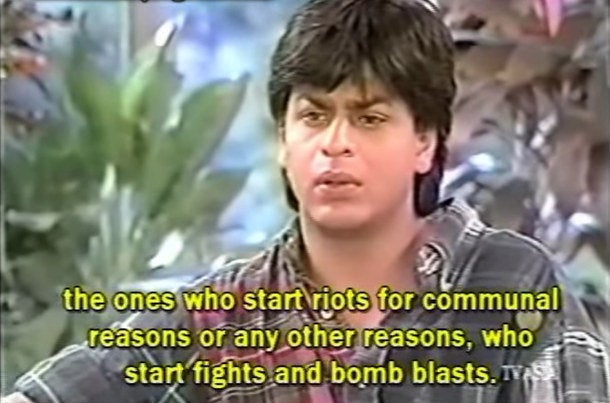 4. On being an Indian citizen.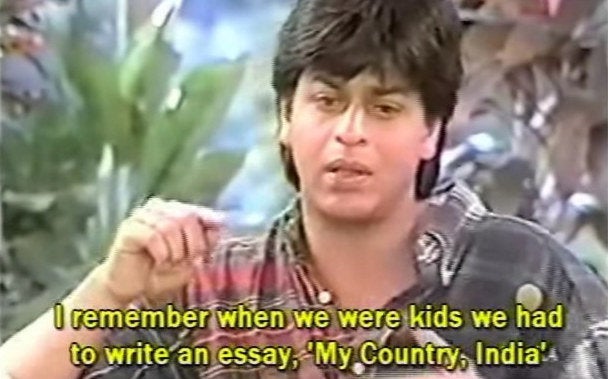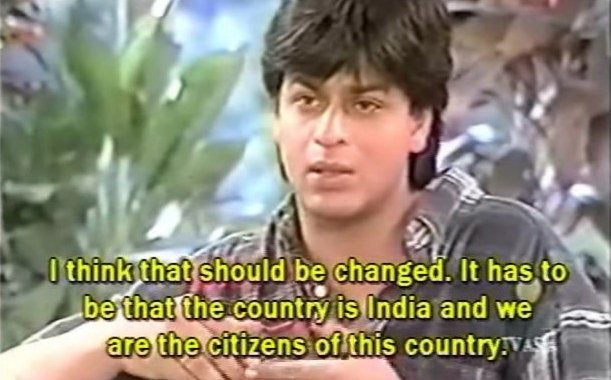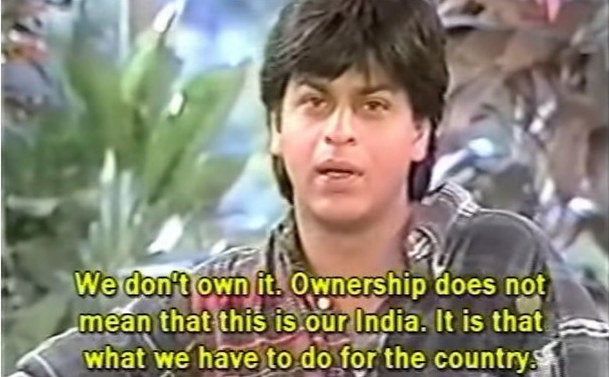 5. On Terrorism.
SRK spoke about religion, humanity and terrorism at an event, billed, "A Nation In Solidarity Against Terror" that was held in India Gate in Delhi in November 2009, a year after the 26/11 Mumbai terrorist attacks.
"I'm often asked nowadays, probably you are asked the same thing — What is your opinion on terrorism? I find this a very strange question because no one can have a difference of opinion on terrorism. Maybe because I'm a Muslim, people ask me to make sure my opinion is the same as theirs."
6. On Television shows.
"I have a lot of people around me who do acting and still work in television serials. So, if stardom is equated in terms of the value of payment and value of time, then the television stars are much bigger stars. Television is as respectable as films."
7. On Stardom.
"I do enjoy being a star. There was a time when I thought... there are times when I still think I'm not big enough a star. I think I would miss being a star. It's like seeing in future and seeing that when I go down on the roads and I'm not able to make people smile when they look at me, which I think is the greatest gift god has given me."
8. On Method acting.
I don't immerse myself in a character. I don't kill myself for dying in a scene in a film. I don't run 10kms because I have to seem out of breath. I don't believe in the method of method acting. I've read about it, I've learned about it. I completely disagree with it, maybe because I cannot do it. Or maybe I find it silly."
9. On Money.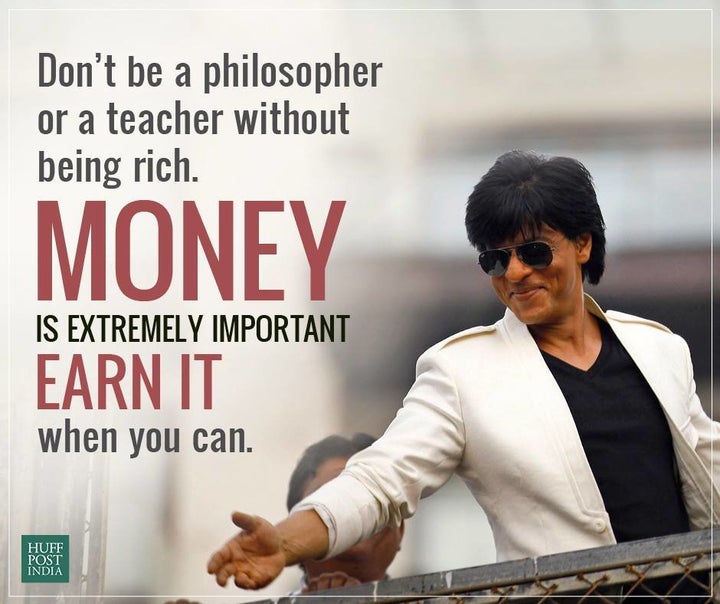 10. On working women in the industry.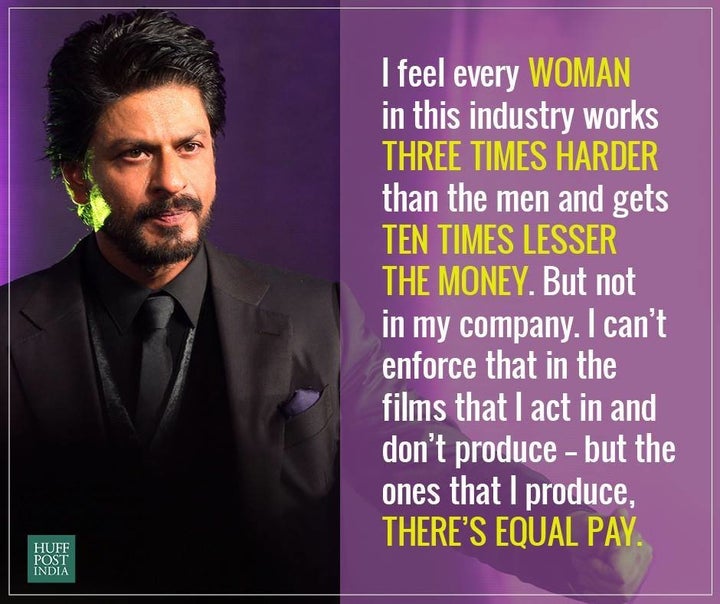 11. On competition in the industry.
"I compete with me. Why do I compete with me? Because I don't think anybody is good enough. And I don't mean to deride anyone. Because if I start looking around me and competing then everybody I have to compete with."
"You don't look back. You don't look on your side. You don't look at the guy in the front."
"I don't have any competition. I will be very honest. And I don't say that with immodesty or self-centred pompousness. I don't have any competition. I have not come here to compete. I've come here to rule."
12. On a rumour-free career with Bollywood actresses.
"I hide my romance in the same place as my money from the income tax."
13. On marrying a Hindu woman, Gauri Khan.
Khan narrates a funny incident from his wedding in an interview with Farida Jalal.