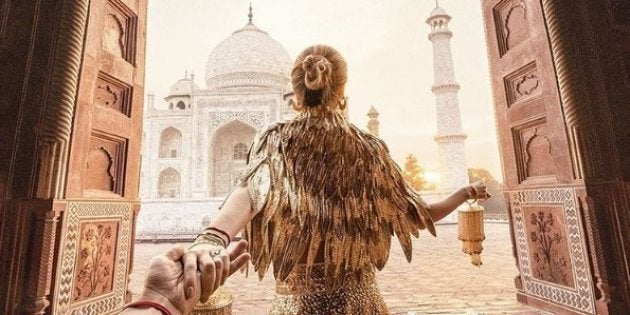 In 2015, Murad and Natalia Osmann, the Russian couple who had become an online sensation for their viral Instagram series 'Follow Me', visited India and shot pictures at various tourist landmarks, including this famous photograph at the Taj Mahal.
Last week, the couple was back in Agra, where they took a series of beautiful photos at the immortal monument of love. "It was a challenge for us because we have already been to the Taj and shot some really great #followmeto images, with one of them going viral and becoming a cover of National Geographic," Murad told HuffPost India over email.
The couple woke up at 5.30 am to avoid being photobombed by other tourists and get a clear shot of the Taj Mahal at sunrise. "We had to come really early and run towards a place I thought might have a great angle of the monument," Murad said. "Running in the heavy and shiny Indian outfit wasn't easy."
After a series of teasers, they released the final photograph, below, on the day of Diwali. Natalia's look, styled by their friend Mohit Rai, included a golden Abu Jani and Sandeep Khola ensemble, and jewellery from Amrapali Jewels.
"I will be honest with you. I like this picture more than the previous one from Taj," Murad wrote on Instagram.
"India is one of our favourite places in the world," he added. "Every time it opens for us in a completely new way. It's so inspiring and peaceful. This time, we even had a traditional wedding ceremony in India." The two also visited Jaipur on their latest visit and hope to visit Delhi's Khari Baoli spice market in the future for another shoot. They also plan to share more stories from India on their website.
Here are some more pictures from the shoot.