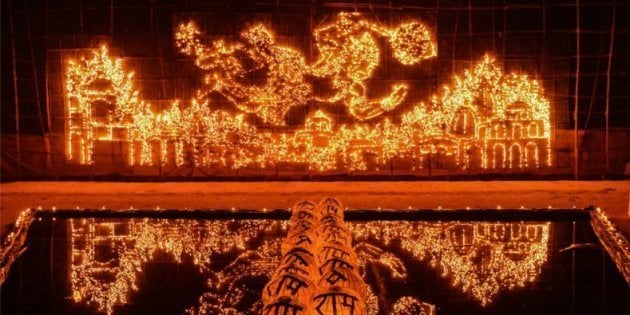 Diwali, the festival of lights, is celebrated all over India in different ways and with different rituals but with the same essence. It represents the victory of good over evil and of light over darkness. But somehow, in our enthusiasm to beat the darkness, we tend to submit ourselves to fireworks and it's toxic smoke every Diwali.
However, IIT Kharagpur has taken a stand to celebrate an eco-friendly and pollution-less Diwali. Illumination is a cultural festival that is organised by IIT Kharagpur, where students join forces to light up the entire campus.
Illumination has been celebrated for decades now and every year the students build panels and make rangolis and light them up with thousands of diyas. Chandan Karwat, who has been photographing Illumination tells HuffPost India, "IIT Kharagpur is spread over some 2200 acres has around 10,000 students. All these students reside in our residence halls. And every year students of these 21 halls compete to decorate the campus. The preparations start a month before Diwali. Everything is done by students, no labour or no help is involved."
Karwat says that the panels or chatais erected reach upto 20-25 ft high. Last year, one of the chatais was 32 ft. And not only the panels, students make rangolis as well. One of the rangolis last year was included in Ripley's Believe It Or Not because it would appear to be of different designs under differently-tinted lights.
Karwat mentions, "Diwali has become a festival of smoke instead of light. So, to regain our old tradition IIT Kharagpur is encouraging a smokeless Diwali. During Illumination, lights are put off for 2 to 3 hours and only diyas light up the campus." He also adds that since every hall purchases around 40,000 diyas, they are also helping the diya-making industry.
Here are some of the scenes from the previous Illumination celebrations:
RP Hall of Residence, 2015