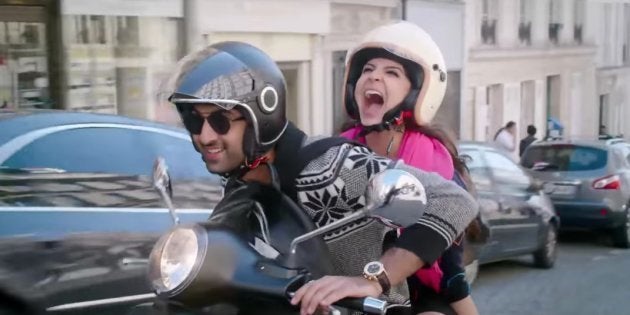 (Note: this review contains a few spoilers.)
If only real life were like Karan Johar's movies.
I too want to live a carefree life in London (err, okay, perhaps a city with better weather) where I can be a student but have access to a private jet, hop across to other parts of Europe at will, and go to posh clubs and restaurants. Sure, there are people who have this in reality, but in Johar's films, people are given professions for cosmetic reasons, the way dressing is added to salads. Everyday realities aren't always taken into account.
So, in his latest film Ae Dil Hai Mushkil, Ayan Sanger (Ranbir Kapoor) is purportedly studying for an MBA degree, but secretly harbours dreams of being a singer. Yet, once this is established, it never really comes in the way when Ayan embarks upon impulsive European sojourns with Alizeh (Anushka Sharma), a girl he meets at a club. What does Alizeh do, you ask? There's some line about working at yoga studios, but mostly she's a full-time, Bollywood-loving sass (who can be a trifle annoying, truth be told). They meet-cute like Kapoor and Deepika Padukone's characters in Imtiaz Ali's Tamasha, a film that Ae Dil... has much in common with. There's plenty of, ahem, classy self-referencing — Johar harks back to lines or moments from Kuch Kuch Hota Hai and Kal Ho Naa Ho multiple times, with no attempt at subtlety. There's enough self-awareness as well — when two characters speak in chaste Urdu, the script has the good sense to make someone ask, "Have you guys rehearsed this?"
The most controversial film of the year, one that has fought tooth and nail to get to theatres, is perhaps also its most generic. Aside from Tamasha, there's more than a whiff of Rockstar in here, a pinch of Yeh Jawaani Hai Deewani, and — this may be a bit of a spoiler but unfortunately it merits a mention here — a dash of Katti Batti. Once again, Kapoor plays an immature, entitled, and tortured lover who learns that heartbreak and suffering will benefit his art. Once again, Sharma plays a fast-talking, fully filmi patakha who becomes the object of the leading man's affection. And once again, the phrase 'till death do us part' acquires too literal a meaning.
As is the case with all of Johar's movies, the usage of background music torpedoes the film quite a bit. Pritam's score sounds like a brief has been followed to the T, with peppy Cuban playing music during allegedly funny scenes (a double-date sequence that attempts to find humour in slut-shaming), and heavy duty strings during emotional ones. Every ebb and flow of emotion is underlined, which ironically ends up diluting the actual impact of the scene instead.
Perhaps the only surprising thing about Ae Dil Hai Mushkil, aside from three starry cameos (one offensively bad, the second satisfactory, and the third absolute disastrous), is Aishwarya Rai Bachchan. She plays Saba, a poet from Vienna, whom Ayan meets on a flight but waits three months to call back; perhaps it's because she's annoyingly fluent in shaayari and he isn't? Anyway, the point being that Bachchan, after a long time, is poised and completely reined in — this may be her best performance in years. Ayan seems completely taken in by her and moves to Vienna to live with her, whilst occasionally dabbling in music so that Pritam's catchy, hit songs can get great — albeit somewhat unrealistic — picturisations.
I know what you're thinking: why on earth would anyone look for realism in a Karan Johar movie, right? But it isn't as much about realism as it is about world-building and honesty. For instance, I have no complaints with choreographed numbers, like 'Cutiepie' and 'The Breakup Song', because if done well, it's a form of its own that fits the situations well (one is in a wedding; the other in a nightclub) and don't really require justification.
But when you deliberately skimp on characterisation in order to simplify your script (i.e. not work harder at it), it shows. For instance, Ae Dil... wants us to think of Alizeh as a free spirit, so it goes out of its way to never really introduce us to, say, her parents or any other friends. Later in the film — don't say I didn't warn you about spoilers earlier — when she falls terminally ill with final-stage cancer, she continues to be inexplicably alone, so as to make it easier for Ayan to re-enter her life when the right time comes.
Speaking of the big C, that is the point at which Ae Dil... nosedives. We're treated to visuals of Kapoor and Sharma wearing fake-looking prosthetic scalps (he 'shaves' his head out of solidarity), looking like a cross between Ouro from Paa and the characters from the TV show Alien Nation. A scene in an ambulance makes a valiant attempt at redemption, but for me, the damage done was irreversible. Not only do they look ridiculous — why couldn't they have actually shaved their heads? — but also because it makes the entire story take a painfully sentimental and predictable turn.
Up until then, it's generic but mostly harmless fun, with some watchable chemistry between Kapoor and Sharma, and later him with Bachchan. A scene where a drunk Ayan peers into a mirror and fantasises about marrying Alizeh is one of the best scenes, and Kapoor, who is now a bona-fide expert at portraying the emotionally fragile millennial, absolutely nails this part of his performance. Fawad Khan (in a seven-minute role) plays the rakish Ali, a scruffily handsome professional DJ whom Alizeh ends up marrying, is effortlessly charismatic. What a pity we may not get to see him on screen again for a while.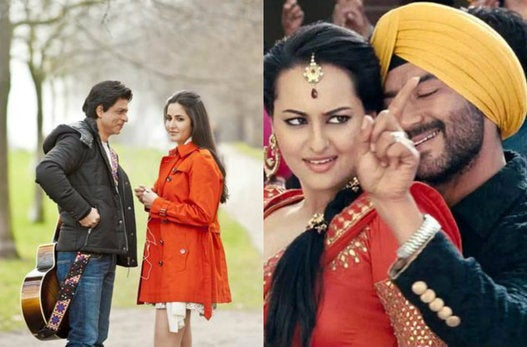 8 Epic Diwali Box-Office Clashes In Bollywood