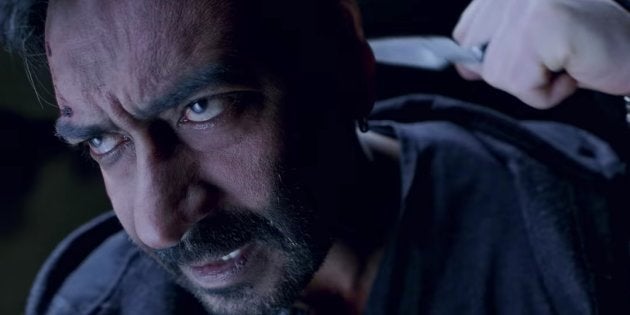 First-timer Sayyeshaa Saigal gets one respectable monologue in Ajay Devgn's Shivaay, one of two big Bollywood offerings this Diwali. It comes right during the climax, after nearly three hours of Rohit-Shetty-on-MDMA action sequences and relentless sonic assault, where she, as an Indian diplomat in Bulgaria named Anushka, has something heartfelt to say to Shivaay, played by Devgn. An enthusiastic piano accompanies her throughout, as though (rightly) afraid that the sound of her voice will put audiences to sleep.
Finally, Anushka finishes what she has to say. The piano stops playing. The audience at the preview screening of the film, held on Thursday evening at a multiplex in Andheri, roared with laughter. It really wasn't her fault, though. It was the kind of laughter one associates with captivity or a hostage situation. It had been three hours since the movie began and everybody was restless. Correction: everybody had been restless for at least an hour.
Shivaay is yet another bloated commercial 'entertainer' that packages retrograde machismo with big-budget-movie wrapping paper. It's nearly the end of 2016; the world recently past the tipping point for carbon-dioxide levels; yet, here we are, still making films about an indestructible hero who unironically refers to himself in the third-person.
Our hero is an expert mountaineer with elaborate Shiva tattoos. He has superhuman levels of stamina to go with his chillum-smoking habit. He has the core strength of a mountain gorilla. In one physics-defying action sequence, our hero actually manages to outrun gravity, emerging from the back of a police van in vertical free-fall and somehow managing to 'fly' upwards. This makes him much, much faster than Usain Bolt; perhaps the fastest man to have ever lived.
Again, with the excuse that this is commercial cinema, Shivaay finds ways to be unnecessarily regressive. Olga (Erika Kaar) is a Bulgarian DU student who falls in love with Shivaay, but with both of them aware that the relationship has no future (she has to go back to Bulgaria because she has family there and Shivaay can't leave the Himalayas... because "he will die" elsewhere). When she gets pregnant, his first reaction is to get angry with her and drive recklessly all the way home. "Go inside," he barks at her, and I wondered if we're now going to find out that the child isn't his. But no, he's just angry that he won't get a child, and we are then treated to a scene where Shivaay, ever the romantic, pleads with her to leave her child behind with him. Since he doesn't have any real friends in the film, the background score doubles up as Shivaay's One True Pal, supporting him in every endeavour, such as this one. Naturally, it's colder towards Olga, who is portrayed as yet another cold-hearted, immoral Western woman who wants all the pleasures of sex without the responsibilities.
(What is abortion? Don't ask. No one in this movie is aware of it.)
In fact, this portrayal is true for nearly every Bulgarian character shown in this film. Nine years later, Olga has left and Shivaay has raised their daughter Gaura (Abigail Eames) to be an inexplicably violent mountaineer, just like him. She has been told that her biological mother is dead. But Gaura finally finds out the truth through a suspiciously expositionary letter, and soon the two of them are suddenly flying to Sofia to look her mother up. As is common in so many Hindi films, characters who have lost touch and live in different countries have not exchanged phone numbers and don't have each other on Facebook.
So, yeah... Bulgarians. Shivaay lands at the airport and immediately looks around him with suspicion. He regards men and women, drinking beer and flirting openly on the streets, with extreme judgment (Shivaay's One True Pal lays on suspicious sounding music to highlight the extreme un-sanskaari-ness of this situation, even though his buddy and Olga had met under similar circumstances). Barely two hours into his trip, Shivaay has already caught his first child trafficker. Later, as the movie progresses, more Bulgarian characters get introduced, but nearly everyone turns out to be corrupt, violent or a child-trafficker (a prostitute with a heart of gold turns out to be Serbian).
(It's quite unbelievable that we complain about Western perspectives reducing us to Indian exotica or depicting 'poverty porn' when we go out of our way to be downright xenophobic in our portrayals of Westerners. Thank heavens the Bulgarians have thicker skin than us.)
"As Diwali offerings go, Shivaay is like that street in your neighbourhood where everyone's bursting rassi bombs for the heck of it. I don't know about you but I usually avoid such streets."
Much has been written about Shivaay's many action sequences, which take up a good portion of the film. An extended car-chase through the streets of Sofia is well-executed, in the style of Hollywood franchises like the Bourne series, or the Crank and Transporter movies. The editing is effective; Aseem Bajaj's cinematography is probably the best thing about this movie, ably supported by superior colour grading; Shivaay's One True Pal is loud and omnipresent but does a good job of building tension; and the collateral damage is felt, even if not acknowledged by the film ("I didn't kill anyone," says Shivaay, at one point, a few hours after causing chaos on the streets that surely must have led to grievous injuries if not death).
Had Shivaay been a leaner film, with a two-hour running length (at most), mostly focusing on action and plot, it wouldn't have been that bad a watch. But the screenplay by Sandeep Srivastava and Robin Bhatt, aside from being offensively dumb and clearly inspired by Taken, is overwrought, and Devgn adds to the audience's misery by overplaying everything. For instance, a hand-to-hand fight sequence towards the end goes on forever, and one wonders why, since the movie has established by then that Shivaay can never lose a fight, no matter how badly injured he may be. To make matters worse, a song — yes, a song — is inserted in that sequence. Yes, of course they've used slow-motion; why do you ask?
There's the odd scene that works, such as one in which Shivaay must examine frozen corpses to check if one of them is Gaura. And then there are those that just defy logic, like when Shivaay, a wanted fugitive who one would imagine is easily recognisable, walks into a police station just to identify someone. There's also a minor role played by an annoying Vir Das, as an ethical hacker with a crush on Anushka, who delivers all his lines in nearly the exact same smug, sing-song manner.
Not that Devgn, the supposed veteran of this film and a National-Award-winning superstar, is much better. When not looking stoned, he looks indignant; when not indignant, he looks outraged; when he raises his voice, it sounds like he's parodying himself. Poor Sayyeshaa joins the ranks of other debutants this year (Pooja Hegde, Saiyyami Kher) who look great and ooze sincerity, but cannot act to save their lives.
As Diwali offerings go, Shivaay is like that street in your neighbourhood where everyone's bursting rassi bombs for the heck of it. I don't know about you but I usually avoid such streets.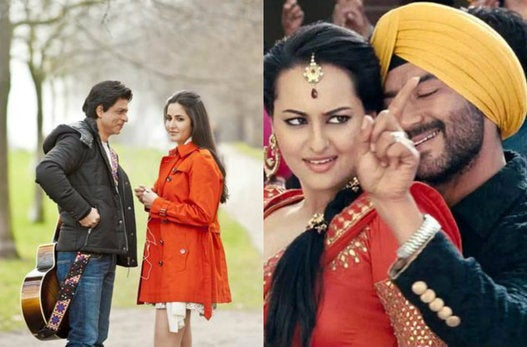 8 Epic Diwali Box-Office Clashes In Bollywood