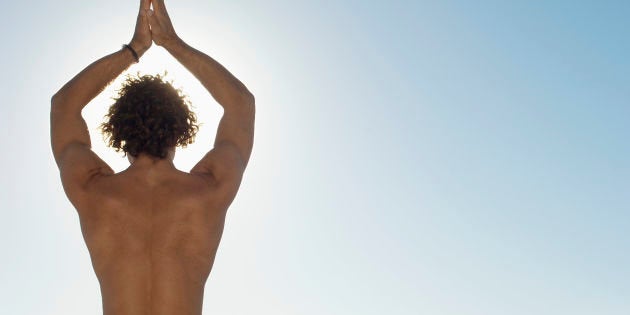 Yoga is for every gender, race, body size and age. And that's great news, because there isn't a single person who wouldn't want to reap the benefits. Seriously, would you turn down stronger bones, a lower weight, increased cognitive function, better sex and anxiety relief?
Didn't think so.
We've looked at women who use yoga to discuss mental health and yogis who prove size means nothing. Now we're putting the spotlight on men. The specter of all yoga's stretching, chanting, tight clothes and talk of asanas can turn off the outsider – namely, dudes. But these Instagram accounts of men who love yoga might make you reconsider.
Gentlemen, we wouldn't be surprised if you grabbed a mat after this one. These guys are flexible, happy and in incredible shape.
Like we said: Who wouldn't want that?
Mark Robberds
A yoga teacher for nearly 20 years, Mark Robberds travels around the world leading workshops and retreats. Warning: His Instagram account will ignite wanderlust, but also inspire you to hit the mats. Robberds often posts videos of yoga positions with accompanying explanations of how to get yourself into that pretzel without taking it too far.
Michael James Wong
Motivational speaker, yogi and the lead force behind the Boys of Yoga Instagram account, Michael James Wong has one motto we can definitely get behind: "Some guys think yoga makes you less of a man, the truth is it makes you a better one." Amen.
Gerald Saluti
It's a family affair for yoga and fitness instructor Gerald Saluti, who often posts photos and videos about everyday ways yoga can be fun for kids. Saluti does private lessons, but also works with the Rutger's men's lacrosse team.
"One of my greatest joys as a yoga teacher is working with young athletes," Saluti wrote in a post on Instagram. "...[The Rutgers lacrosse team's] dedication and progress as athletes is incredible but pales in comparison to their growth as men. Look out to all you teams that have to play us this season. We are physically strong but mentally stronger. Yoga all day everyday!"
Dylan Werner
Australian Dylan Werner teaches workshops and classes internationally, and you can also train with him online. With 363,000 followers on Instagram, his social media feed keeps the inspiration comin'.
Michael Eley
Beginners to yoga often stick to the back of the room in class; Michael Eley reminds us what it might be like up front. The yoga teacher's Instagram is a host to selfies in quite advanced positions, but that's why we like it. There's always something to work toward.
No shame if you're just now reaching for your toes (what? just us?).