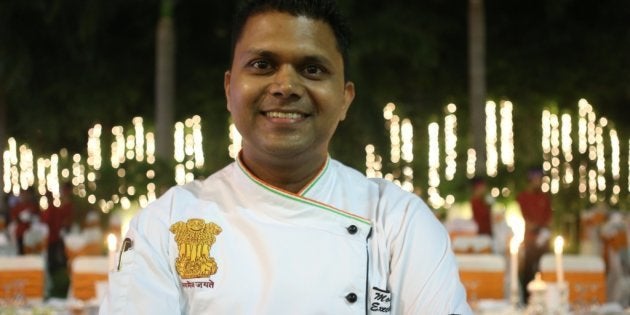 You may not have heard of Montu Saini, but he has one of the most important jobs in the country. As the executive chef to the President of India, he runs the Rashtrapati Bhavan's kitchens and feeds the president, his family and his high-profile guests.
When the 34-year-old joined his post last June, he became the youngest ever executive chef to the President. In a few months, he managed another coup by becoming the youngest member of the Club des Chefs des Chefs, an elite international gastronomic society of chefs who cook for presidents, prime ministers, kings and queens.
The society's members include chefs commanding some of the most powerful kitchens in the world, including the ones in the White House and the Buckingham Palace. India has been a member of the club since 1990 and, thanks to Saini, this is the first time that it is hosting its annual meeting this week. "Yesterday, the chefs cooked in my kitchen, and next year, I will probably cook in their kitchens. It is a dream come true for me and an exchange of culinary skills," Saini told HuffPost India, after taking the visiting foreign chefs for a tour of the Rashtrapati Bhavan kitchen.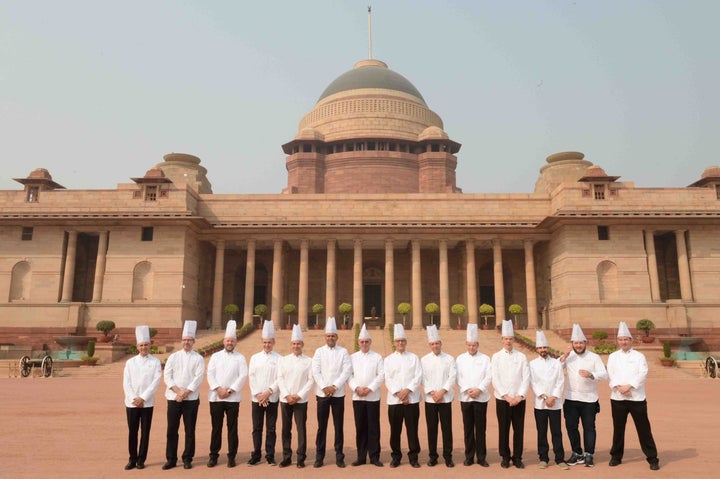 Before he became a power chef, Haryana-born Saini trained at the Institute of Hotel Management in Bangalore and worked briefly at Pizza Hut and with the Oberoi group. He then joined the India Tourism Development Corporation's Ashok hotel in Delhi, where he worked at the hotel's coffee shop and multi-cuisine restaurant for eight years before securing his current prestigious position.
Saini says he applied for the position after seeing a newspaper advertisement after the previous chef's deputation had ended. He was selected after a series of interviews, followed by the skills test in which he was required to cook.
Soon after joining, Saini discovered that cooking at the Rashtrapati Bhavan was a different ball game, quite unlike his previous job where commercial concerns were paramount. "We were more concerned about our food cost, and what are the target for today's sales and whether you could achieve yesterday's target," Saini said. "[Here,] we are completely dedicated to working in the service of the nation. We don't have to think about sales but the improvement in services and how efficiently and effectively you can work on a short notice. Here, is it about zero-error work and the best in class service."
Saini's role as an executive chef goes beyond cooking. He works with a team of 40 chefs, with the kitchen divided into different teams, including a halwai section to prepare Indian sweets and a bakery for breads and confectionary. A typical day begins with a game of tennis or golf at the Rashtrapati Bhavan estate. After entering the kitchen, he first checks the cold storage for the day's supplies. This is followed by procuring supplies for the next day, briefing the staff on what needs to be done on that day, and then ensuring that all the equipment is in working order. There's a bit of paperwork as well, for leave applications, new recruitment, and upgrading equipment. "Instead of food cost and sales, I have to focus on zero-error work, quality and optimum quantity as well," Saini said.
"Instead of food cost and sales, I have to focus on zero-error work, quality and optimum quantity as well."
Saini shuttles between two kitchens, a smaller one for the president and his family, and a bigger one for state banquets. "Serving to the state head, you are always on your toes," Saini says. "The severity of an accident can lead to a bigger problem. Just sorry won't be enough." His day ends at around 10 pm.
Fruits, vegetables and herbs used in the kitchen are sourced from the daali khaana, the garden in the President's Estate. "Even special herbs like Stevia are grown in the garden," Saini revealed. "It is an extensive programmed with a lot of gardeners and we are spreading it day by day." Seafood, chicken and other meats have to be tested, audited and approved by New Delhi Municipal Corporation doctors on a regular basis. For banquets, the kitchen buys its supplies from approved vendors.
Every meal that goes to the president is tested by a food laboratory and, in most instances, Saini tastes it before it reaches the President's table. If there is a manpower crunch, he pitches in with the cooking. Every chef brings new recipes to the kitchen, and Saini's signature dishes include the Subz Baoli Handi, wherein vegetables are slow cooked in the dum style in their own juices, and Murgh Darbari, a chicken curry inspired by nihari, and made with roasted wheat and red chilli powder.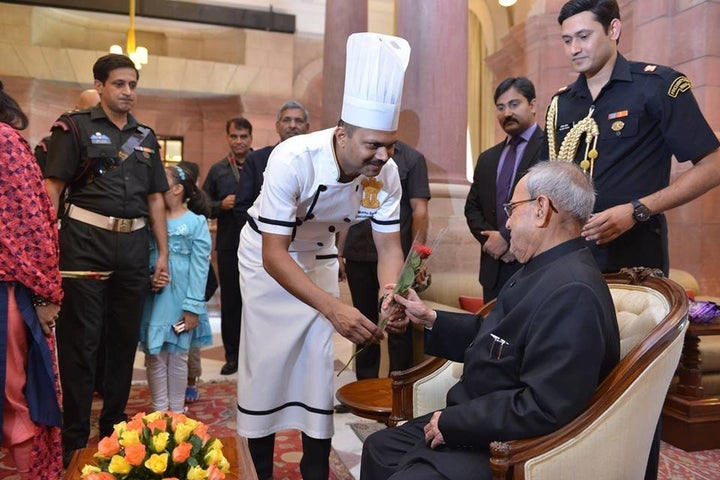 His biggest state banquet to date has been the Indo-Africa summit that was held in October, and had 400 sit-down guests and 54 heads of state dining together. To prepare the dinner, Saini constructed seven separate kitchens, with the staff working on double shifts. This was the first time that a traditional thali menu was created for such a large gathering of guests, with the entire food being prepared in the kitchen itself. The thali menu made the execution of the dinner even tougher and Saini drew and designed a special thali for the serving staff, just to communicate the order in which the dishes were to be served.
During the annual 'At Home' functions on 15 August and 26 January, the kitchen prepares food for as many as 5,000 guests. "There is a lot of mental stress on the job," Saini admitted. "You will be quite nervous and praying that everything should go smoothly."
If culinary skills are one part of Saini's job, discretion is another. His lips are sealed on the President's favourite dishes but he does say that President Mukherjee is open to trying different cuisines. "The president is quite adventurous about food," Saini said. "He eats everything, be it north Indian, south Indian or Continental food, but he is partial to Bengali food." A few months ago, Mukherjee even introduced the dessert rajbhog in the Rashtrapati Bhavan menu.
"The president is quite adventurous about food. He eats everything, but is partial to Bengali food."
Before a visiting foreign dignitary arrives, the Rashtrapati Bhavan kitchen consults the local embassy about their food preferences and allergies. Now, Saini says he can also contact other personal chefs directly to find out more about their tastes. The menu for dignitaries is generally a combination of Indian food and what they are familiar with. "We only serve authentic Indian food. We do not consider other cuisines as a part of banquets or state guests," Saini explained. Foreign guests often bring their private chefs, but he says they often request for local cuisine as well. When Aung San Suu Kyi, the State Counsellor of Myanmar who was a college student in Delhi, stayed at the Rashtrapati Bhavan this month, she ordered puri bhaaji and masala dosa.
Contrary to popular perception, Saini thinks that there is ample scope for creativity and experimentation within the Rashtrapati Bhavan kitchens. "There is enough scope of innovation, though my bosses always say that the new executive chef is very R & D oriented," he said. "Serving new dishes is a must if you are chef."