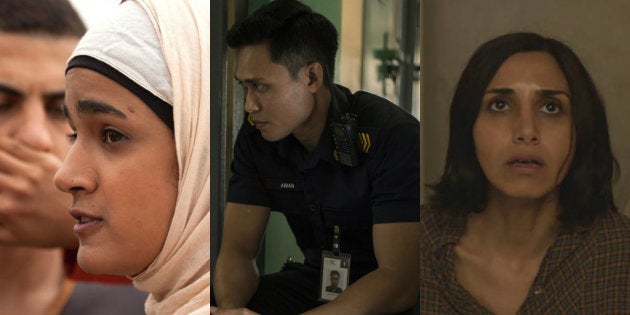 Played by Ruba Blal in the Israeli film Sand Storm (originally Sufat Chol), she is a world-weary woman, mother to the film's central character Layla (Lamis Ammar) and her three younger sisters. At the beginning, she's easy to dislike: coarse, joyless, and uptight. Much of Israel is modern now, but her family is part of the Bedouin community, which still sticks to its traditional ways, and Jalila seems to be a custodian of such ways.
But soon you realise that she's a victim like anyone else. When she discovers Layla is in love with a boy "from another tribe" (which basically means anyone but them), her aggressive disapproval stems not from her own bigotry, but fear of how her husband Suliman (Hitham Omari) will react to the news. Speaking of Suliman, he has married a second time and brought a new wife next doors, treating her to a better lifestyle than is accorded to Jalila and her children. This ignominy is suffered by Jalila alone; Layla is a sullen teenager angry at being denied the opportunity to meet her paramour, and the children—like all children—are quite happy playing around as though nothing is wrong. Because they're still young enough to not have to hide behind the veil.
This interesting contradiction is at the heart of Sand Storm, directed by first-timer Elite Zexer, who picked up a Grand Jury Prize at Sundance earlier this year. The plot, by itself, is slight and familiar, especially to Indian viewers (about 90% of it can be described as a feminist Dilwale Dulhania Le Jayenge, really). But while the story appears to be about Layla, it is Jalila's character graph that drives the film and really hits home. Like many mothers across the world, she doesn't quite get the credit she deserves.
I had a frustrating Day Five. The Sand Storm screening began late, which got me late for Alejandro Jodorowsky's Endless Poetry (which I hear is his most accessible and genuinely entertaining film) because I made the mistake of stopping for a bite to eat (excuse me for not wanting to starve myself, even for cinema). Queues at venues in Andheri were downright insane—I heard of people camping out for I, Daniel Blake three hours in advance—and experienced the frustration firsthand when I stood in line for an hour to watch Swiss Army Man (sans booking) and missed out by three seats.
One of the biggest problems with this year's programming has been its Andheri bias, with venues in other parts not quite offering the same mix of big and small films that one can find here. Last year, I remember spending nearly half my time in south Mumbai, where crowds are smaller, and catching more films. This year, it just hasn't worked out that way. Hopefully, this is something that will be resolved next year.
After the aforementioned unsuccessful attempts, I managed to get into a screening of Singaporean filmmaker Boo Junfeng's Apprentice. The title refers to Sergeant Aiman (Firdaus Rahman), a young, earnest prisons officer who believes in rehabilitating criminals, perhaps stemming from the fact that his own father was one. However, he soon finds himself assisting Chief Rahim (Wan Hanafi Su), a veteran executioner. Aiman, who lives with his sister and seems to have a non-existent personal life otherwise, struggles to deal with the moral and ethical contradictions of his new job.
Although very well acted and executed, Apprentice left me a little cold. Perhaps it was because of the predictability of the story, which took all the twists and turns I expected. The characterisation seemed a little underdone to me and despite a bunch of very well written scenes, the script can't resist the odd contrivance (for instance, a scene depicting a candlelight vigil for a prisoner on death row felt a bit too convenient). It also had the exact final scene that most viewers would've predicted by the half-way mark, a problem—as a friend pointed out—with many arthouse films we've been seeing nowadays.
I ended the day with the Persian arthouse horror film Under The Shadow, which, interestingly, is the UK's entry for the Best Foreign Language film award at next year's Oscars. Directed by first-timer Babak Anvari, it begins with the burkha-clad Shideh (Narges Rashidi, a dead ringer for Vera Farmiga) pleading with an admissions officer to let her re-enter medical college, even as a missile drops on a city in the distance.
We're in Tehran in the mid-'80s, during the War of The Cities, and the detailing is exquisite. Shideh's husband Iraj (Bobby Naderi) is an accomplished doctor who has managed to complete his education because he—unlike her—didn't join active politics during Iran's bloody Cultural Revolution. They're a yuppie couple who live a Westernised life, where she works out to Jane Fonda tapes—"How many times have I told you to not let people know we have a VCR?" Shideh admonishes their daughter Dorsa (Avin Manshadi) at one point—but the Iran they now live in is austere, where Shideh is made to feel guilty for everything: her youthful indiscretions, her current lifestyle, and her abilities as a mother.
Their relatively peaceful existence is shattered when Iraj is drafted into the war and a missile hits their apartment building. Dorsa, who is obsessed with her little doll, becomes convinced that a djinn (supernatural creatures in Arabian and Islamic mythology) has invaded their home. Here is where Under The Shadow turned into a regular trope-filled horror film for me, albeit one with outstanding cinematography (camera movements are precise; frames are beautifully composed) and sound design. However, it has all the failings that are typical of the genre as well, riding on a flimsy script with unconvincing character motivations (the two have multiple opportunities to leave the apartment, but they don't take them) and standard-issue jump-scares. The social subtext is interesting, granted, but the overall impact was more what one would expect from a very effective theme park ride.