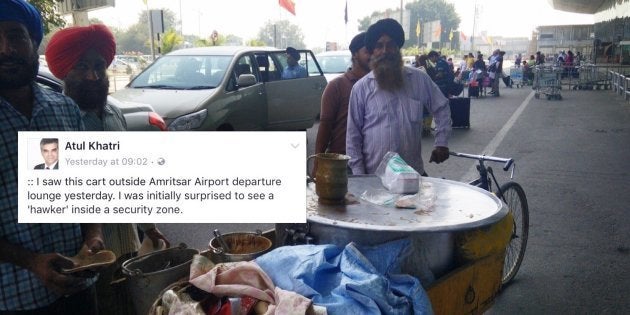 The idea of langar or a free kitchen is one of the pillars of the Sikh faith as practiced by the Sikh community. Anyone, Sikh or non-Sikh, can come and have a meal at the langar.
Introducing the concept of langar, Guru Nanak, the founder of Sikhism said, "Share with each other. There is no difference between you; we're all equals."
On Monday, stand-up comedian Atul Khatri spotted a cart outside the Amritsar airport distributing food. At first, Khatri couldn't fathom the presence of a hawker in a high security area, but upon approaching them he found out that the people manning the cart were feeding the security staff, taxi drivers and others who were hungry.
The initiative is a boon for security personnel and cabbies who work for long hours at the airport.
In his Facebook post, Khatri wrote, "I saw this cart outside Amritsar Airport departure lounge yesterday. I was initially surprised to see a 'hawker' inside a security zone."
"But when I asked them what it was - it turned out to be a 'mobile langar' from a nearby Gurudwara! They go around feeding free food to security people, taxi drivers and anyone else who is hungry. First time I have seen this."
"God bless the Sikh Community!" his post concludes.